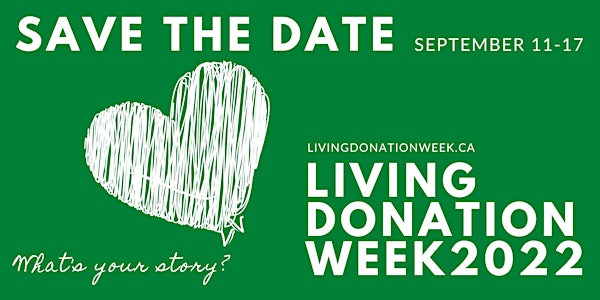 Living Donation Week (#LDW2022) Program
Register for event, order celebration kit or living donor medal... help spread the message about living donation & Be Part of Their Future
About this event
Living Donation Week invites the living donor and transplant community to come together, celebrate and spread the word about this life-changing gift and everyone who makes it possible.
#LDW2022 features:
landmarks lit up green and local partner events in communities from coast to coast throughout the week
a virtual Celebration Livestream on September 12 featuring living donation stories, interviews, entertainment, living donor medal selfies and more
a gratitude wall to share messages of thanks to your living donor, recipient and everyone who supported your journey. Post your message early and it may be read out during the Celebration Event
the launch of Great Actions Leave A Mark, a national public awareness campaign living organ donation.
a hands-on online workshop on Wednesday September 14 on how to share your story and find a living donor for people with end stage kidney or liver disease and their caregivers and friends. Co-led by living liver donor and communications expert, Heather Badenoch; living kidney recipient and Centre for Living Organ Donation Education & Outreach Coordinator , Candice Coghlan and living donation advocate and living liver recipient, Afsana Lallani.
Also on September 14 we will host a special Transplant Ambassador Program (TAP) session on the new Patients Seeking Donors website. You don't want to miss it!
Click Register Button & Select Your FREE Ticket(s) for one or more of the options below:
To register for an event - Celebration Event Livestream, Find a Living Donor Workshop, TAP webinar on new tool for kidney patients seeking living donors and follow up "Office Hours" for those wanting to network with others doing public appeals.
To receive information about a partner event or help organize Light Up for Living Organ Donation meet-ups in your community
To receive information on our new public awareness campaign
To receive a Partner Celebration Kit
To update your mailing address and/or receive a Trillium Gift of Life Medal if you donated a liver or kidney at UHN up until December 2021 (Donors in 2022 will be awarded their medal at next year's event)
Forgot something? Just log back in and add a ticket!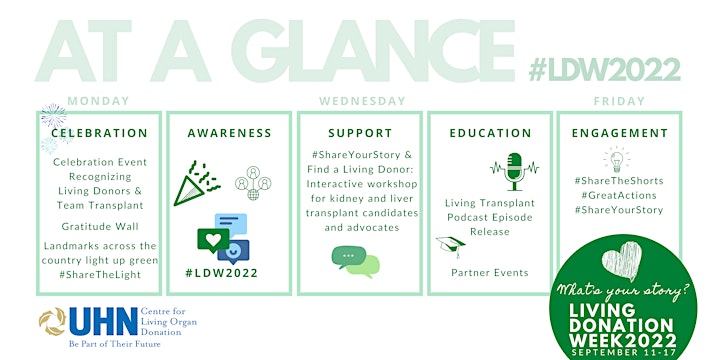 About Living Donation Week
Living organ donation offers a shorter pathway to better health with a considerably shorter wait time and better health outcomes for those awaiting a liver or kidney transplant. Yet many people are not aware of living donation.
Living Donation Week is an annual awareness week featuring free events and activities focused on raising awareness, improving access and equity in living organ donation, profiling the work of Team Transplant, and celebrating our incredible living donors and transplant recipients. It was launched by the Centre for Living Organ Donation in 2020 and is held annually, starting the Sunday after Labour Day.
For more information visit www.livingdonationweek.ca.