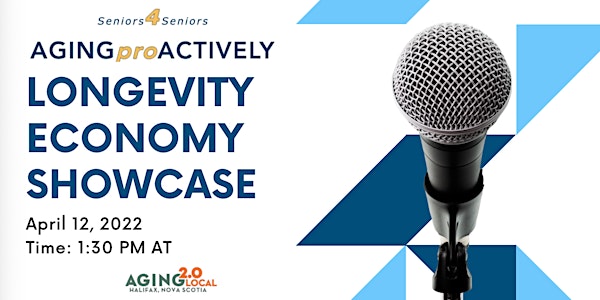 Longevity Economy Showcase
Showcasing thought-leaders and ventures that have the potential to dramatically improve the way that older adults live their lives.
About this event
This event will feature thought leaders and speakers highlighting opportunities flowing from the Longevity Economy. The event will also showcase 5 early-stage ventures that have the potential to dramatically improve the way that older adults live their lives.
THE LONGEVITY ECONOMY
Something is transforming our markets and our world. It is the Longevity Economy – the economic and societal contribution of those aged 50-plus, with spending estimated to be $0.56 out of every $1 spent in the economy - worth over $9 trillion in the US in 2018 and projected to grow to $27.5 trillion by 2050.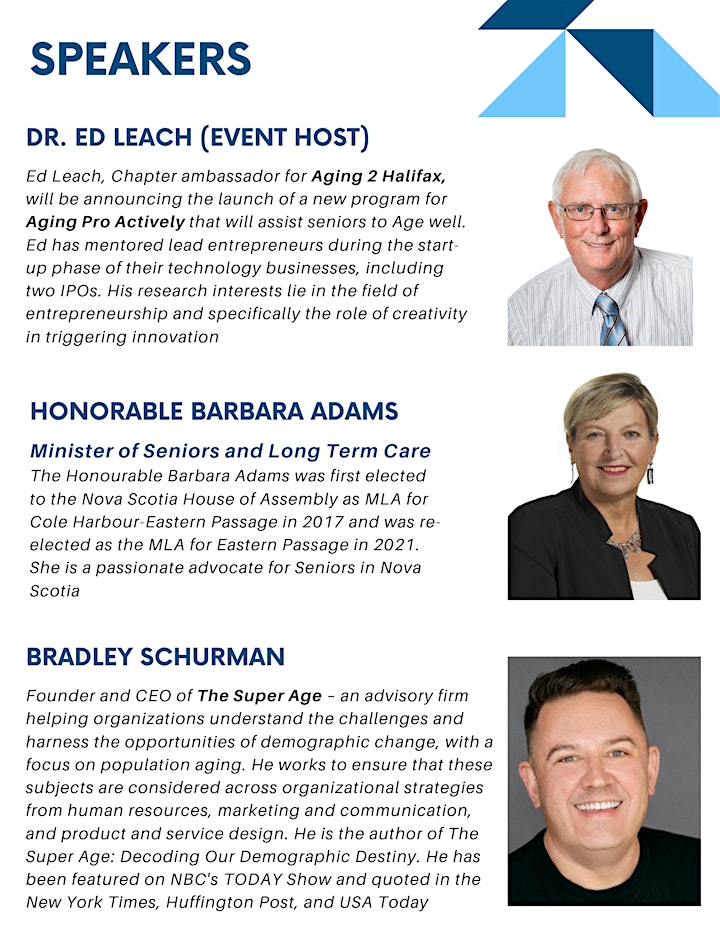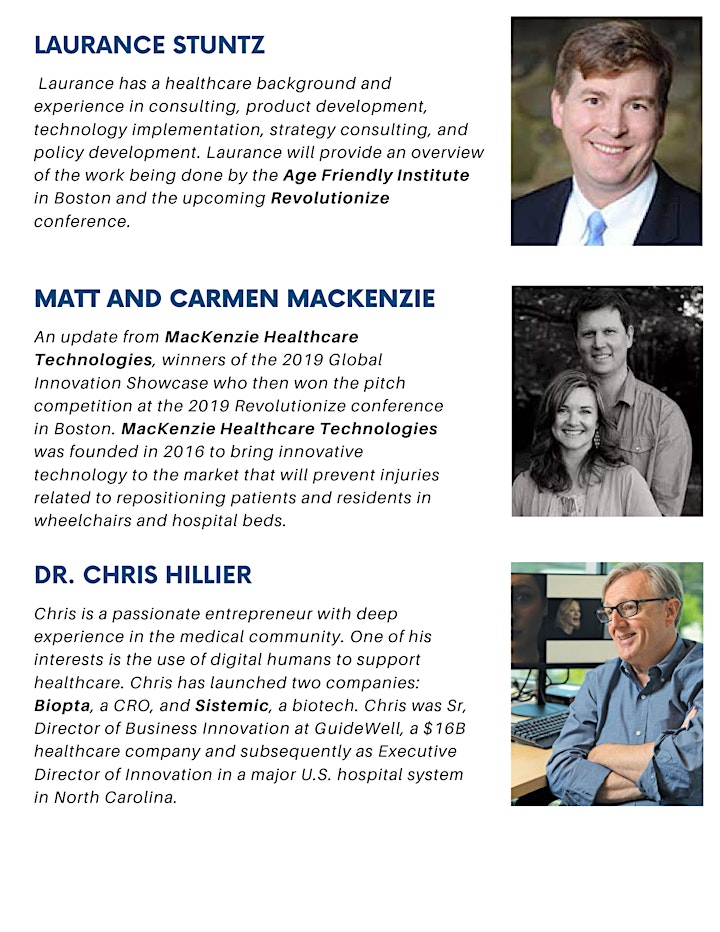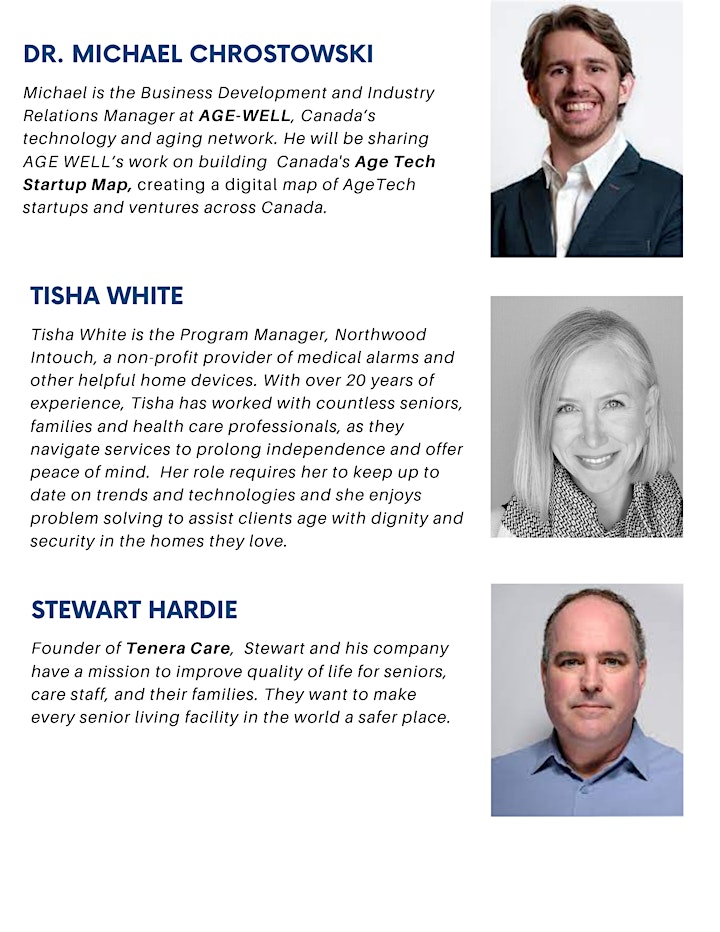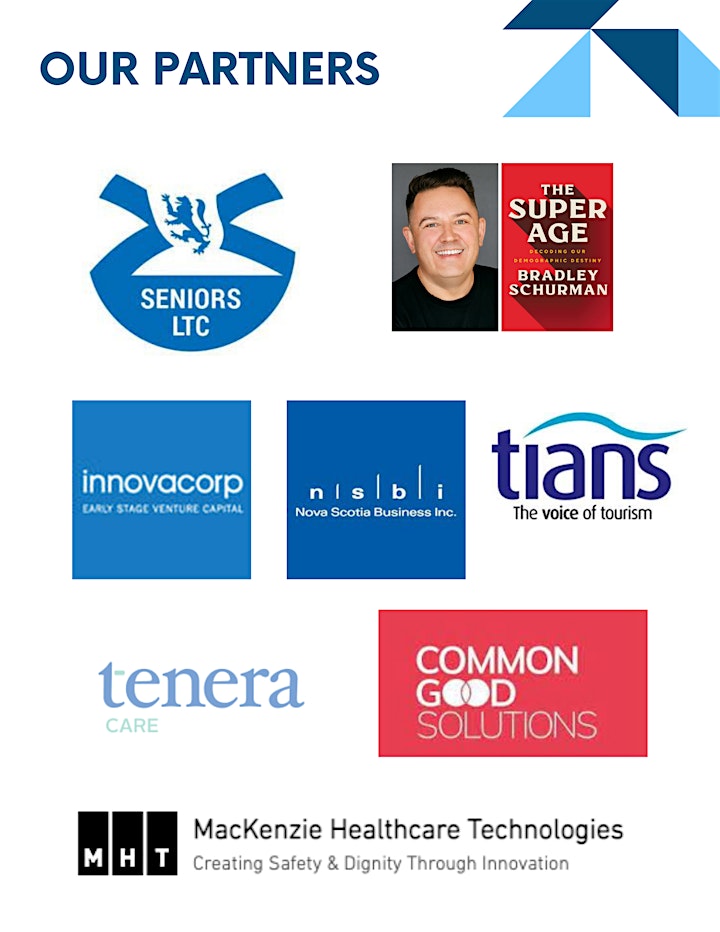 APPLICATIONS FOR VENTURES FOR THE LONGEVITY ECONOMY SHOWCASE
Eligibility:
We are looking for early-stage startups that have the potential to dramatically improve the way that older adults live their lives and remain vibrant and vital as they age. Products shouldn't be in mass distribution in the market, but they should have some proof of product-market fit. They can be in the development stage or in market for less than 24 months.
Judging Process and Criteria:
Applications will be assessed in 2 stages: Stage 1 will include a review of all submitted applications. The applications will be reviewed by members of the Aging2-Halifax Committee who will then select 5 companies to move on to Stage 2. These 5 companies will be notified by email by March 31st that they have been selected for Stage 2.
Stage 2 will be a pitch competition held virtually by Aging2-Halifax on Wednesday April 6th. The winner of the pitch competition will be selected by a judging panel and the winning team will be awarded a prize at the virtual conference. The 5 finalists will have their pitches shown at the conference on April 12th to all attendees.
STAGE !: APPLICATION AND REVIEW
Applications Assessment:
Applications will be assessed using the following criteria: ✓ Value to the sector/potential impact ✓ Uniqueness/innovativeness ✓ Feasibility to implement ✓ Strength of overall pitch
How to Apply:
Provide relevant information in summary form (maximum 3 pages) including:
Problem you are addressing,
Solution you are proposing,
Details of your solution,
Team members and relevant expertise,
Market potential and competition,
Product pricing and cost information and
Current stage of development (MVP created, In market, etc.).
Submit your application via email to: cedwardleach@gmail.com before the application close date of Thursday March 31st. If appropriate, in the email, attach a photo of your product or service for use in our conference promotional material.
Helpful Tips for Your Application:
Ensure your answers are clear and concise and address all 7 required points.
If you wish to include supplementary information, attach all additional material to the email with your application.
The individual sending the application should be the primary contact.
STAGE 2: PITCH COMPETITION
Session Details and Format:
Wednesday, April 6th, 2:15pm-3:15pm AT (60 minutes-)-Via Virtual Platform (Zoom details will follow):
There will be a 5 minute welcome followed by each of the 5 companies that advance to Stage 2 presenting a 5 minute pitch. The pitch should cover all the points identified in the application requirements. Each pitch will be followed by a 3-minute question period for a total of 8 minutes per pitch. At the end of the 5 pitches (total 40 minutes), the judges will have 15 minutes to evaluate the 5 pitches and identify the competition winner. The winner will be announced at the end of the hour.
Good Luck to all Participants!