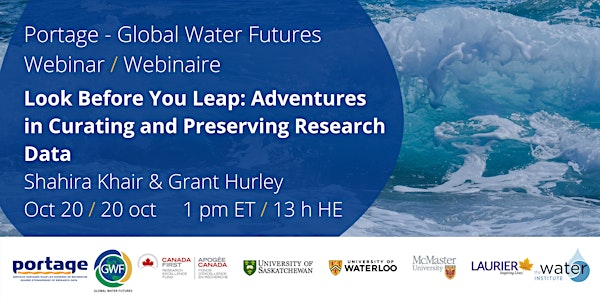 Look Before You Leap: Adventures in Curating and Preserving Research Data
Look before you leap: Adventures in curating and preserving research data
About this event
Portage and Global Water Futures are collaborating on a research data management (RDM) webinar series, with the aim to educate researchers and data professionals across Canada on data management best practices and tools that are available to support them. These webinars will help participants navigate the evolving RDM landscape, as funders, publishers, and the research community increasingly require good RDM practices.
We invite you to join us for the next webinar in the series: Look before you leap: Adventures in curating and preserving research data
Data deposit and curation means making decisions now that will impact prospects for preservation into the future. How can we best prepare our data for a leap into the unknown? In this webinar, data curation expert Shahira Khair (University of Victoria) and digital preservationist Grant Hurley (Scholars Portal) will join forces to show how decisions made at the time of data upload and curation impact the ability to preserve data for the long term. Attendees will learn introductory concepts in digital curation and preservation for research data, and how choices around what data files to keep, the level of descriptive metadata and other contextual information, and the use of preservation-friendly file formats, can help support (or harm) the prospects of data remaining accessible and usable later.
Speakers
Shahira Khair is a Data Curation Librarian at University of Victoria Libraries where she supports students and researchers in adopting data management practices and publishing their research data. She is currently seconded to Canada's New Digital Research Infrastructure Organization (NDRIO) as a Senior Analyst to support assessment and strategic planning initiatives. Shahira also serves as Chair of the Portage Research Intelligence Expert Group.
Grant Hurley is the Digital Preservation Librarian at Scholars Portal, the information technology service provider for the Ontario Council of University Libraries. He oversees the maintenance of the Scholars Portal Trustworthy Digital Repository and coordinates the Permafrost hosted digital preservation service for OCUL members. Grant serves as a member of the CARL Digital Preservation Working Group and the Portage Preservation Expert Group.
This webinar will be presented in English and recorded. Engagement during the webinar in both official languages is welcomed. Previous webinar recordings are available on the CARL YouTube Channel. Links to the recordings and slides can also be found on Portage Training Resources.
//
Portage et Global Water Futures collaborent sur une série de webinaires au sujet de la gestion de données de recherche dans le but d'informer les chercheurs et les professionnels des données de tout le Canada sur les meilleures pratiques de gestion des données et les outils disponibles pour les soutenir. Ces webinaires aideront les participants à s'orienter dans le paysage évolutif de la GDR, car les bailleurs de fonds, les éditeurs et la communauté des chercheurs exigent de plus en plus de bonnes pratiques de la GDR.
Nous invitons à vous joindre à nous pour le prochain webinaire de la série :
Regardez avant de faire le grand saut : aventures sur le thème de la curation et de la conservation des données de recherche
Le dépôt et la curation des données signifient que la prise de décisions dès maintenant aura une incidence sur les perspectives de préservation à l'avenir. De quelle façon pouvons-nous préparer au mieux nos données en vue d'un saut dans l'inconnu? Au cours de ce webinaire, l'experte sur la curation des données, Shahira Khair (University of Victoria) et le spécialiste de la préservation numérique, Grant Hurley (Scholars Portal) uniront leurs forces pour montrer comment les décisions prises au moment du téléchargement des données et de leur curation ont une incidence sur la capacité de préserver les données à long terme. Les participants apprendront des concepts d'introduction à la curation et à la préservation numériques des données de recherche. Ils apprendront également la façon dont les choix concernant les fichiers de données à conserver, le niveau des métadonnées descriptives, autres renseignements contextuels, et l'utilisation de formats de fichiers adaptés à la préservation peuvent aider à soutenir (ou nuire) les perspectives de données restantes accessibles et utilisables plus tard.
Présentateurs
Shahira Khair est bibliothécaire chargée de la curation des données aux bibliothèques de l'University of Victoria, où elle aide les étudiants et les chercheurs à adopter des pratiques de gestion des données et à publier leurs données de recherche. Elle est actuellement détachée auprès de la Nouvelle organisation d'infrastructure de recherche numérique (NOIRN) du Canada à titre d'analyste principale pour appuyer les initiatives d'évaluation et de planification stratégique. Shahira est également présidente du Groupe d'experts sur la recherche et l'intelligence de Portage.
Grant Hurley est le bibliothécaire de la préservation numérique de Scholars Portal, le fournisseur de services de technologie de l'information du Conseil des bibliothèques universitaires de l'Ontario. Il supervise la maintenance du dépôt numérique fiable du Scholars Portal et coordonne le service hébergé de conservation numérique Permafrost pour les membres du CBUO. Grant est membre du Groupe de travail sur la préservation numérique de l'ABRC, du Groupe d'experts sur la préservation de Portage.
Ce webinaire sera présenté en anglais et il sera enregistré. Les interventions durant le webinaire dans les deux langues officielles sont les bienvenues. Les enregistrements des webinaires précédents sont disponibles sur la chaîne YouTube de l'ABRC. Les liens des enregistrements et des présentations sont aussi affichés sur la page de ressources de formation par Portage.