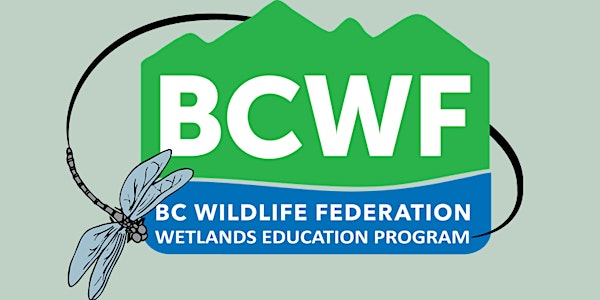 Lower Mainland Wetlands Institute - 2016
When and where
Location
Centred mostly in Mission, BC 9311 Shook Rd Mission, BC V2V 7M2 Canada
Description
UPDATE: Due to demand, our application deadline has been extended until August 18th. If you or someone you know is interested, please sign up as soon as possible to increase your chance of being accepted.


When: August 27-September 2, 2016
Where: Chillwack, BC (August 27-28), Mission, BC (August 28-September 2)
Cost: Course: FREE! for BC residents. $1000 for non BC residents.
Optional Meals and Accommodation (Details TBA)
The BC Wildlife Federation's Wetlands Institute, a 7-day environmental stewardship workshop, is coming to the Lower Mainland. It is with great pleasure and excitement that we bring this valuable course to the area free of charge for BC residents

that sign up before August 3rd 2016

(worth over $1,000 per participant). This special offer is as

a result of the generous contributions from our 2016 funders (this does not include food and lodging).
The workshop is suitable for consultants, planners, environmental/conservation groups, government and First Nations representatives, engaged community members and keen outdoors-types. Participants should come to the course with a wetland project or program that they wish to implement in their community. Apply soon, as this course has been known to fill quickly! There are spaces for only 25 participants. We will contact you to

confirm acceptance

after we have

reviewed your application

.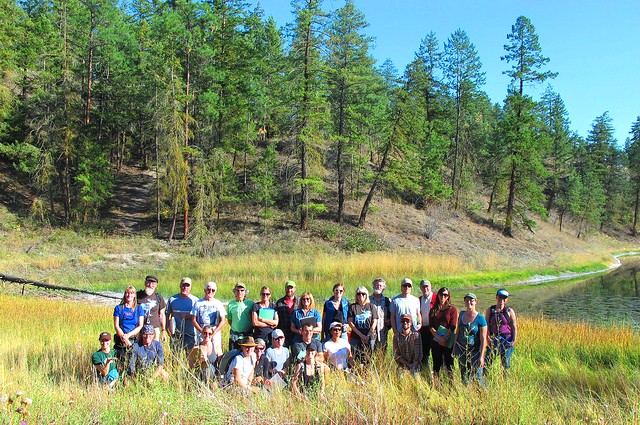 The 2015 Wetland Institute team.
This year, you will have a chance to assist renowned Wetland Restoration Specialist Tom Biebighauser in the creation of a wetland at Dewdney Elementary School, restoration work at Silverdale Wetlands, and potentially other projects, as well.
*Update. Here is a list of some of the confirmed topics and speakers. More to come.
An appreciation of the importance and diversity of wetland types and functions
Hands-on experience planning, constructing & restoring wetlands with both ground water and liner techniques with internationally renowned Wetland Restoration Specialist Tom Biebighauser
Invasive Reed Canary Grass and Yellow Flag Iris control with Gord Gadsden (Faser Valley Regional District) and Catherine Tarasoft (Thompson Rivers University)
Working with First Nations with Kelly Squires and the Katzie First Nation
Species at Risk Management with Pamela Zevit (South Coast Conservation Program)
Hands-on experience with wetland inventory and classification
Amphibian ID and Restoration Projects with Monica Pearson (Balance Ecological)
Bird Banding with Réné McKibbon (Canadian Wildlife Services)
Regional Ducks Unlimited Initiatives with Dan Buffet (Ducks Unlimted Canada)
Wetland Plant ID with Terry McIntosh (University of BC)
Grants and fundraising with Neil Fletcher (BC Wildlife Federation)
Landowner contact approaches with the Langley Environmental Partners Society
A history of Wetland Drainage in North America with Tom Beibighauser
Current inventory/evaluative field techniques for vegetation
Here are some other topics that we have covered in previous years that may or may not be a part of the 2016 workshop:
Wetland invertebrate

sampling and identification

Wetland regulations: protection, forestry laws, etc.
The role of wetlands in stormwater management and bioremediation
Turtle Wetland Management
Bats and the Wetland Connection
Road Crossing Projects
Wetland Prioritization
Click here to read the report on the 2015 Okanagan Wetlands Institute.

This field experience will also provide access to a network of individuals who will help you successfully complete your local conservation project(s). You will leave with the skills and support you need, and full time participants are eligible for a BCWF Wetlands Institute certificate after successfully completing the workshop.
For more information contact:
Jason Jobin, Wetlands Education Program Coordinator
wetlands_coordinator@bcwf.bc.ca
604-882-9988 ext 225
or
Neil Fletcher, Wetlands Education Program Manager
wetlands@bcwf.bc.ca
604-882-9988 ext 232




This project was undertaken with the financial support of: / Ce projet a été réalisé avec l'appui financier
de: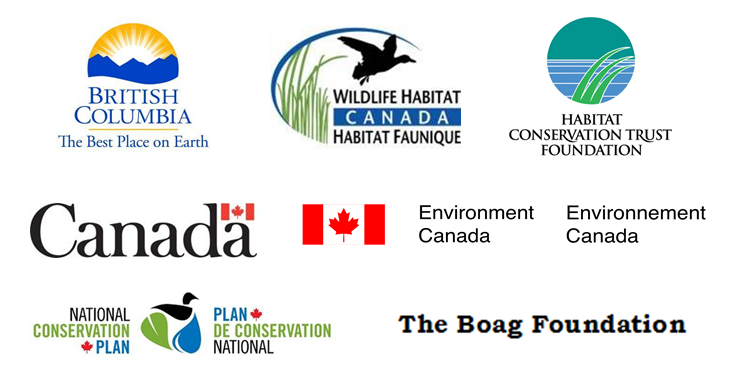 Since 1985, Wildlife Habitat Canada, a national, non-profit, charitable conservation organization, has invested over $60 million to support hundreds of conservation projects on private and public lands across Canada, through its granting program. Wildlife Habitat Canada works through partnerships with communities, landowners, governments, non-government organizations, and industry to conserve, enhance, and restore wildlife habitat. To learn more about the projects that Wildlife Habitat Canada has funded or to see our annual report, please visit www.whc.org. Without habitat...there is no wildlife. It's that simple!