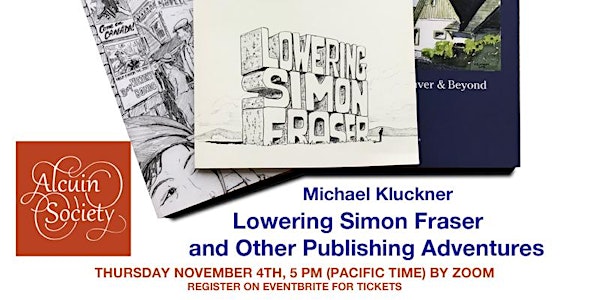 "Lowering Simon Fraser" and other publishing adventures
Michael Kluckner will speak on how his recent book projects, including the almost-wordless "Lowering Simon Fraser" bookwork.
About this event
Kluckner will discuss how recent projects, such as "Lowering Simon Fraser", published by the Contemporary Art Gallery in 2019, have navigated social justice issues of appropriation, the cancel culture and self-censorship, and reflect people's changing absorption of images in the computer-screen age.
For more on Michael Kluckner's work visit: www.michaelkluckner.com
* * *
This event is free and open to the public. Please register early, as space is limited, and great interest was shown in our first lectures. Two days prior to the Lecture as well as an hour before the event, attendees will receive a Zoom link to access the event.
The event will be recorded and uploaded to the Alcuin Society YouTube channel in the weeks following the talk.
https://www.youtube.com/user/alcuinsociety
We are delighted to be hosting this unique lecture in our ongoing series, and thank you for your support of the Alcuin Society. If you are not a member of the Society, we encourage you to visit our site, and consider becoming one today.