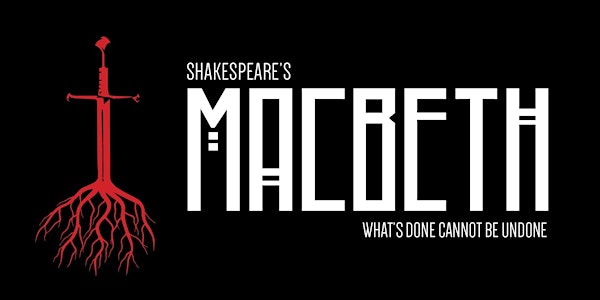 Multiple dates
Macbeth
By Edmonton's Winter Shakespeare Festival
Date and time
Fri, Jan 4, 2019 7:30 PM - Sat, Jan 19, 2019 10:00 PM MST
Location
Holy Trinity Anglican Church 10037 84 Avenue Northwest Edmonton, AB T6E 2G6 Canada
Refund Policy
Refunds up to 1 day before event
Description
Internationally-acclaimed Malachite Theatre are delighted to return to Alberta this winter, with a brand new, site-specific production of Shakespeare's bone-chilling Scottish tragedy, Macbeth.
Three Wyrd Sisters foresee that a Scottish General, Macbeth, will become King of Scotland. Excited by the prophesy and encouraged by his wife, Macbeth kills King Duncan and claims the throne. But fulfilling the prophesy comes at a great cost, as paranoia begins to turn the couples' minds to madness. Wracked by guilt and unable to sleep, Macbeth will stop at nothing to secure his throne, even if it means taking the lives of his closest friends and allies. As civil war erupts, Macbeth is overthrown, and Duncan's eldest son Malcolm is restored to the throne of Scotland.
Featuring a fantastic cast of Albertan actors working with traditional Elizabethan performance practices, and staged in Holy Trinity's eerily beautiful Sanctuary space, Macbeth promises to be the immersive theatrical experience of the season!
Director, Benjamin Blyth says: "Macbeth is a terrifyingly human story, that explores how unchecked ambition can corrupt even the most noble among us".
"Our production is set in Medieval Scotland, and features a thrilling live vocal score that draws on the aesthetic influences of the Gaelic and Norse cultures".
"The staging of the production is visually stunning too, with beautiful hand-made period costumes, and an eerily-haunting performance space in Holy Trinity's sanctuary. Holy Trinity have been the most supportive of venues in helping to realize this production, and I am so delighted with the result".
"This is the sort of all-consuming, site-specific Shakespeare that I love to produce, inspired by the bare stage of the seventeenth-century playhouse. It is a rare gift, as a Shakespeare director, to stage a production of Macbeth in a church, and I'm thrilled to be able to share our story with Edmonton's audiences this January!"
The Malachite Theatre Collective is an independent, internationally-touring Shakespeare Company, based in the UK and Canada. Founded in London, England in 2013, The Malachites' work aims to reconnect an Elizabethan spirit of playing with the contemporary theatre.
Specializing in producing new site-specific productions of Shakespeare's works, The Malachites' previous work includes the first Canadian production of Henry V to cast a female actor in the title role, and a tour of China with Hamlet in 2016, as part of the international celebrations of the Shakespeare 400 anniversary.
About the organizer
The Malachites' "Winter Shakespeare Festival" is a brand new, site-specific Shakespeare festival based in Edmonton, Alberta.
Based on traditional Elizabethan performance practices, the Winter Shakespeare Festival stages a high-quality repertory season during the depths of the Albertan winter; alongside a number of additional education and outreach events.