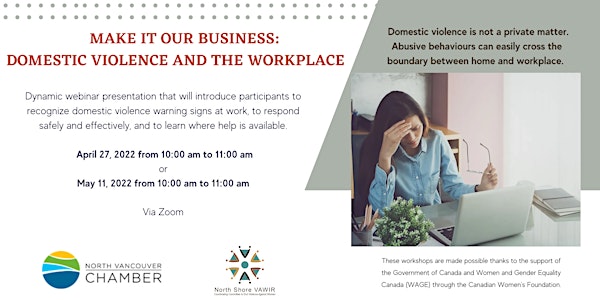 Make It Our Business: Domestic Violence and the Workplace
Join us for this online webinar to learn about the crossovers between domestic violence and the workplace.
About this event
Many people think that domestic violence is a private matter, something that happens in the home. But abusive behaviours can easily cross the boundary between home and workplace. Violence can follow a victim to the workplace, and sometimes the abusive partner and the victim are co-workers. Studies have shown that the human and economic costs to Canadian employers is significant with impacts for everyone involved that may include injury or death, lost productivity, absenteeism, accidents and employee turnover.
The responsibility for creating healthy and productive workplaces is a shared responsibility. Join us for this dynamic presentation that will introduce participants to recognizing warning signs at work, responding safely and effectively, employer obligations and related legislation, and available support services. Learn about recent BC Government legislation requiring employers to provide both paid and unpaid leave for employees impacted by domestic or sexual violence.
Facilitated by Margaret MacPherson, from the Centre for Research and Education on Violence Against Women and Children, at Western University, this webinar will be relevant for employers of both large and small businesses, human resources, co-workers, and anyone wanting to learn more about this important issue.
Hosted in partnership by the North Vancouver Chamber of Commerce and the North Shore Coordinating Committee to End Violence Against Women in Relationships (NS VAWIR) with funding generously provided by the Government of Canada and Ministry of Women and Gender Equality (WAGE) through the Canadian Women's Foundation.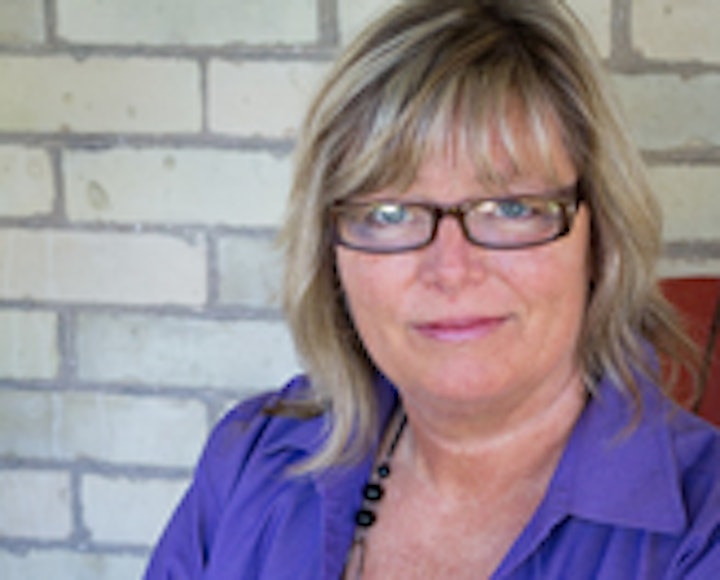 About Margaret MacPherson:
Margaret is a Research Associate with the Centre for Research and Education on Violence against Women and Children (CREVAWC) at Western University in London Ontario. Margaret designs and develops curriculum and related materials on a number of initiatives including the Make It Our Business, workplace domestic violence program and It's Not Right! Neighbours, Friends and Families for Older Adults.
Margaret is passionate in her belief that everyone has an important contribution to make in creating safe and supportive environments at work and in our communities.