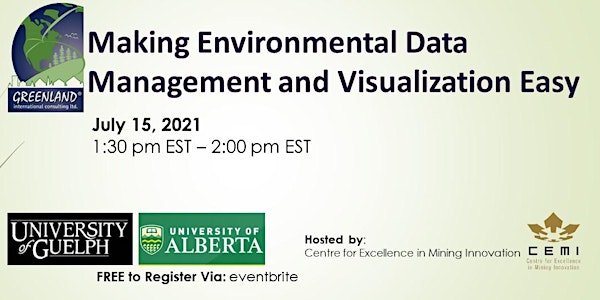 Making Environmental Data Management and Visualization Easy
Threats (TM) Platform for Cumulative Effects: Value Proposition and Overview of Modules for Environmental Mining
About this event
Join Trevor Boston Team Lead at Greenland International Consulting as he presents THREATS. THREATS is a multi-faceted data platform that simplifies this process.
It offers:
Data management / visualization: interactive mapping and charting rather than research + download + spreadsheet / GIS work
Automated statistics and trends analysis
Streamlining of reports
Help in making operations pre-emptive rather than reactionary
KPIs addressing biodiversity and sustainability
Significant time savings
Planning insight for risk mitigation
Data and applications that complement each other in one place
Work directly with our development team to customize for your needs
Trevor plans to share the THREATS value proposition and business model through case studies and examples that include:
Alberta Oils Sands Flow Regime Analysis
Flow Prediction using ML
Accessing Air Quality and Water Quality data for compliance reporting
Modeling scenarios and indicators of the impact of land-use change
About Greenland Group of Companies
The Greenland Group of Companies (GREENLAND®) is an award-winning engineering and technologies enterprise. It includes private consulting firms, other businesses and internationally renowned research teams that collaborate on civil; environmental; alternative energy; and software engineering projects. These initiatives include Municipal Infrastructure; Water Resources; Asset Sustainability; Smart Water Grid; Low Impact Development; Landscape Architecture; and, Public-Private Partnerships (or P3s).
Contact Greenland: tboston@grnland.com - www.grnland.com
About CEMI
The Centre for Excellence in Mining Innovation (CEMI) is an independent Canadian-based not-for-profit organization. CEMI builds capacity that allows for the acceleration of innovations into the global mining industry. CEMI's strategic focus helps generate a greater economic value of mines through technologies, processes and practices to improve the safety, performance and capacity of mines.
Contact CEMI: info@cemi.ca - www.cemi.ca