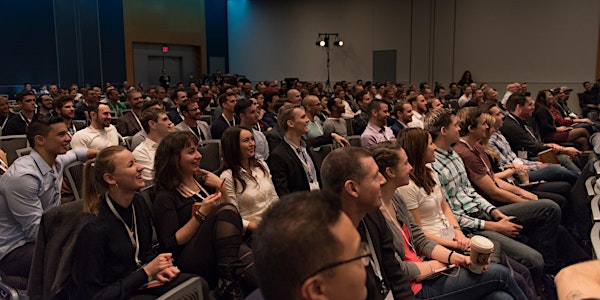 ManTalks- Charitable Event For A Better Life Foundation
When and where
Location
Hootsuite Media Inc. 5 East 8th Avenue Vancouver, BC V5T 1R6 Canada
Refund Policy
Contact the organizer to request a refund.
Description
This our first MMD series spotlight (Men Making A Difference). All proceeds will be going to the Better Life Foundation and Helping to feed people who are less fortunate in the downtown eastside.
ManTalks is a growing community of men having bold conversations and redefining what it means to be a man in this day and age.
By connecting men with high performing mentors and authentic content, we intend to create the space for the modern man to evolve and thrive. We do this by engaging men in powerful, authentic and transparent dialogue designed to help them build a more authentic relationship with themselves and with other like-minded men and women. Women are more than welcome and encouraged to join us during this event.
Join us for ManTalks Monday, May 16th, 7:00pm
Topic: A Better Life - Featuring Mark Brand
Date: Monday, May 16th, 6:30pm (Doors open at 6:30 event starts promptly at 7pm)
Location: Hootsuite HQ (5 East 8th Ave Vancouver)
Tickets: By Donation. All proceeds will be going to The Better Life Foundation. This event will help raise money to feed people in the Downtown Eastside.
**If you donate over $100, The Better Life Foundation has agreed to give you a seat at their next Greasy Spoon dinner!! Details here: http://www.greasyspoondiner.com **
What can you expect at this event?
A Better Life.
Most of us, almost all of us, wish for a better life in some way. We sometimes forget how good we really have it and how far we have come over the years.
We all want to give back to those in need as well. Finding ways to support people who are less fortunate can be challenging. In a space where there are so many options, so many charities, so many non-profits and so many opportunities for us to volunteer, we wanted to make it SIMPLE.
What can you expect from the ManTalks Men Making a Difference series?
We will be finding Men Making A Difference in our communities and give you the chance to hear about their story, why they started their charity, how you can really make a difference in your community and just by attending, give back to their incredible organizations.
You can anticipate our speakers to provide insights and powerful perspectives on:
- How to achieve a better life personally and professionally through the power of giving.
- How to give back to those who are less fortunate than you.
- Understanding what the most powerful ways to give and receive are.
- How social entrepreneurship is a powerful force which is re-shaping our modern society, how you, your business or the company you work for can start to shift the conversation and give back to local causes.
ManTalks - A Better Life SPEAKERS:

Mark Brand- Mark Brand opened his first restaurant in 2007 and went on to restore Save On Meats, a butcher shop founded in 1957. Save On Meats is not like any other butcher shop or lunch counter, because Mark has created a sustainable business model that serves the community. Mark states that by creating a business that stands for something, not only does that help the community as a whole, but he has seen fewer turnovers from his staff because they also believe in the bigger picture.

Check out Mark's interview on our podcast here:
http://mantalkspodcast.libsyn.com/032-mark-brand-lessons-from-a-social-entrepreneur
Join us on May 16th to hear this amazing man share his journey to creating a better life.
Its going to be a night of connection, inspiration, and understanding how to generate a life full of wealth and freedom.
Join the conversation: #mantalks #redefiningmanhood
www.instagram.com/mantalks
www.facebook.com/ManTalks.ca
ManTalks
The edge you want.
The purpose you need.
And the community to make it happen.