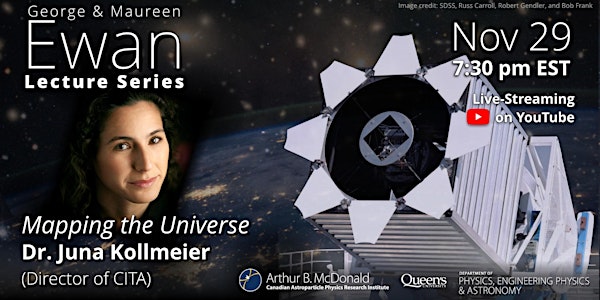 Mapping the Universe - Juna Kollmeier (Ewan Lecture)
Location
Stirling Hall Auditorium & Online on Zoom
64 Bader Lane
Kingston, ON K7L 3N6
Canada
Juna Kollmeier, CITA Director, will discuss humanity's efforts to map the cosmos using the Sloan Digital Sky Survey.
About this event
Humans have been mapping the sky for thousands of years. In this talk, I will describe our current efforts as undertaken by the Sloan Digital Sky Survey. SDSS is an unprecedented spectroscopic survey that has revealed a tremendous amount of information about our cosmos. I will describe its fifth phase, mapping of over six million objects, from stars, to black holes, to Galaxies. SDSS is designed to decode the history of the Universe and the galaxies within it, trace the emergence of the chemical elements, reveal the inner workings of stars, and investigate the origin of planets. I will endeavor to explain why we do this and how taking on this massive, complex, and seemingly esoteric undertaking, humanity ultimately benefits.
This free talk will be available online (link shared after registration) and in person (limited to the Queen's community: students, staff, and faculty, provided health measures do not change). The current requirements, which may change as health measures change, are that all people attending live:
Dr. Juna Kollmeier is the director of the Canadian Institute for Theoretical Astrophysics (CITA). She received her B.S. in physics from the California Institute of Technology and Ph.D. in astronomy from Ohio State University. Before moving to CITA, she was a Hubble Fellow and a Carnegie-Princeton postdoctoral fellow, and then Carnegie research staff since 2008.
The George and Maureen Ewan Lecture series was endowed by Queen's Physics Professor George Ewan and his wife Maureen in 2018 to support seminar and lecture programs designed to increase scientific discourse and culture within the Particle Astrophysics community at Queen's University and the broader Kingston community. 
Please contact us at Outreach@McDonaldInstitute.ca regarding accommodation needs, questions, or concerns.