Description
Build Your Growth Machine
An exclusive marketing bootcamp that will give you the skills and real-world practice to compete in the digital era.
Times have changed. Yesterday's marketing expertise isn't enough to make you a successful competitive marketer today. You need to know how to apply lean startup methodologies and rapidly-evolving digital marketing skills to your role as a marketing professional. Learning how to leverage the latest marketing technology, while being the catalyst to create a collaborative culture of growth in your organization, will be critical to your success.
Join us for MaRS GrowCamp 2017 – an exclusive program featuring professionals from Google Canada and MaRS. We've designed it to turn you into a full-stack-digital marketer, utilizing best-in-class resources from leading global marketing tech companies married with best practices from successful founders in our community. Packed into
six full Friday sessions over six weeks,
it's the best investment of your time to rapidly learn and apply new skills and work alongside startup teams.
This unique program has reserved half of the participant spots for established businesses and the other half for startup teams. We encourage marketing departments to enroll part or all of their teams, to enable them to work through the marketing challenges that they currently face.


Why attend GrowCamp as a founder or marketing professional?
Receive mentorship from leading growth experts, marketing professionals and startup founders
Hear from game-changing startups and get insights into their traction plans
Learn to think and growth hack like a startup
Present key takeaways to your colleagues with your custom growth plan
Learn about automation tools, track the right metrics and develop your marketing growth strategy
Here are a few speakers and mentors you will collaborate with:
Abacus - Jeff Goldenberg
Shopify - Daniel Patricio and Jennifer Daly
#Paid - Richard Wong
5Crowd - Bram Warshafsky
Ritual - Josh Sookman
Cluep - Karan Walia
Hubspot - Gregory Kareltz and Kim Walsh
Bunz - Paul C.
---
What should you tell your boss?
These are six days over six weeks you simply cannot ignore or miss as a marketing professional. It is a unique opportunity to collaborate with leading growth experts, learn the latest tools, network and build the confidence you need to be a successful marketer.
Mornings will be spent learning from the experts and afternoons will be spent applying what we learned. There are no fictional case study exercises. We will only work on your actual marketing challenges.
You'll leave GrowCamp with key takeaways and a very specific action plan to build and lead a successful and sustainable growth engine at your company.
Opening Night: Monday, February 13, 2017 from 6:00 - 9:00 p.m.
Sessions: Fridays beginning February 17, 2017 to March 24, 2017 from 9:00 a.m. - 5:00 p.m.
Closing Ceremonies: Monday, March 27, 2017 from 6:00 p.m. - 9:00 p.m.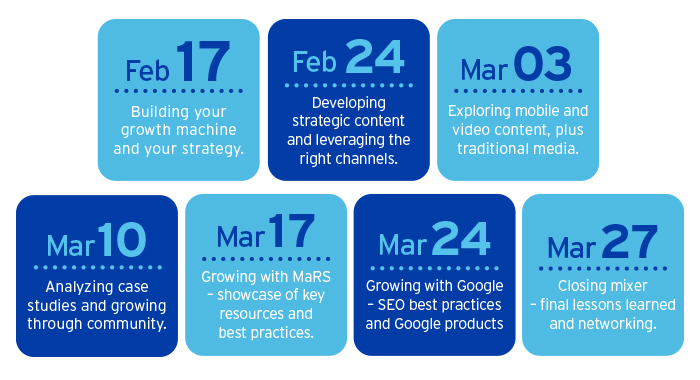 ---
Frequently Asked Questions:
Q. Can I apply to come alone?
A. Yes, however we encourage you to commit to the program for a minimum of 4 of the 6 sessions. Alternates may be exchanged in your place due to illness or extraordinary events.
Q. I'm a founder of a startup, can I sign up?
A. Please contact for more information on how to join as a startup: nmonk@marsdd.com
Q. How much time will I need to devote to this?
A. For 6 weeks, you will need 1 Friday per week. Outside of the sessions, you will be applying the lessons from the week into your everyday marketing work and sharing your progress the following week.


---
Interested in supporting GrowCamp 2017? Questions?
Contact Nathan Monk at nmonk@marsdd.com.