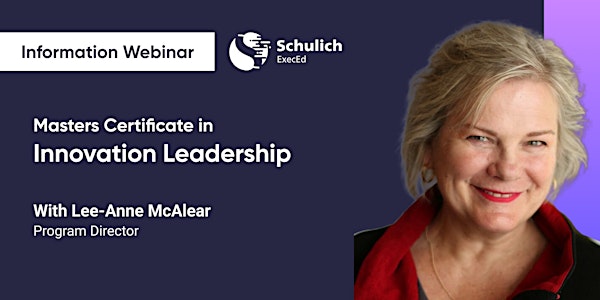 Multiple dates
Masters Certificate in Innovation Leadership
Join Program Director Lee-Anne McAlear online as she talks about Schulich ExecEd's Masters Certificate in Innovation Leadership program.
Date and time
Tue, Jul 28, 2020 9:00 AM - Tue, Dec 12, 2023 10:00 AM PDT
About this event
The Masters Certificate in Innovation Leadership provides business and public-sector leaders with the critical innovation strategy leadership competencies to help their organizations execute creative responses to tough business challenges. Join Program Director Lee-Anne McAlear to hear how you can learn to cultivate a culture of innovation and deliver enhanced business and organizational results. They also learn to successfully embed innovation into organizational strategy and process.
Lee-Anne McAlear is an award-winning facilitator, speaker, writer and consultant. She is a program director and sought-after lecturer at the Schulich Executive Education Centre, Schulich School of Business at York University, and a featured speaker with the National Speakers Bureau, speaking at conferences in the area of innovation, leadership, employee engagement and team effectiveness.
Lee-Anne has worked extensively in the leadership and innovation pace in more than 31 countries in both the public (federal, provincial and municipal levels) and private sectors.
About the organizer
We are an extension of the Schulich School of Business at York University in Toronto. Our role within the school is to provide lifelong learning for the development of professionals and executives long after their full-time education has been completed and they are in the work force.

Because few of us have the same job for life, we constantly have to re-invent ourselves, learn new skills and adapt to the changing marketplace and business environment. Today's professionals and executives must be able to quickly develop and fine-tune personal business skills to adapt and grow.