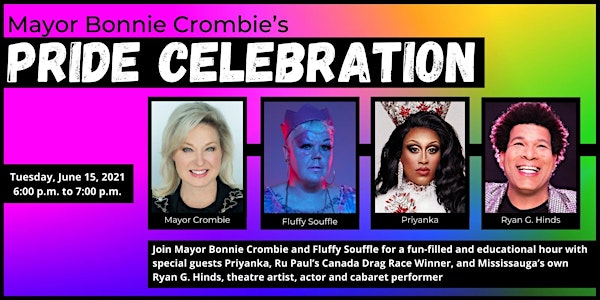 Mayor Bonnie Crombie Celebrates Pride 2021 with Fluffy Soufflé & Friends
Please join Mayor Crombie and the City of Mississauga to mark Pride Month 2021 through a fun-filled, educational hour with Fluffy Soufflé!
About this event
Please join Mayor Bonnie Crombie with Fluffy Soufflé for fun-filled and educational hour celebrating Pride Month 2021 with special guests, Priyanka, Ru Paul's Canada Drag Race Winner, and Mississauga's own Ryan G. Hinds, a theatre artist, actor and cabaret performer. We welcome all Mississauga families, youth and residents.
Fluffy Soufflé:
Kaleb Robertson (he/him) is a Toronto based Cultural Producer who is a queer transgender man and performs as Fluffy Soufflé (they/them), a non-binary drag persona. He does workshops for youth and adults on identity, body positivity, queerness, Trans issues, drag and creating diverse inclusive spaces. He has recently done a series of workshops on Trans and Non-Binary Representation in media. His multimedia workshop includes sharing personal experience and sparks discussions around intersectionality and privilege.
Kaleb has been exploring gender since the age of two when he declared he was a boy. Both on stage and in daily life, he has performed various aspects of masculinity and femininity. Fluffy is half of the magical children's entertainment duo, Fay and Fluffy's Story time. When producing events and performing, their goal is to make drag accessible to all ages, and to foster a fun, inclusive environment.
Ryan G. Hinds:
Ryan G. Hinds is a Mississauga born-and-raised, Toronto-based theatre artist. As an actor and cabaret performer, he has appeared across Canada, the US, and Brazil in plays and musicals including "It's A Wonderful Life" for Theatre New Brunswick; Brit in Queen's "We Will Rock You" for Magnus Theatre; Hedwig in "Hedwig & the Angry Inch" at the Capitol Theatre; Piragua Guy in "In The Heights"; and "Post-Paradise" with My Barbarian in New York City, as well as touring internationally with his solo show "#KanderAndEbb"(2015 BroadwayWorld Award winner for Best Solo Show/Cabaret) and Pride festivals in Los Angeles, Vancouver, Ottawa, Montreal, and World Pride 2014.
Mayor's Virtual Pride Celebration with Fluffy will include:
1. Intro lip sync performance by Fluffy
2. Story time: Our Rainbow
3. Multimedia presentation about the history of Pride in Mississauga and across Toronto with audience members invited to share Pride stories
4. Performance from Ryan G. Hinds, Mississauga's own
5. Discussion on 2SLGBTQ+ organizations and resources in Mississauga
6. Message from Priyanka, Ru Paul's Canada Drag Race Winner
7. Dance Time with Fluffy!