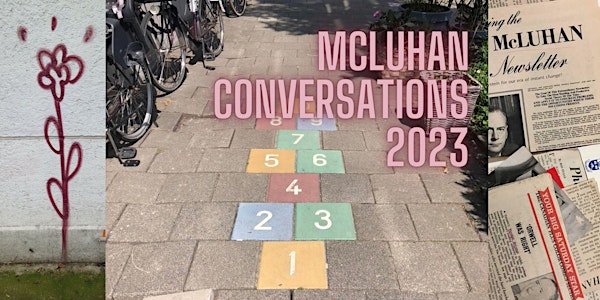 Multiple dates
McLuhan Conversations 2023
Creative conversations about art, music, media and architecture in Edmonton and beyond
Date and time
January 24 · 7pm - May 9 · 9:30pm MST
Location
McLuhan House 11342 64 Street Northwest Edmonton, AB T5W 4H5 Canada
About this event
These events are sound recorded, including the voices of the audience who license their inclusion in broadcasts and podcasts of the event.
JANUARY 24 2023 EXPRESSIVE STREETS Nicholas Hardy, Rob Shields . Street art is often associated with global cities – New York, LA, Berlin – but what does it mean in Edmonton? This conversation dares to imagine a different art scene for Edmonton.
-Nicholas Hardy is a street artist and theorist completing a PhD at University of Alberta.
-Rob Shields is a Professor of Human Geography and Sociology at the University.
FEBRUARY 28 HOUSE AS MEDIUM: In Situ discussion and site visit inside McLuhan House 1913" Architects Cody Charles Johnson and Greg Whistance-Smith and Danielle Soneff, ArtHouse Residential. Jointly organized with MADE Edmonton. This conversation considers the social world and assumptions built into the 1913 McLuhan House and thinks-with the form of the house to interrogate assumptions about domestic life and space.
-Cody Charles Johnson is an Edmonton architect and the Chair of MADE Media Art Design Edmonton.
-Danielle Soneff is MADE's Past Chair, an Edmonton developer and part of the Human Geography Masters Program at University of Alberta.
-Greg Whistance-Smith is an Intern Architect with Avid Architecture Edmonton
-David Murray is an Edmonton-based architect responsible for many heritage restorations including McLuhan House itself.
MARCH 28: THINKING WITH SOUND Remy Bocquillon. Attention to sound and acoustics in the last decade has produced some of the most novel ideas about the role of the senses and their relation to how we understand the world.
-Dr. Bocquillon is a sound artist, musician and writer. He teaches at Catholic University of Eichstaett-Ingolstadt in Germany. His book Thinking with Sound will be launched during his visit to Edmonton.
MAY 9 2023 RACE AND MEDIA: MCLUHAN AND BEYOND Mike Litwack. What do thinkers say and how do they use McLuhan's work in the 2020s? What are the most relevant parts of his thought that illumate current issues and cultural trends? How is McLuhan's work being extended and queeried and debated.
-Prof. Litwack teaches English and Film Studies and in Media Studies at University of Alberta. He is a an expert on Marshall McLuhan's work on media and race.
THANKS to our volunteer conversationalists and to organizers and facilitators, including ArtsHab Edmonton, https://www.artshab.com, the University of Alberta, and all those who have contributed to making McLuhan House available. More information: Rob Shields, Space and Culture, 780 492 0489