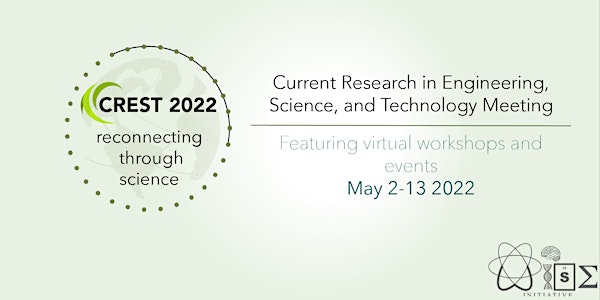 McMaster WISE presents: CREST 2022 Reconnecting Through Science
McMaster WISE is happy to announce our annual Current Research in Engineering, Science, and Technology (CREST) conference is back for 2022
About this event
The McMaster Women in Science and Engineering (WISE) Initiative is pleased to invite you to our upcoming Current Research in Engineering, Science & Technology (CREST) Meeting, which will take place over several online events during the weeks of May 2nd and May 9th 2022.
Students and researchers interested in presenting at CREST, please see the instructions below.
Attendees interested in general registration, each event will be held over Zoom and the links for registration can be found below.
This event will be hosted on Zoom. Please use the links below to register for each event you'd like to attend. The full conference schedule can be found here: mcmasterwise.com/crest
We're excited to be hosting our end-of-conference social in person this year! See below to register to attend this event.
CREST is an interdisciplinary celebration, not only of women in STEM, but also of the exciting research being conducted in these domains more broadly. CREST offers an excellent venue for students, postdocs, and faculty of all genders to present their research in an interdisciplinary environment, network with local academics, and learn more about research opportunities in academia or industry through a series of professional development workshops, interactive career panels, and social mixers.
Keynote Address:
Our Keynote this year is Dr. Jennifer E. Decker. Dr. Decker joined the National Research Council of Canada (NRC) Institute for National Measurement Standards in 1992 and became known for her research on optical measurement science, standards and measurement uncertainty evaluation. She served as Executive Advisor (Chief of Staff) to the NRC Chief Digital Research Officer prior to taking up the position of Consul and Principal Advisor at NRC Germany, co-located at the Canadian Consulate in Munich.
Twitter: @decker_je
The Keynote Address will be at 10am on Monday May 2nd 2022.
Workshops and Panels: CREST 2022 will feature a variety of workshops and panels within the scope of EDI and mental health in your studies and in your career. Stay tuned for more information on these events.
Wil Fujarczuk will be hosting two workshops about building positive spaces for gender identity and expression and sexuality. These will be 2 hour workshops. See below for the links; the events are 10am Wednesday May 4th and 10am Wednesday May 11th.
Links to register for events:
1) Keynote Address by Dr. Jennifer E. Decker - 10am Monday May 2nd:
https://bit.ly/CREST2022Keynote
2) Building Positive Spaces: Gender Identity and Expression - Workshop with Wil Fujarczuk - 10am Wednesday May 4th:
https://bit.ly/CREST2022Positive1
3) Building Positive Spaces: Sexuality - Workshop with Wil Fujarczuk -10 am Wednesday May 11th:
https://bit.ly/CREST2022Positive2
4) EDI panel: check back for registration links
5) Professional Development Workshop #1: check back for registration links
6) Professional Development Workshop #2: check back for registration links
7) Professional Development Panel: check back for registration links
8) Student Research Presentations - 2pm Friday May 6th: https://bit.ly/CREST2022Presentations1
9) Student Research Presentations - 2pm Friday May 13th: https://bit.ly/CREST2022Presentations2
10) CREST Closing Social - 4-6pm Friday May 13th: We are happy to share that our social will be held in person this year, at the Phoenix Bar and Grill! Please register here if you plan to attend, so we can keep track of numbers: https://bit.ly/CREST2022Social
Student Research Presentations:
Postdocs, graduate students, and undergraduate students: submit your abstracts to present for FREE!
We welcome all stages of research, whether you have data collected or an experiment in progress. CREST is your opportunity to practice your presentation skills, get feedback from other students in a variety of STEM fields, and have fun talking about your research! Submit new data, a proposed experiment, a new methodology, anything you want!
We will be accepting abstracts for 7 minute talks (with 3 minutes designated for questions following the talk).
Abstract Submission: To submit an abstract, please select "Register" above, and choose the 7 minute presentation option, and enter your presentation title and abstract in the space provided. Please note that abstracts should be maximum 300 words in length and written for a lay audience.
Important Deadline:
--PRESENTING ATTENDEES: Graduate Students , Undergraduate Students & Postdocs--
Final Abstract Submission (FREE): EXTENDED TO APRIL 15 2022 at 12:00PM
You can find further information on the conference and keep up to date with WISE by following us on Facebook, Instagram, and Twitter, or checking our our McMaster WISE website! If you have any questions please don't hesitate to contact us at wiseinitiative@gmail.com.
We look forward to seeing you at CREST 2022!