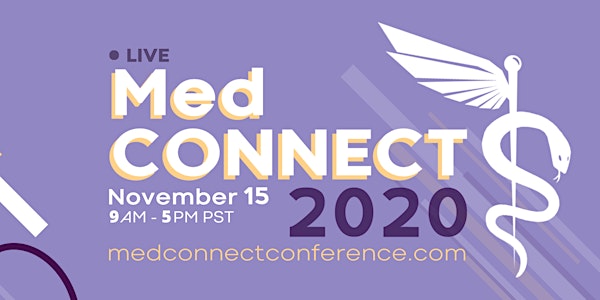 MedCONNECT 2020
MedConnect is a student conference that aims to educate and inspire students curious about a career in medicine. Visit our website for info.
Refund Policy
Contact the organizer to request a refund.
Eventbrite's fee is nonrefundable.
About this event
MedConnect is a student conference that aims to educate and inspire students curious about a career in medicine. Visit our website for detailed information: https://medconnectconference.com/
What you can expect:
An engaging lineup for 4 lectures from physicians and professionals from different medical fields
A descriptive presentation on the pathway to medicine where attendees will learn tips and tricks to be successful on the road to medical school, as well as the requirements for becoming a physician
A medical challenge to ignite your critical thinking in a medical themed environment
A panel with question and answer period from current medical students from each medical school year
An organizing team of undergraduate and medical students with deep knowledge into the medical application process and connections to the health fields
2020 Keynote Speakers
MedConnect will be featuring lectures from esteemed physicians, successful residents, and a panel of medical students. Speakers and a short biography will be revealed periodically on this webpage as the event approaches.
Lectures from physicians will cover topics relevant for aspiring physicians challenging a modern medical world, such as the impact of COVID-19 on the medical community, the pathway to becoming a chief specialist, what their daily lives are like, and the hidden unknowns of their specific fields like surgery.
Our medical students from all across Canada will be sharing their unique perspectives on medicine as taught in various MD programs, having gone through both the rigorous application process and the daily lifestyle of a physician in training. Giving advice on the pathway to medicine, holding specially catered workshops, and inspiring their future colleagues, the medical student panel cannot wait to meet the motivated event attendees of MedConnect.
Dr. Rob Trasolini
Dr Rob Trasolini is an SFU and PhiDE alumnus. He is a board certified specialist in Internal Medicine and is currently in his final year of gastroenterology subspecialty training. He attended medical school at the University of British Columbia, Internal Medicine residency at Royal Jubilee Hospital in Victoria and now spends his time between St. Paul's Hospital and Vancouver General Hospital. His passions in life include spending time with his partner and his two energetic toddlers. Professionally he is interested in advanced endoscopy and endoscopic innovation especially the evolving field of minimally invasive alternatives to surgery. He has held several leadership positions in medical school and beyond and considers it a privilege to teach medical students and residents. He very much remembers the challenge of getting into medical school.
Dr. Matt Snow
Matt Snow is a first-year General Surgery Resident at Queen's University. He is originally from Toronto, Ontario and there completed an undergraduate degree in Physiology and Human Biology at the University of Toronto. Afterwards Matt went on to do a Master's Degree in sleep neuroscience also at the University of Toronto, investigating the brain circuitry underlying narcolepsy and cataplexy. Matt's interest in surgery began during graduate school, where as part of his project he learned basic surgical principles and how to perform stereotaxic surgery. He explored this interest further in medical school at Queen's University, developing a specific interest in General and Thoracic Surgery. Matt is also passionate about innovation in medicine and has pursued research involving lung transplantation and ex vivo lung perfusion, translating technology into surgical consultation, and restructuring the surgical pathway to improve postoperative outcomes. Matt has previously lectured and facilitated workshops at various undergraduate conferences and enjoys opportunities to mentor aspiring physicians. He is excited to participate in MedConnect this year!
Further Updates to the Speaker Panel are COMING SOON!