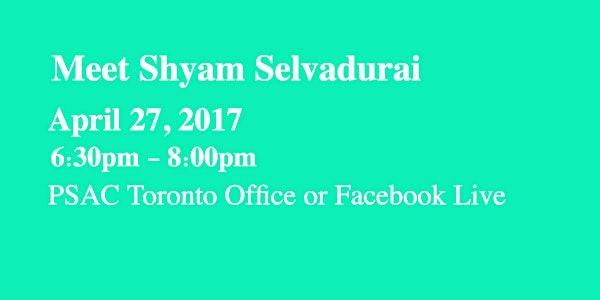 Meet Shyam Selvadurai :-)
By PSAC GTA Young Workers Committee and PSAC Pride
Date and time
Thu, Apr 27, 2017 6:30 PM - 8:00 PM EDT
Location
Public Service Alliance of Canada 90 Eglinton Avenue East Large Boardroom Toronto, Ontario M4Y 2P3 Canada
Description
The PSAC GTA Young Workers Committee in collaboration with PSAC Pride invite you to meet Shyam Selvadurai on Thursday, April 27, 2017 at the PSAC Toronto Regional Office. This talk is made possible through a Human Rights and Dignity Grant from the Pollination Project.
A bit about Shyam

Shyam Selvadurai was born in Colombo, Sri Lanka, in 1965. He came to Canada with his family at the age of nineteen. He has studied creative writing and theatre and has a BFA from York University, as well as an MFA in Creative Writing from the University of British Columbia..
Funny Boy, his first novel, was published to acclaim in 1994 and won the WH Smith/Books in Canada First Novel Award and in the US the Lambda Literary Award. It was also named a Notable Book by the American Library Association, and was translated into 8 languages.
His second novel, Cinnamon Gardens, was published in Canada, the UK, the US and translated into 9 languages. It was shortlisted for Canada's Trillium Award, as well as the Aloa Literary Award in Denmark and the Premio Internazionale Riccardo Bacchelli in Italy.
Shyam is the editor of an anthology, Story-Wallah: A Celebration of South Asian Fiction, published in Canada and the US. His novel for young adults, Swimming in the Monsoon Sea, was shortlisted for the Governor General's Award and is the winner of the Lambda Literary Award in the US, the Canadian Library Association Book of the Year Award and Silver Winner in the Young Adult Category of ForeWord Magazine's Book of the Year Award.
His articles have appeared in numerous publications, including The New York Times, Time Magazine, Toronto Life, Walrus Magazine, Enroute Magazine, The Globe and Mail and the Toronto Star. He served as Festival Curator for the Galle Literary Festival for 2 years. His fourth novel, The Hungry Ghosts, was published April 2, 2013 in Canada, India and Sri Lanka. It was shortlisted for Canada's prestigious Governor General's Award for Fiction and longlisted for the DSC South Asia Literature Prize. His latest work is a comprehensive anthology of Sri Lankan literature, Many Roads Through Paradise.
Please RSVP so we can have enough snacks!
This special event is open to all PSAC equity seeking members and our allies :-)
We hope to see you there,

Janel Coe- Chair, PSAC GTA Young Workers Committee
Steve Khan- Chair, PSAC Pride
About the organizer
The PSAC GTA Young Workers Committee is made up of young worker members (workers 35 or under) who strive to educate young workers about the labour movement; engage, mobilize and retain young workers; and raise awareness on issues that young workers face today.
The PSAC Greater Toronto Area (GTA) Pride Committee (PSAC Pride for short) is made up of LGBT+ (Lesbian, Gay, Bisexual, Transgender with a plus to encompass Intersex, Queer, Questioning, 2-Spirited, Asexual and other forms of sexual orientation and gender expression, such as genderqueer or gender non-conforming persons) members who have come together to focus on the elimination of discrimination based on gender identity, expression and/or sexual orientation.