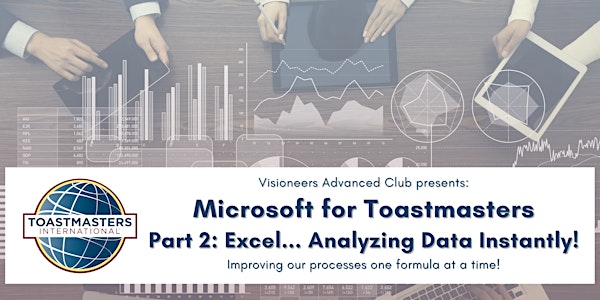 Microsoft for Toastmasters Part 2: Excel... Analyzing Data Instantly
Excel... Analyzing data instantly to empower you to make decisions as a leader!
About this event
Analyzing Data in an Instant!
After attending "Part 1: Excel... Beyond the Basics", join us for a second session to continue your journey!
Every organization has established metrics and pages and pages of data to support the health of against those metrics - and we know that data in a raw state can be overwhelming and hard to analyze! But... Excel allows us to carefully organize all of information the while providing the ability to sort and organize the information in any way that you choose.
It is a powerful tool that can assist any individual - and you do NOT have to be a computer programmer to use it. A simple desire to improve efficiencies and process will start you on a journey.
With the advanced capabilities of Excel, you will be able to organize your information better, make calculations when necessary, and sort the information so that it can be appropriately analyzed and understood.
Through this series, our District 61 Program Quality Director and proud Visioneers Advanced member, will guide us through formulas, tools, best practices, and methodologies to set you up for success... both in Toastmasters and out of Toastmasters!
Whether you are a curious member, a Club Officer, a District Leader, or a future District leader, this session is for you!
Join us on Zoom to go beyond the basis in Excel. Part 1 includes:
Understand Excel's capabilities and the benefits of using the software
Instil the idea that Excel ALWAYS makes it easier
Create data lists to work for you
Use Pivot Tables to best understand the information
Agenda:
18:45 – Sign in and network with other Toastmasters
19:00 – Sessions begin
The Zoom link will be provided in the confirmation email.
See you there!