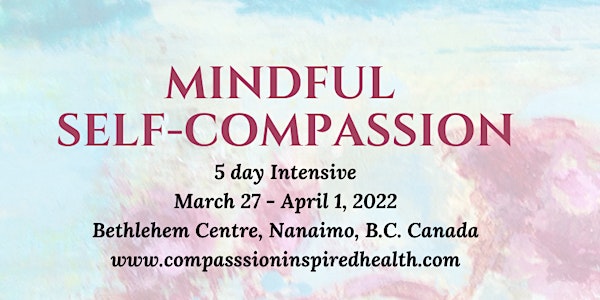 Mindful Self-Compassion Intensive
This 5-day training program offers a deep dive into Mindful Self-Compassion practice designed to cultivate the skill of self-compassion.
When and where
Location
Bethlehem Centre 2371 Arbot Road Nanaimo, BC V9R 6S9 Canada
Refund Policy
Contact the organizer to request a refund.
About this event
About the program:
Mindful Self-Compassion (MSC)​ is an evidence-based training program designed to cultivate the skill of self-compassion.
Based on the groundbreaking research of Dr Kristin Neff (PhD) and the clinical expertise of Christopher Germer (psychologist), MSC teaches core principles and practices that enable participants to respond to difficult moments in their lives with kindness, care and understanding.
Rapidly expanding research demonstrates that self-compassion is strongly associated with emotional wellbeing, less anxiety, depression and stress, maintenance of healthy habits such as diet and exercise, and satisfying personal relationships. And it's easier than you think.
The three key components of self-compassion are self-kindness, a sense of common humanity, and balanced, mindful awareness.
- Kindness opens our hearts to suffering, so we can give ourselves what we need.
- Common humanity opens us to our essential interrelatedness, so that we know we aren't alone.
- Mindfulness opens us to the present moment, so we can accept our experience with greater ease.
Together they comprise a state of warm-hearted, connected presence.
Self-compassion can be learned by anyone, even those who didn't receive enough affection in childhood or who feel uncomfortable when they are good to themselves.
It's a courageous attitude that stands up to harm, including the harm that we unwittingly inflict on ourselves through self-criticism, self-isolation, or self-absorption.
Self-compassion provides emotional strength and resilience, allowing us to admit our shortcomings, motivate ourselves with kindness, forgive ourselves when needed, relate wholeheartedly to others, and be more authentically ourselves.
After participating in this workshop, you'll be able to:
Practice self-compassion in daily life
Understand the evidence-based benefits of self-compassion
Motivate yourself with kindness rather than criticism
Handle difficult emotions with greater ease
Transform challenging relationships, old and new
Manage caregiver fatigue
Practice the art of savouring and self-appreciation
The MSC curriculum will be offered as:
– an introductory evening
– four full days of training
– a final morning of training and closing
Residential and commuter fee options are available and include meal packages
As the name suggests, an MSC intensive is a deep dive into the practice of self-compassion. While it can be emotionally challenging, concentrated practice allows you to immerse yourself more deeply in MSC and experience its transformative potential
What To Expect:
Program activities include meditation, short talks, experiential exercises, group discussion and practices in pairs or small groups. MSC is a workshop held in a retreat setting. The goal is for participants to directly experience self-compassion and learn practices that evoke self-compassion in daily life.
We are including daily facilitated creative opportunities to support embodiment of the practices. The goal is to support participants in the creation of a personal set of Mindful Self-Compassion Cards to further take away on their journey and support their daily practice.
MSC is primarily a compassion training program, although mindfulness is the foundation of self-compassion. MSC is also not psychotherapy insofar as the emphasis of MSC is on building emotional resources rather than addressing old wounds. Positive change occurs naturally as we develop the capacity to be with ourselves in a kinder, more compassionate way.
This training course fulfills the pre-requisite for the internationally recognized MSC Teacher Training offered through The Centre for Mindful Self-Compassion.
Teachers:
Victoria Pawlowski Certified MSC Teacher and Psychotherapist offering mindfulness based, compassion focused counselling and Mindful Self-Compassion Training to people who are struggling with stress, burnout, illness, trauma and grief. Victoria loves collaborating with others to create and hold space for healing and transformation.
Dr. Kristy Williams Trained MSC Teacher and Family Physician in Nanaimo enjoying community practice, hospital rounding, urgent care, palliative care, home visits and street medicine with people who are unsheltered/homeless. Kristy has been meditating for over 14 years and has trained in trauma-sensitive mindfulness, embodied leadership and mindful self-compassion.
Vicki McLeod Facilitator, Author, Certified Coach and Mindful Self-Compassion practitioner. Vicki blends creative tools including writing exercises, collage, visual metaphor, and art exploration into her holistic coaching practice to help clients anchor and embody core insights and concepts. Based on this unique approach she will offer daily creative exploration opportunities to enrich participants' experience of the Mindful Self Compassion training.
Location: Bethlehem Retreat Centre, Nanaimo, B.C. Canada.
Registration:
Private Room Residential Program Fee includes MSC program, 5 nights private room accommodation and all meals inclusive from dinner on Sunday March 27, 2022 through to lunch on Friday April 1st.
$1700 CAD incl. taxes
Shared Room Residential Program Fee includes MSC program, 5 nights shared room accommodation and all meals inclusive from dinner on Sunday March 27, 2022 through to lunch on Friday April 1st.
$1575 CAD incl. taxes
Commuter Program Fee includes MSC program, day use of facilities and all meals inclusive from dinner on Sunday March 27th, 2022 through to lunch on Friday April 1st.
$1325 CAD incl. taxes
Cancellation Fee
Full refund available for cancellations made 30 days prior to the start of the program less an administrative fee of $100 CAD. No refunds later than 30 days prior.
This event will adhere to the guidelines issued by the BC Public Health Authority related to Covid-19. Participants will require up-to-date vaccinations.