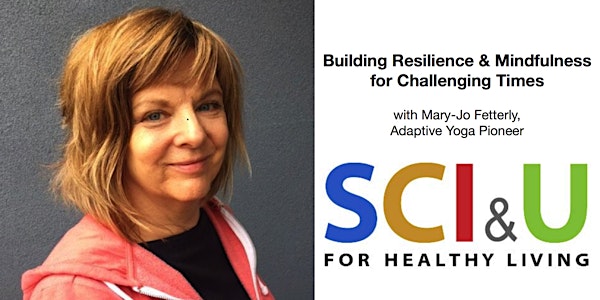 Mindfulness and Resilience Tips for People with SCI
Learn short, online tips designed to encourage the mindfulness and resilience required to face challenges.
About this event
This event will take place on Zoom, which is videoconferencing software. Registered participants will be able to access the event on April 8 at this link (and will receive reminders by email).
Please join a welcoming community of peers with spinal cord injury and partners as we learn and practice mindfulness and resilience techniques to help us face our challenging, uncertain times.
We will be guided by Mary-Jo Fetterly, a native of Vancouver and pioneer in the field of adaptive yoga and mindfulness study. To find out more about her work, please visit her website.
About Mary-Jo
Mary-Jo began her formal training in Iyengar yoga in the mid 80's, while raising children and studying psychology. In 1995, she received a "Body Centered Therapy"certificate in massage and Somatic based bodywork. She went on to train with Dr. Carolyn Myss who is now one of the leading educators in the field of energy anatomy and intuitive medicine; then David Swenson, Tim Millar & Ana Forest in the early rise of Ashtanga or hot yoga. Subsequently, she opened "Shanti Yoga Works", the first yoga studio to be established in Nelson, BC. During the first operational years of the Shanti Yoga studio, Mary-Jo developed a 200-hour yoga teacher training program, and formed the company "Trinity Yoga", which has trained hundreds of teachers since its inception.
On January 25 2004, Mary-Jo had a skiing accident that crushed her C4, C5 and C6 vertebrae and left her paralyzed from the neck down. She was diagnosed with Quadriplegia-complete, a "worst case diagnosis" predicted by doctors. Her journey back to health and coping with her current situation – defied odds, is a miraculous recovery due to hard work, faith, knowledge, insight, determination, and strong willed optimism. Mary-Jo has continued her studies in Somatic Psychotherapy, Yoga therapy and advanced teacher training. She has been a long time student of Yogarupa Rod Stryker the esteemed North American Tantra master, with whom she is currently working on her master teacher training with.
The devastation, difficulties and challenges of the spinal cord injury haven't held her back as Mary-Jo continues to mother, teach and inspire others to engage in their own personal journeys of healing and transformation.