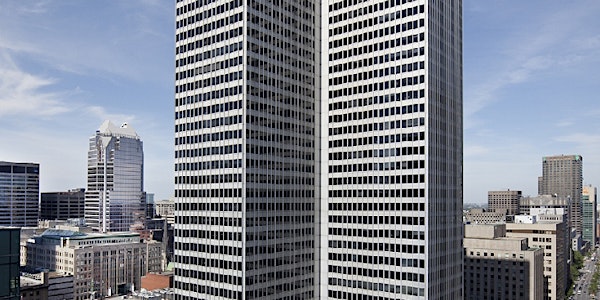 MITPro DevOps event- Un incroyable évènement de DevOps que vous ne voulez pas manquer -A DevOps event you don't want to miss
When and where
Location
Wework 3 Place Ville Marie Wework Montreal, Quebec H3B 2B6 Canada
Description
DevOps what you need to know about it
Whether you are a Sysadmin, developer, IT director or even just a business man.
DevOps is a movement that is growing and it is here to stay.
Join us at our inaugural event that will cover all you need to know about DevOps so that you are inspire by how our industry is changing and how you can apply it to your own activities.
Learn about the following concepts so that you can apply them to you day to day activities.
The Agile Manifesto

Configuration management:

Chef Puppet

Jenkins




Network automation:

LEAN

Kanban

Scrum

Kaizen (continuous improvement)

Continuous delivery

Continuous deployment
And many more…
If you have never heard about DevOps…then this events if for you. If you already heard about or practicing it's concepts, you can still benefit from the insight presented and new ideas from the people attending this event.
The DevOps movement is trending with some major players including Microsoft, Amazon, Netflix, and many more. You don't want to miss out on knowing more about this unavoidable trending movement.
Topic -2: Monitoring… Monitoring, we all do it but are we really doing it right!
We all know monitoring is important but all too often neglected. We don't realize that proper monitoring needs to be done at 100%. Missing out on one part of your infrastructure, however small, can lead to disastrous effects. We will teach and show you how to avoid this reality. We will also touch on some DevOps approaches to monitoring.
Learn from the best monitoring practices in the industry. Gain new insight on techniques that large organizations and cloud providers are using today (Microsoft, Amazon, Netflix, etc.). Take advantages of this event and don't miss out on the opportunity to grow your awareness and knowledge on how to better use the monitoring tools you are using now and learn about some you don't even know about.
There will be fabulous food and beverages plus it will be held in the newly beautifully constructed WeWork event hall in downtown Montreal in Place Ville-Marie.
Also we are giving away 1TB of FREE! cloud storage to all attendee.
Don't miss out on this fantastic opportunity for learning. When you leave we will make sure you were glad you attended…leaving with new viewpoint about your business, your job and maybe even on your life.
So register now since places are limited.
Location directions?
3 Place Ville-Marie entrance is on Cathcart corner McGill.
Enter the building and head left towards the elevators.
Go to the elevators a press "L" for lobby. Once at the lobby, the room is located on your right side, right in front of the CDPQ office.
Big thanks to WeWork, a community of creators that aims to help companies grow by providing them with not just beautiful space, but also the benefits, amenities, and professional community they need to focus on their business. Visit our website to set up a tour today!
DevOps : découvrir ce que vous devez savoir à ce sujet
Que vous soyez un administrateur de système (sysadmin), un développeur, un directeur informatique ou un dirigeant d'entreprise, le concept DevOps est en pleine croissance, de plus en plus populaire, et surement là pour y rester.
Rejoignez-nous à notre événement inaugural qui couvrira tout ce que vous devez savoir sur DevOps, afin que vous soyez inspiré par la façon dont notre industrie évolue et comment vous pouvez l'appliquer à vos propres activités.
Apprenez les concepts suivants afin que vous puissiez les appliquer à vos activités quotidiennes.
Agile Manifesto

Gestion de la configuration:

Chef

Puppet

Jenkins

Automatisation réseautique

LEAN

Kanban

Scrum

Kaizen - amélioration continue (Continuous improvement)

Livraison en continu (Continuous delivery)

Déploiement continu (Continuous deployment)
Et encore plus…
Si vous n'avez jamais entendu parler de DevOps... alors cet événement est pour vous. Si vous en avez déjà entendu parler ou vous appliquer ses concepts, vous bénéficierez surement des sujets présentés et surtout des nouvelles idées des participants qui prendront part à cet événement.
Le mouvement DevOps est appliqué par des joueurs majeurs de l'industrie, y compris Microsoft, Amazon, Netflix et beaucoup plus. Vous ne voulez pas manquer l'opportunité d'en découvrir plus sur ce mouvement qui deviendra de plus en plus un choix inévitable à court terme.
Sujet -2 : La surveillance… surveillance, nous la faisons tous, mais savons-nous vraiment l'exécuter correctement !
Nous savons tous que la surveillance est importante, mais est trop souvent négligée. Nous ne réalisons pas qu'une surveillance adéquate doit être effectuée à 100 %. Oublier de surveiller une partie de votre infrastructure, si petite soit-elle, peut entrainer des effets désastreux. Nous allons vous apprendre et vous démontrer comment éviter cette situation. Nous aborderons également certaines approches de la surveillance basée sur le DevOps.
Apprenez les meilleures pratiques de surveillance dans l'industrie. Accédez à de nouvelles connaissances sur les techniques qu'utilisent actuellement les grandes entreprises et les fournisseurs infonuagiques (cloud) tel qu'Azure, Amazon et autres.
Profiter de cet événement peut vous offrir l'occasion de faire croitre vos connaissances et votre conscientisation, de façon à mieux utiliser les outils de surveillance que vous utilisez actuellement. Peut-être aussi d'en apprendre davantage sur certains que vous ne connaissez peut-être pas.
(Insérer le bouton d'inscription)
Il y aura de la bonne bouffe et des boissons, de plus l'événement se tiendra dans la salle nouvellement construite de WeWork au cœur du centre-ville de Montréal dans la Place Ville-Marie.
Nous allons offrir également 1 To de stockage infonuagique GRATUIT ! à tous les participants.
Ne manquez pas cette fantastique opportunité d'apprentissage. Notre but est qu'à la fin de cette présentation, vous soyez satisfait d'y avoir assisté... en quittant avec un nouveau point de vue sur votre entreprise, votre travail et peut-être même sur votre vie.
Inscrivez-vous dès maintenant, car les places sont limitées.
### Quand ###
Jeudi le 4 mai
17 h – ouverture des portes
18 h 15 - Début des présentations
20 h - Fin
Emplacement et directions ?
3 Place Ville-Marie, l'entrée est sur Cathcart coins McGill.
Entrez dans le bâtiment et virez à gauche vers les ascenseurs.
Allez aux ascenseurs et pesez sur "L" pour le Lobby. Une fois dans l'entrée, la salle est située sur votre droite, juste en face du bureau du CDPQ.
Un grand merci à WeWork, une communauté de créateurs qui vise à aider les entreprises à grandir en leur fournissant non seulement un bel espace, mais aussi les avantages, les commodités et une communauté professionnelle pour leurs aider à se concentrer sur leurs affaires. Visitez notre site Web pour organiser une tournée aujourd'hui!.