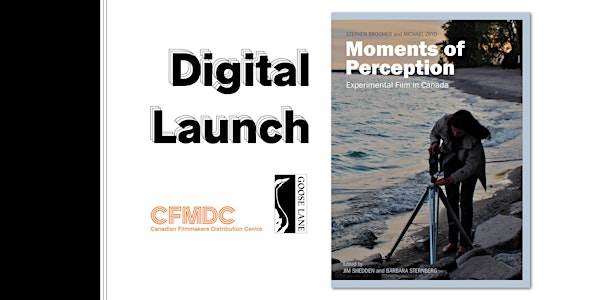 Moments of Perception: Experimental Film in Canada, Book Launch
Join the Canadian Filmmakers Distribution Centre & Goose Lane Editions for the virtual launch of Moments of Perception
About this event
Join the Canadian Filmmakers Distribution Centre and Goose Lane Editions for the virtual launch of Moments of Perception: Experimental Film in Canada on Tuesday, 30 November 2021, at 6:00 p.m. ET. Featuring a video presentation and in-depth discussion with the authors Stephen Broomer and Michael Zryd, as well as a conversation between editors Barbara Sternberg, Jim Shedden, and special guest Brett Kashmere of Canyon Cinema. This is an event you won't want to miss!
Moments of Perception is a landmark book. The first history of twentieth and early-twenty-first-century Canadian experimental filmmaking, it maps avant-garde film across the country from the 1950s to the present day.
Experimental film is political in its very existence, critical of the status quo by definition. In Canada, some of the country's best-known artists took up the moving image as a form of artistic expression, allowing them to explore explicitly political themes. Mike Hoolboom's exposure of the horror of AIDS, Josephine Massarella's concern for the environment, and Joyce Wieland's satiric look at US patriotism are just a few examples of work that contributed to social movements and provided a means to explore issues of race and gender and 2SLGBTQ+ and Indigenous identities.
Moments of Perception offers a fresh perspective on the ever-evolving history of Canada's experimental film and moving image media arts.
This event is free to attend.
Artist biography:
Editors: Jim Shedden has directed documentaries and edited books on experimental filmmakers. Barbara Sternberg has been making films since the mid 1970s. Her films have been screened around the world and her work is in the collection of the AGO and the NGC. Both Sternberg and Shedden have been involved in the artist-run experimental film scene in Toronto since the mid 1980s, programming and coordinating screenings, festivals, and congresses; curating exhibitions; and writing on film.
Authors: Michael Zryd is Associate Professor of Cinema & Media Arts at York University. He has published widely on experimental film, including articles on Hollis Frampton, Joyce Wieland, and Canadian film studies. Stephen Broomer has made over forty films, in addition to publishing on, curating, and preserving Canadian experimental film.
About CFMDC:
Established in 1967, CFMDC is a not-for-profit, non-commercial media arts distributor that specializes in independent, artist made work on film and video, including works from historically underrepresented communities. We advocate for a holistic understanding of production, distribution, and exhibition that prioritizes artist rights, accessibility and the creation of new audiences through education and critical thinking.
Through a unique and successful national and international distribution service, CFMDC makes its collection available for preview, rental or sale for the purposes of research, exhibition, screening and broadcast as well as for institutional and private acquisition.