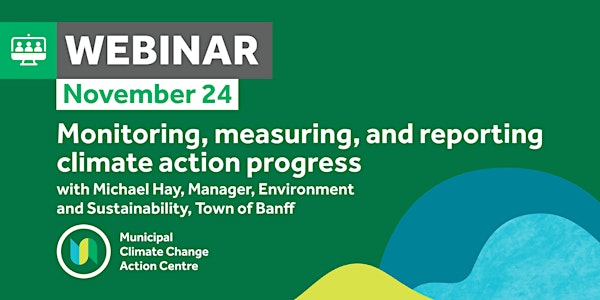 Monitoring, Measuring, and Reporting Climate Action Progress
Assess progress and measure the impact of municipal climate action.
About this event
Join the Action Centre and Michael Hay, Manager, Environment and Sustainability, Town of Banff for a webinar on how to monitor, measure, and report your municipal climate action progress.
We'll talk about:
Tracking the results of specific emissions reduction measures
Updating greenhouse gas emission inventories
Documenting progress and engaging stakeholder
How the Town of Banff monitors, measures, and reports on their climate action progress
Join us on November 24 for this FREE webinar.
This webinar is intended for municipalities in the Partners for Climate Protection program, working on Milestone 5. However, any interested municipalities or individuals are welcome to join.
Tip: Read about monitoring, measuring and reporting on climate action.
Michael Hay's Biography
As Manager, Environment and Sustainability, Michael leads the Town of Banff's work in the implementation of their Environmental Master Plan, a comprehensive and courageous roadmap to a sustainable future for both the residents and visitors of Banff, and the ecosystems in which they live and interact.
Municipal Climate Change Action Centre
The Municipal Climate Change Action Centre was founded in 2009 as a collaborative initiative of the Alberta Urban Municipalities Association, Rural Municipalities of Alberta, and the Government of Alberta. We deliver funding, technical assistance, and education to help Alberta municipalities, school authorities and community related organizations advance actions that lower energy costs, reduce greenhouse gas emissions, and improve climate resilience.
Learn more at mccac.ca