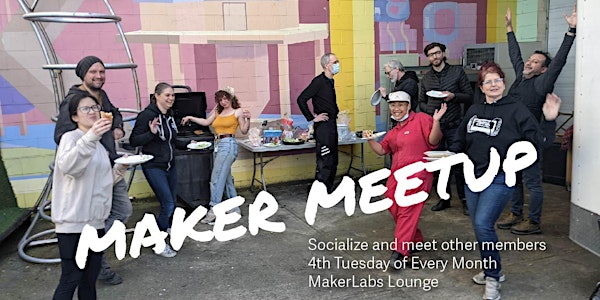 Multiple dates
Monthly Maker Meetup
Q&A for new and current members at MakerLabs, or anyone interested in getting involved in the community or the co-working experience.
Date and time
Tue, Jul 26, 2022 7:00 PM - Tue, Apr 25, 2023 8:30 PM PDT
Location
MakerLabs 780 East Cordova Street Vancouver, BC V6A 1M3 Canada
About this event
This Maker Meetup is an opportunity to break the ice at MakerLabs, meet other beginners, tour the facilities, and receive support from MakerLabs staff.
This event is open to members and non-members of MakerLabs, and we encourage both new and old members to attend and meet others in the community.
If you're just getting started in hobby making or starting your small business, meeting other creatives in a co-working setting can be intimidating. Who can you ask for help? Where are certain tools or amenities stored at MakerLabs? How do you begin to network and collaborate with others? What's the best way to kickstart your maker career? We're here to help smooth your transition into the culture!
If you've been working on something cool and want to share it, you can do a 5 minute show and tell. Maybe you're looking for collaborators on a project, or if you've recently learned a new skill, come share it with others.
The Woodworking residency will also be presenting their finished projects, so come and get inspired by other beginners.
This will be a loosely structured event with no formal curriculum or teaching. Ask for advice on your concepts or project, introduce yourself, or simply hangout and chat.
Interdisciplinary participation is strongly encouraged, but absolutely no experience required.
Topics: woodworking, ceramics, woodturning, textiles, electronics, CNC machining, 3D printing, welding, metal fabrication.
About the organizer
MakerLabs is a makerspace in Vancouver that provides you with the tools, space, and skills to make almost anything.