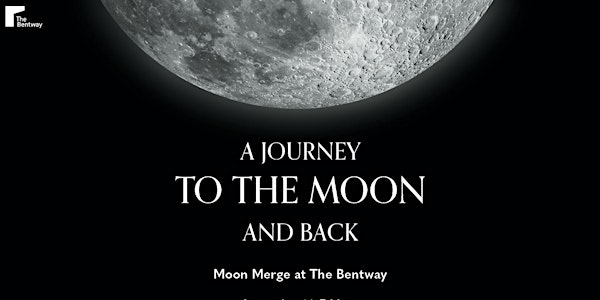 Moon Merge w/ Laurie Brown and Pondercast
As a full moon rises over Toronto, join us for a journey to the moon and back at Moon Merge, with a live podcast recording and performances.
When and where
Location
The Bentway 250 Fort York Boulevard Toronto, ON M5V 3K9 Canada
About this event
Moon Merge w/ Laurie Brown and Pondercast
September 14 @ 7:30 pm - 1:00 am
The first set starts at 7:30pm, so please arrive on-time
Moon Merge is the culmination of The Bentway's presentation of Museum of the Moon (September 10-15)- a seven-metre wide touring sculptural work by UK artist Luke Jerram.
On September 14, as a full harvest moon rises over Toronto, Pondercast host Laurie Brown and Juno-nominated electronic composer and musician Joshua Van Tassel will explore how city-dwellers merge with their natural surroundings during a live podcast recording that takes visitors on a virtual journey to the moon and back. The evening includes performances by Toronto-based musicians Choir! Choir! Choir!, Bernice and a special silent disco set by Halifax's Rich Aucoin.
Schedule
7:30pm: Choir! Choir! Choir! sing-along (lyrics will be provided)
8:30pm: Pondercast live, Cycles of the City.
9:00pm: Bernice performance
10:00pm: Pondercast live, Lunar Landing
11:00pm: Rich Aucoin silent disco (headphones will be provided)
____
About Laurie Brown
Laurie Brown is a passionate advocate for the arts and artists in Canada. She has built a reputation as an accomplished interviewer and seasoned broadcaster by bringing out the best in Canadian artists. Her career started at CITYTV on The New Music, then at MUCHMUSIC, then to CBC's flagship documentary show The Journal on CBC, on CBC's THE NATIONAL and on NEWSWORLD's On the Arts.
Laurie hosted The Signal, a much-loved late night music show on CBCRADIO 2 for a decade. Now, she hosts her own podcast called Pondercast and tours the country performing Pondercast live with musician Joshua Van Tassel.
About Choir! Choir! Choir!
Choir! Choir! Choir! is a Toronto-based singing group led by creative directors Nobu Adilman and Daveed Goldman. The duo takes a non-traditional approach; there are no auditions, and the audience is the choir. Just show up and they'll teach you an original arrangement to a song you love. Founded in 2011, Choir! Choir! Choir! has amassed a dedicated and passionate community of singers and a thriving international fan base on YouTube. The group has performed with renowned artists such as Patti Smith, Tegan and Sara, David Byrne, Rick Astley, and Rufus Wainwright, and onstage at New York's Carnegie Hall and Radio City Music Hall with the likes of Debbie Harry and The Flaming Lips. Choir! Choir! Choir! exists to celebrate music and push the boundaries between practice and performance, artist and audience, offering therapeutic benefits with the ultimate side effect: a powerful community.
About Bernice
Bernice, the project of Toronto-based vocalist/songwriter Robin Dann, blends "melodies reminiscent of artists like Sade with the playful sounds of artists like Deerhoof and Dirty Projectors" (Pigeons & Planes). Dann, the daughter of two symphony orchestra performers, is a trained vocalist with a Masters in Music from Goldsmiths, University of London, and her band – Thom Gill (keyboards/samples), Felicity Williams (vocals), Phil Melanson (percussion), and Dan Fortin (bass) – features active members of Bahamas, Owen Pallett, Leif Vollebekk, and DIANA.
About Rich Aucoin
Since releasing his first EP in 2007, Rich Aucoin has made it his life's work to transform our fear into fun, anxiety into ecstasy, panic into pleasure. A mad DayGlo-pop scientist in the tradition of Brian Wilson, Wayne Coyne, and Dan Snaith, Rich is the sort of artist who has no time for half measures, utilizing all the resources and connections at his disposal to ensure his every gesture is a Major Event. To wit, his first proper album, 2011's We're All Dying to Live, was a 22-track orchestro-rock magnum opus that, once you factor in the numerous choirs on hand, featured over 5 00 collaborators. But making music is only half the story with Rich—each of his releases to date have been constructed in tandem with companion films made up of classic movies and public-domain footage that are meticulously edited by Rich himself to sync up perfectly with his songs. And those visuals form the backdrop to a now-legendary live spectacle that is less a rock concert than a secular big-tent revival, uniting congregations under giant rainbow parachutes and thunderclouds of confetti.
Presented in partnership with Pondercast.