Event Information
Refund Policy
Contact the organizer to request a refund.
Eventbrite's fee is nonrefundable.
About this Event
This concert will be livestreamed on January 22, 2021, 8 pm EDT and will be available for viewing until February 19, 2021
SINFONIA TORONTO / NURHAN ARMAN Conductor
Maestro Arman and the orchestra will give the world premiere of Toronto composer Alice Ping Yee Ho's meditation on hope and brave souls fighting to save lives, and then perform a perfect pairing: music by Mozart and Tchaikovsky, who adored Mozart above all other composers.
Program
ALICE PING YEE HO Resurrected Angel
MOZART String Quartet No. 23 in F Major K 590 orchestral version
TCHAIKOVSKY Sinfonia in E-flat Minor Opus 30a orchestral version
Program Notes
Resurrected Angel II by Alice Ping Yee Ho (born 1960)
Program note by composer Alice Ping Yee Ho
The first version of "Resurrected Angel" was written many years ago, to pay tribute to Toronto's Sick Kids Hospital when my infant daughter recovered there from Kawasaki disease. "Resurrection Angel II" is a new single-movement composition revived from the spirit of the first version. It reflects my personal interpretation of "Resurrection": a journey to triumph over darkness and attain hope. Inspired by the present global pandemic situation, "Resurrected Angel II" salutes many brave souls and their fight to protect life and humanity.
The dramatic aspect of the work is built on a complex harmonic terrace of divisi strings, showcasing the virtuosity of solo and ensemble playing, and capturing tempestuous energy through contrasting moods dynamic, and rhythmic approaches. There is a "social distancing" staging between violin sections 1 and 2, which are placed at opposite ends of the space to create stereophonic effects. The solo violin is symbolic of the "calling out" of the "brave voice," with the "divine separation" setup of the lower strings representing the forces of nature.
String Quartet No.23 in F Major K 590 by Wolfgang Amadeus Mozart (1756-1791) Orchestral version by Nurhan Arman
Mozart wrote twenty-three quartets during his brief life; the Quartet in F Major, K 590 is his last. Mozart's early works reflect Haydn's influence, particularly his early quartets; after studying Haydn's quartets, Mozart dedicated an early set of six to the older composer. By 1789, when he wrote this quartet, Mozart was a well-known composer himself, able to secure noble patronage in response to specific compositions, at least, even though he never succeeded in obtaining the permanent court appointment his father had so energetically sought for him.
The Quartet in F Major is the third of Mozart's "Prussian" quartets, commissioned by Friedrich Wilhelm II, King of Prussia, to play with his court musicians for his own enjoyment. Mozart therefore gave the cello part a more prominent role than typical of Classical quartets, and the challenges in such solo passages show that the King must have been a good cellist.
This quartet sits at the pinnacle of Classical form. Its follows the structure established by Haydn, four movements in contrasting tempos. The first is in sonata form, the usual three-part structure that contrasts two different themes.
The second movement consists of variations on a simple rhythm that opens the movement. The third movement is a standard minuet and trio, and the finale is in rondo form, with the customary returns to a theme that functions like the refrain in a song.
The structure is Classical, but within it bubbles the increased expressive content with which Mozart enriched his mature quartets. In this case, the content is cheerful, with teasing dialogues and sudden, witty pauses in the music, in spite of the fact that Mozart was enduring a period of worry and financial hardship. The King paid Mozart less than he had hoped for, and he also received only a low fee for publication of the set. He wrote to a friend, "Now I am forced to give away my quartets, that laborious work, for a trifling sum just in order to get my hands on some money." The set was published soon after his death in 1791.
Sinfonia (String Quartet No.3) Op. 30a by Peter Ilyitch Tchaikovsky (1840-1893) Orchestral arrangement by Nurhan Arman
"I think I have rather written myself out. I'm beginning to repeat myself and cannot conceive anything new. Have I really sung my swan song and have nowhere further to go?" Always insecure, and at the same time ambitious to achieve the highest degree of artistic perfection, Tchaikovsky wrote to his brother Modeste, tormented by self-doubt, just before the private premiere of his Third Quartet in March 1876. He could not foresee that audiences would actually burst into tears during the Andante funebre movement when the quartet had its first public performances a few weeks later.
Tchaikovsky had composed the quartet in less than four weeks as a tribute to Ferdinand Laub, who had died a year before. Laub had played first violin in the premieres of Tchaikovsky's first two quartets; his third and last quartet was a memorial for his colleague and friend.
In the elegiac opening Andante, the first violin intones a hymn-like melody that unfolds into a funeral march. The main theme of the movement is a valse triste that incorporates a variety of thematic and rhythmic ideas, including an offset-rhythmic episode that is one of Tchaikovsky's musical signatures: he sets accents against the normal triplet metre, giving the impression of 2/4 time. The funeral march returns at the end of the movement.
The Scherzo is a brief interlude between the more substantial first and last movements, and sounds more like a Russian dance than a traditional Scherzo. Its middle section is a sorrowful contrast to the vigorous outer sections.
The Andante funebre is the quartet's center of gravity, even though it occurs in the first movement. Tchaikovsky may have worried that he had written himself out because he could not find a theme for the finale that fully balanced the inspiration of its first movement. The last movement possesses a driving energy but not the same thematic interest for most of its duration; however Tchaikovsky's inspiration returned near the end, where he inserted an Andante reminiscent of the elegiac introduction to the first movement, and wrote the cello line to spells out the name F-Er-Di-nAnd as a final farewell.
Biographies
Sinfonia Toronto now in its 22nd season, has toured twice in Europe, in the US, South America and China, receiving glowing reviews. It has released four CD's, including a JUNO Award winner, and performs in many Ontario cities. Its extensive repertoire includes all the major string orchestra works of the 18th through 21st centuries, and it has premiered many new works. Under the baton of Nurhan Arman the orchestra's performances present outstanding international guest artists and prominent Canadian musicians.
Maestro Nurhan Arman has conducted throughout Europe, Asia, South America, Canada and the US, returning regularly to many orchestras in Europe. Among the orchestras Maestro Arman has conducted are the Moscow Philharmonic, Deutsches Kammerorchester Frankfurt, Filarmonica Italiana, St. Petersburg State Hermitage Orchestra, Orchestre Regional d'Ile de France, Hungarian Symphony, Arpeggione Kammerorchester, Milano Classica and Belgrade Philharmonic.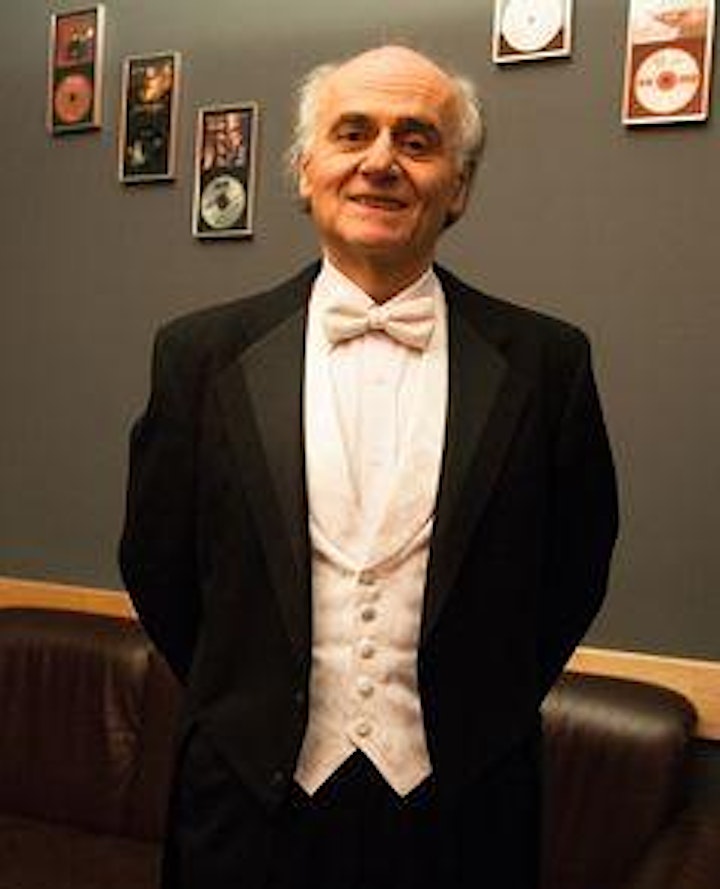 Date and Time
Location
Refund Policy
Contact the organizer to request a refund.
Eventbrite's fee is nonrefundable.