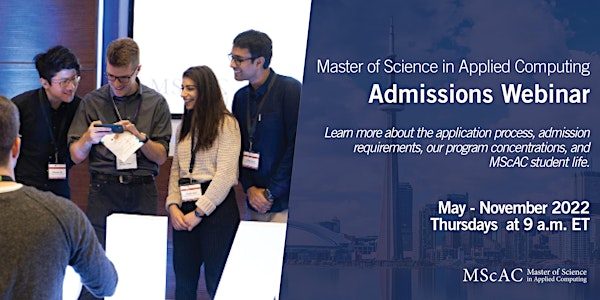 MSc in Applied Computing Webinar
Based in Toronto, Canada's booming tech hub, learn how the MScAC program is your first step towards a career as a tech innovation leader.
About this event
Our Admissions Webinar provides you with critical information about the MScAC program, including the application process, admission requirements, our program concentrations, and MScAC student life.
About the MSc in Applied Computing Program
Ranked #1 in Canada and among the best courses in the world, the University of Toronto's Master of Science in Applied Computing (MScAC) Program is committed to educating the next generation of world-class innovators.
With concentrations in Computer Science, Artificial Intelligence, Data Science, Applied Mathematics and Quantum Computing, our program will provide you with a truly unparalleled academic and industry-focused experience.
Not only will you learn from world-class, award-winning faculty about the latest developments in cutting edge technologies, but you are also guaranteed the opportunity to apply this knowledge through a practical applied-research internship at one of our partner companies, who are amongst the best in Toronto and North America.
The next step in your career as a tech innovation leader starts here with us.