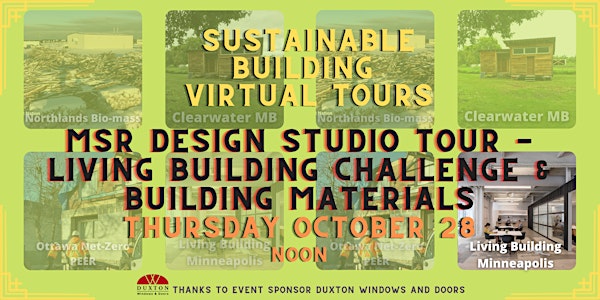 MSR Design Studio Tour - Living Building Challenge & Building Materials
When it comes to building materials, what is the role of embodied carbon? Learn also about the Living Building Challenge.
By Sustainable Building Manitoba
When and where
Date and time
Thu, Oct 28, 2021 10:00 AM - 11:00 AM PDT
Refund Policy
Contact the organizer to request a refund.
Eventbrite's fee is nonrefundable.
About this event
Members get 50% off. Free for Student Members
In the design of the studio, the decision to pursue Materials Petal certification via the Living Building Challenge arose out of the firm's industry leadership related to healthy and sustainable materials. MSR Design wanted every material choice in their industry to be a good choice and, in its advocacy, has developed guidelines around transparency, sustainability, and health for the firm's own materials library.
The team set an initial embodied carbon target of 10 lbs/SF CO2e and was able to achieve 8.67 lbs/SF at final calculation.
Hear also about the air-quality monitoring that took place during construction - something very relevant now in an age of COVID.
Building Name: 510 Marquette-MSR Design Studio
Building Location: Minneapolis, Minnesota
Year Built: 2019
Key Sustainable Feature: LBC Petal Certification: Materials, Beauty and Equity
Building Use: Workplace
Two Principles of the Living Building Challenge:
1. Living Building Challenge compliance is based on actual, rather than modeled or anticipated, performance. Therefore, projects must be operational for at least twelve consecutive months prior to audit to verify Imperative compliance.
2. All Living Building Challenge projects must be holistic—addressing aspects of all seven Petals through the Core Imperatives.
Join to see the materials selected up close. Learn about the planning, the role of embodied carbon calculations and more about the Living Building Challenge
TOUR GUIDES - Traci Lesneski, Rhys MacPherson, Simona Fischer - MSR Design
Traci Lesneski: CEO and principal of MSR Design, Traci focuses on design for learning. She promotes an integrated design approach—equally valuing human well-being, building performance, aesthetics, and delight. Recent building projects Traci has led include the award-winning VCAM building—a 24/7 visual culture, arts, and media creative hub for Haverford College in Pennsylvania—and Missoula's new library and culture house in Montana. Traci regularly contributes articles to publications and lectures nationally and internationally about the built environment's role in fostering well-being, promoting learning, and creating inclusive and cohesive communities. Traci is chair of the American Library Association (ALA) Architecture for Public Libraries Committee and a member of the International Federation of Libraries and Associations (IFLA) Library Buildings and Equipment Section Standing Committee. She is also member of the AIA Minnesota Community of Practice for Culture Change Core Team.
Rhys MacPherson: A senior associate with MSR Design, Rhys joined the firm in 1992 as a student intern and as a full-time staff member in 1993. Rhys has touched a broad range of projects, including libraries, cultural facilities, spaces for nonprofit organizations, and affordable housing. With others in the office over the past 10 years, he has sought to establish a strong and vibrant design language for affordable housing. He has built trust and a rapport with clients over the years working on these projects. For Rhys, design goes much deeper than just a building. He has a deep interest in data driven design, which focuses on the art and science of design. Rhys also has a passion for exploring the balance between equity distribution within the affordable housing industry and critical thinking. His work has received several awards, including an Urban Land Institute (ULI) Jack Kemp Excellence in Affordable and Workforce Housing Award for the Rose, a mixed-income housing project developed by Aeon and Hope Community. Rhys has also been a guest lecturer at numerous national and international conferences.
Simona Fischer: A registered architect, sustainable design professional, and associate with MSR Design, Simona is passionate about developing and implementing processes to integrate sustainable design seamlessly into the workflow of architectural practice and sharing what she learns. Her experience includes project management, construction documentation, master planning, Living Building Challenge documentation, and strategic planning related to firmwide sustainability goals. In addition to her professional experience, Simona has given presentations at national conferences and served as a guest lecturer on sustainability and research fellow at the University of Minnesota. She is a member of the Healthy Building Network HomeFree Champions advisory group, which works to build momentum in selecting healthier materials for affordable housing, and cochair elect of the AIA Minnesota Committee on the Environment (COTE).
Members get 50% off. Free for Student Members
Once again this year the sustainable building tour will be virtual. Happily, this gives us the opportunity to tour buildings outside Winnipeg, Manitoba and even Canada every Thursday in October.
Get your ticket for all 4 tours for a discount - 4 for the price of 2
Since members get 50% off you get 4 for the price of 1.
Other tours:
OCTOBER 7th - 12 NOON
Northlands – Biofuel for District Heating in Northern Communities with Bruce Duggan - Boke Consulting
Building Name: Biomass / District Heating Plant & Harvesting Operation
Building Location: Northlands Dënesųłiné First Nation
Year Built: 2019
Key Sustainable Feature: Biofuel district heating system using local wood
Building Use: heating plant
OCTOBER 14th - 12 NOON
Clearwater Manitoba - Reclaiming Materials and Community with Robert Guilford - Harvest Moon Society & Lancelot Coar - University of Manitoba
Building Name: Clearwater Cabins and more
Building Location: Clearwater, Manitoba
Year Built: 2014
Key Sustainable Feature: Recycled Materials, Community participation
Building Use: Visitor accommodations, restaurant, multipurpose
OCTOBER 21st - 12 NOON
Ottawa Community Housing - Deep Retrofit Process with Dan Dicaire – OCH and Mark Carver - NRCan
Building Name: Presland Net-Zero PEER
Building Location: Ottawa, Ontario
Year Built: 1960
Key Sustainable Feature: Net Zero Energy and Net-Zero GHG
Building Use: Residential
Get your ticket for all 4 tours for a discount - 4 for the price of 2members still get 50% off.
Memberships get 50% off and free for students.
Thanks to event sponsor Duxton Windows for helping to make these tours happen.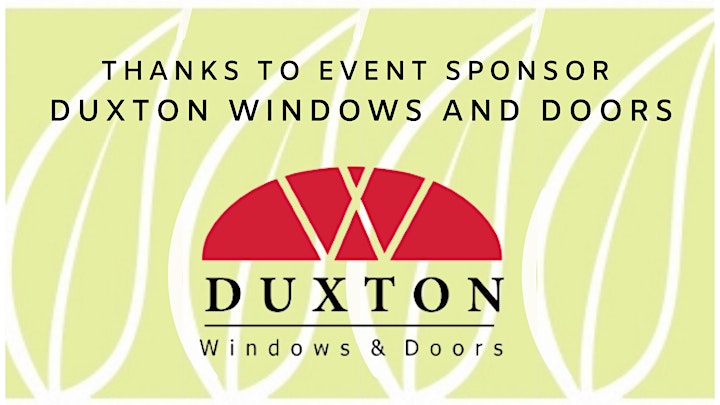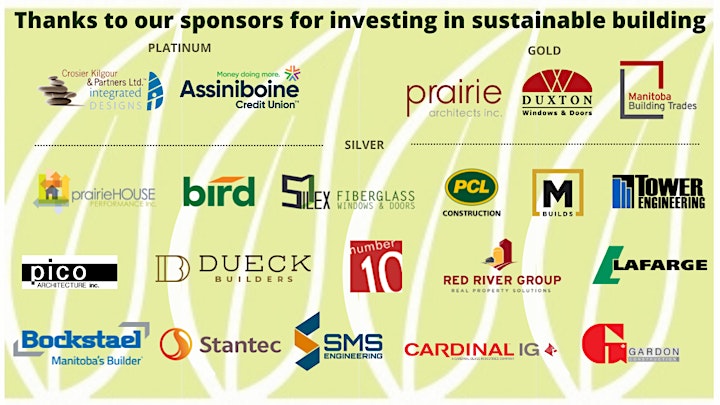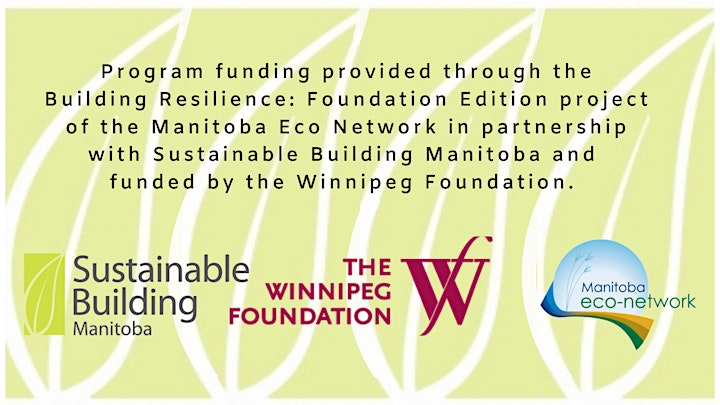 About the organizer
Sustainable Built Environment in Manitoba...