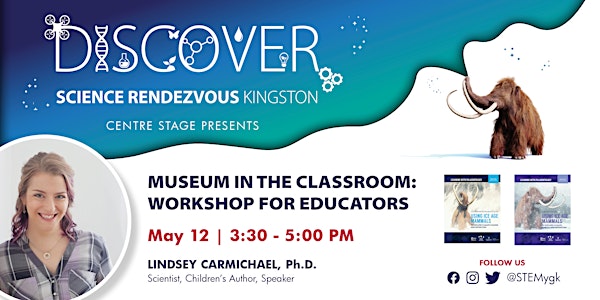 Museum In The Classroom: Workshop For Educators
Visits to natural history museums inspire curiosity, awe, and wonder towards the natural world, motivating students to learn more about STEM
About this event
TEACHING WITH PALAEONTOLOGY:
Visits to natural history museums inspire curiousity, awe, and wonder towards the natural world, motivating students to learn more about STEM. However, not all students can make these visits, either from home, or with school sponsored Field trips. Learning With Palaeontology Teaching Kits bridge this gap, bringing the museum into the classroom for the benefit of all.
Containing museum-quality artifacts, experiential learning opportunities, and curriculum-linked teaching resources, these Kits will affect positive attitudinal change, improve content knowledge, and lead to further interest, independent study or future STEM career goals for young learners. Students will explore biology, zoology, geology, chemistry, physics, and mathematics, while studying fossil casts and supporting materials. The included Teacher's Guides will help instructors transition from the "inexperienced enthusiasts" of field trip leaders to STEM content experts with comfort facilitating experiential, exploratory learning.
Junior-level and Senior-level kits on the Pleistocene Extinction launch in 2022. In this workshop, you'll discover how to bring these free resources into your classroom. You'll examine the fossils, ask questions, and attempt some of the suggested classroom activities. Information on contents, curriculum connections, and borrowing both physical and digital editions of the Kits will be provided.