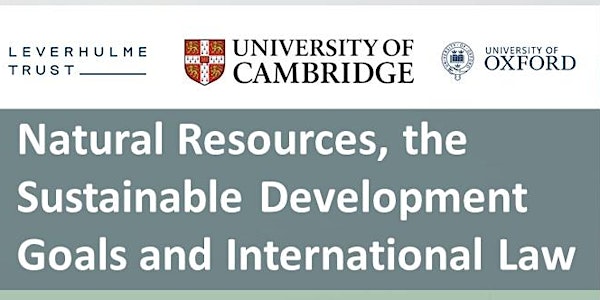 Natural Resources, the Sustainable Development Goals and International Law
Exploring how international law can help address the inter-linked, 'wicked problems' of climate change and natural resources degradation.
About this event
Natural Resources, the Sustainable Development Goals and International Law
Leverhulme Lecture & Distinguished Experts Dialogue
Wednesday 17 March 2021 | 18:00 The Hague | 17:00 Cambridge | 13:00 Montreal
University of Cambridge and the International Law Association
Register now for this inspiring Leverhulme Lecture and Distinguished Experts Dialogue on 17 March 2021 among leading international jurists and academics, and renowned natural resources management and public policy experts, to share insights and identify new directions for natural resources management and the global Sustainable Development Goals, guided by international law and policy.
After a welcome from Professor Stephen J Toope, Vice-Chancellor of the University of Cambridge, this special 'evening/lunch' online event is chaired by the Rt. Hon Professor Nico Schrijver, Professor Emeritus of Public International Law of the University of Leiden Law School, State Councillor in the Netherlands Council of State, member of the Permanent Court of Arbitration and former President of the International Law Association. Rt Hon Lord Jonathan Mance, Baron Mance, former Deputy President of the United Kingdom Supreme Court and Chair of the International Law Association worldwide, has been invited to give opening remarks. The event will feature a Distinguished Experts Dialogue between respected international judges, expert professors of international law, heads of international treaty secretariats and international institutes and practitioners in the field of law, public policy and sustainable development, including respected experts from the ILA Sustainable Resources Management Committee, whose eight years of careful study and drafting led to the newly adopted ILA 2020 Guidelines on the Role of International Law in Sustainable Natural Resources Management for Development.
The dialogue will be preceded by a public online Leverhulme Lecture, opened by Professor Diane Coyle Co-Director of the Bennett Institute for Public Policy, University of Cambridge, which is being provided by Professor Marie-Claire Cordonier Segger, Leverhulme Trust Visiting Professor, University of Cambridge, Senior Director, Centre for International Sustainable Development Law (CISDL), Executive Secretary, ILA Sustainable Resources Management Committee Rapporteur, and Full Professor of Law, School of Environment, Entrepreneurship & Development, University of Waterloo.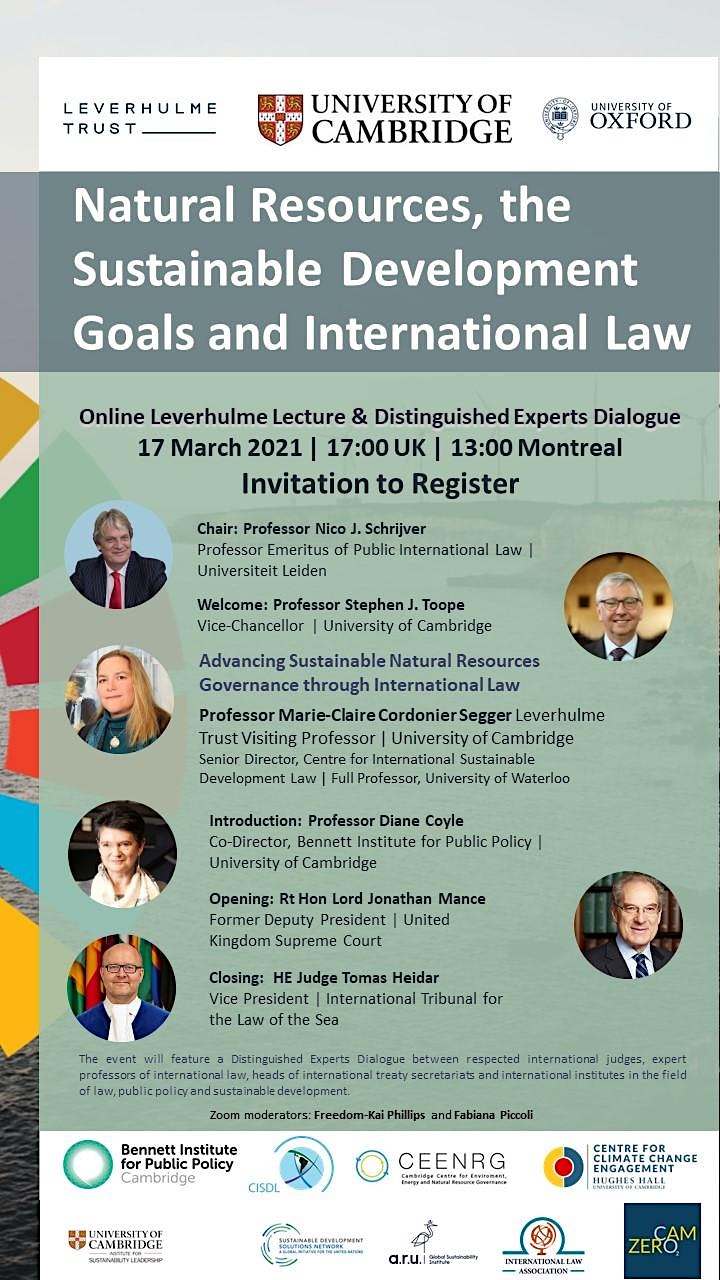 We consider ourselves fortunate that you will be part of this special occasion with us, and we greatly look forward to welcoming you. With this note, we are delighted to inform you that in this event, we shall be joined by several world-class experts who are leaders in this field, for the Distinguished Experts Dialogue. We are honoured to be able to welcome Dr Kent Nnadozie, Executive Secretary of the International Treaty on Plant Genetic Resources for Food and Agriculture; Dr Amy Fraenkel, Executive Secretary of the Convention on Migratory Species at the United Nations; Prof Jorge Vinuales, Harold Samuel Professor of Law and Environmental Policy of the University of Cambridge; Dean Susan Breau, Dean of Law from University of Victoria Faculty of Law; Adv Wendy Miles, Vice President of the International Chamber of Commerce Court of Arbitration and Chair of the Climate Law and Governance Initiative; Prof Thomas Cottier, former Managing Director of the World Trade Institute and Professor Emeritus at the University of Bern; Hon Justice Professor Marcel Szabo of the Constitutional Court of Hungary, former Ombudsman for Future Generations and Dr Ilaria Bottigliero, Director of Research and Learning of the International Development Law Organization, to discuss recent challenges and innovative developments in the sustainable management of natural resources globally and on the ground, and the implications of the new ILA Guidelines on the Role of International Law in Sustainable Natural Resources Management for Development.
As a special feature, we are also extremely pleased to announce that the expert speakers will be joined in the dialogue by renowned members of the International Law Association's experts commission which actually drafted the Guidelines, highly qualified jurists from over thirty countries whose insights shall be deeply appreciated. We are delighted that ILA Committee members who have agreed to join us include, for instance, Prof. Yongmin Bian, Professor and Director of the Department of International Law, UIBE Law School; Dr. Ilaria Espa, Professor at USI Lugano and Senior Research Fellow at the World Trade Institute; Dr. Markus Gehring, Fellow and Director of Studies in Law at Hughes Hall, University of Cambridge; Prof. Alexandra Harrington, CISDL Research Director, 2019-2020 Fulbright Global Governance Chair, Balsillie School of International Affairs and Associate Professor, Albany Law School; Dr. Kamal Hossain, former Minister of Foreign Affairs, Bangladesh; Prof Cymie Payne, Rutgers University Law School and Dept. of Human Ecology; Prof. Christina Voigt, Department of Public International Law, University of Oslo, and Co-Chair of the Paris Agreement Compliance Committee; and Prof. Friedl Weiss, Emeritus at the Department of European, International Law and Comparative Law, University of Vienna.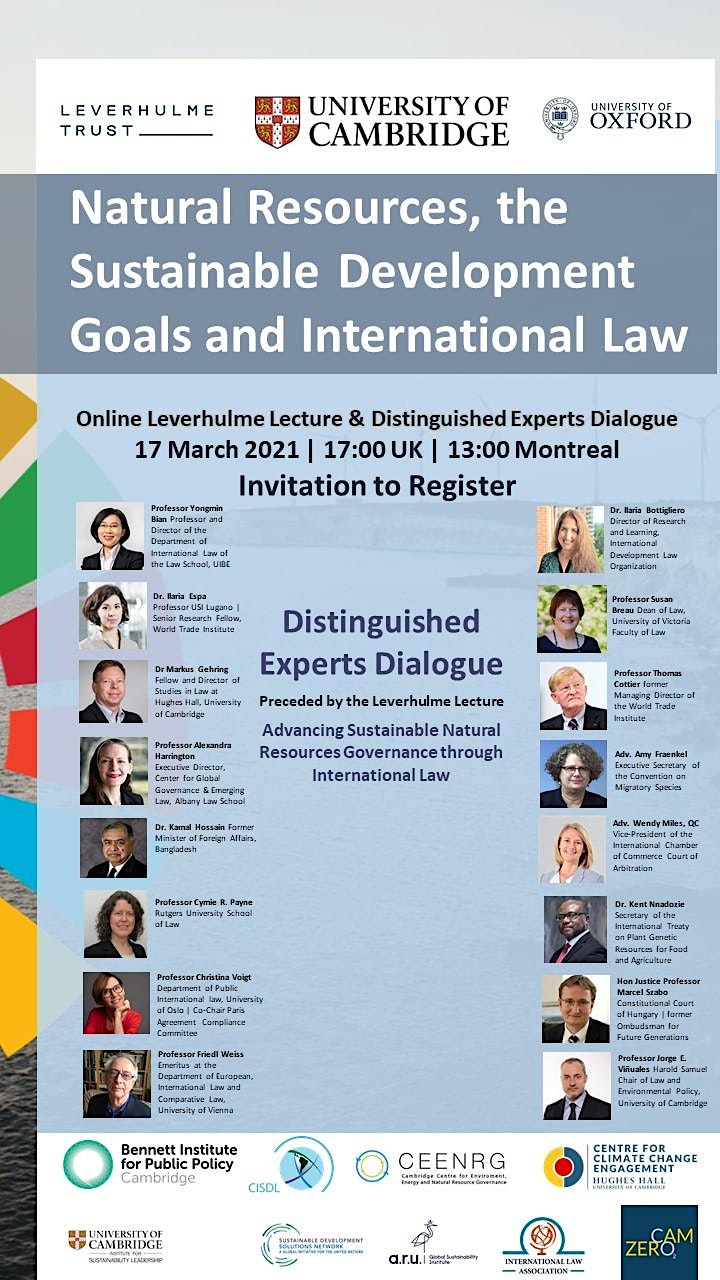 This series of open public Leverhulme Lectures raises complex, inter-linked 'wicked problems' of climate change, drought and hunger; natural resources mismanagement; terrestrial and marine ecosystems degradation and rising global poverty and injustice. It considers how the United Nations Sustainable Development Goals (SDGs) offer a common global public policy agenda, supported by binding international legal principles and rules derived from treaty regimes, interpreted by courts and tribunals. In the present lecture, experts consider how international law, including dispute settlement, can foster more sustainable management of the world's fragile resources, advancing new directions for research, education and practice in this field?
Due to high demand a limited number of extra places have been opened, to ensure a wider participation. As well as policy-makers, academics, professionals, civil society and business leaders, and the public, keen secondary students, including those affected by COVID-19 lockdowns, are particularly welcome.For more information, see the ILA Guidelines on the Role of International Law in Sustainable Natural Resource Management for Development.
We invite you to join the discussion of the #LeverhulmeLecture on Twitter @intsustainlaw and @BennettInst.