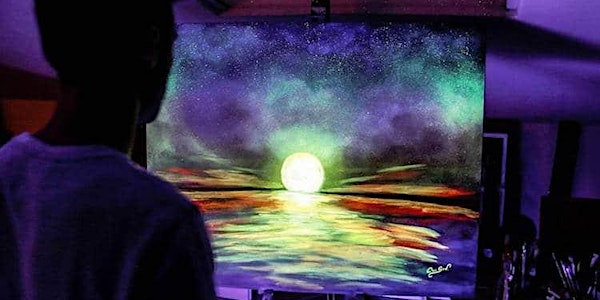 Multiple dates
NEW Glow in the dark canvas painting in Oakville, Bronte Harbour
We are open daily 9am-11pm. Please email artventuresstudios@gmail.com or text 716-244-2074 to request additional times if event sold out
Date and time
Fri, Feb 17, 2023 6:30 PM - Sat, Jul 1, 2023 2:00 PM EST
Location
Artventures Oakville 103 Jones St. 201 Oakville, ON L6L 1H5 Canada
About this event
Paint pottery or canvas under regular or black light for a very unique experience. Work at your own pace as you create one of a kind glow in the dark painting.
Canvas for Couples Class: An Unforgettable Artistic Experience
Join us for an enchanting and interactive Canvas for Couples class, where love and creativity intertwine to create a truly memorable experience. This unique artistic workshop is designed to bring couples closer together through the power of art and self-expression.
Upon entering our inviting studio, you'll be greeted by a warm and cozy atmosphere, perfect for igniting the spark of creativity and fostering a sense of connection. The class is supervised by a skilled and passionate art instructor who will be there to help you and your partner through the artistic process, ensuring a delightful and enjoyable time for both of you.
Before the class begins, you and your partner will be provided with all the necessary art supplies, including a blank canvas, high-quality paint, brushes, and an apron to protect your clothing. The instructor will introduce various painting techniques, color mixing tips, and offer gentle guidance, allowing you to explore your artistic abilities together.
As the class unfolds, you and your partner will embark on a shared artistic journey, creating your own masterpiece side by side. Whether you're seasoned artists or complete beginners, this class is designed to cater to all skill levels, encouraging self-expression and creativity in a relaxed and non-judgmental environment.
Throughout the session, you'll be encouraged to communicate, collaborate, and support each other's artistic endeavors. Engage in lively conversations, share laughs, and build stronger connections as you witness the magic of your artwork taking shape. The process of painting together fosters teamwork, patience, and a deeper understanding of one another's unique perspectives.
At the end of the class, you'll have the pleasure of unveiling your completed artwork, a tangible symbol of your shared experience and a memento of your time spent together. This beautiful masterpiece will serve as a reminder of the bond you've strengthened and the memories you've created.
The Canvas for Couples class offers more than just a painting experience; it provides an opportunity for couples to disconnect from the distractions of everyday life and reconnect with each other on a deeper level. It's an escape from routine, an avenue for self-expression, and a celebration of love and creativity.
Whether you're celebrating a special occasion, looking for a romantic date idea, or simply seeking a unique way to spend quality time with your partner, the Canvas for Couples promises an unforgettable experience that will leave you with cherished memories and a newfound appreciation for each other's artistic talents.