About this Event
We are heading to the best wine region in Ontario!
Tour starts at Hildreth Farm Market. This is our meeting point where we can purchase local and organic produce and fruit to be used for our cooking class and you can also do some private shopping.
We will stop at Fielding Winery Estate Winery to enjoy three wines of your choice from a preselected menu (2oz pours). Guests will leave with a commemorative dishwasher safe Fielding tumbler.
Then savor the region's seasonal and local ingredients as part of a hands-on cooking class guided by Chef Luciano at Villa Bacchus. Enjoy lunch with wine pairings and dessert with ice wine. Recipes will be provided.
After this wonderful afternoon of cooking and wine tasting, we will be heading for coffee or gelato at Niagara on the Lake with free time and then start the trek home!
Please note a minimum of 6 participants is required for this tour to run. 20 maximum! During Covid19 we will follow the Government protocol and wear masks.
10:30 AM – MEET and GREET.
Hildreth Farm Market to pick up produce and meat for our cooking class. Shopping on site available. The Address is 5529 Greenlane, Beamsville, ON L0R 1B3
11:30 am – Fielding Estate Winery. Named one of Canada's Top 10 Wineries in 2013, where we take in the views of the Estate Vineyard while enjoying three wines of your choice from a preselected menu.
*All of the wineries that we visit are taking extra precautions to keep visitors, guests and staff safe.
1:00 p.m – Villa Bacchus
This is the highlight of the day! Here we'll experience a short tour, wine tasting, enjoy a charcuterie antipasto with a choice of unlimited red or white wine, and a cooking class in a world-class winery!
A custom menu featuring a grazing station will be created for your hands-on culinary experience. Seasonal and local ingredients will be featured on our 5-course menu created by Chef Luciano.
(Note: Wines and vintages are subject to availability).
4:00 p.m. – Visiting Niagara on the Lake with gelato or coffee at "Il Gelato di Carlotta". End of the Tour.
You are free to stay and enjoy the night vibe of the Niagara region at your own pace.
MENU (all family style)
Panzanella Salad
Cubed Seasoned Dried Bread, Halved Cherry Tomatoes, Cucumbers, Red Onion, Garlic, Basil, Red Wine and Italian Herb EVOO.
Black Truffle Gnocchi
Savoury Chicken Breast, Wild Mushrooms, Onions, Decadent Truffle Oil, Heavy Cream, Parmesan, Rich Vegetable stock, tossed with our Classic Gnocchi. Flavour Infused with Flavor Infused with Cask 18 Balsamic and Truffle EVOO.
Oven Roasted Seabass filet
with grilled fennel, red bell pepper and zucchini tossed in Balsamic
Mixed Garden Salad
Tomato salad
Dessert
Fruit (local and seasonal)
Fresh ricotta-filled Cannoli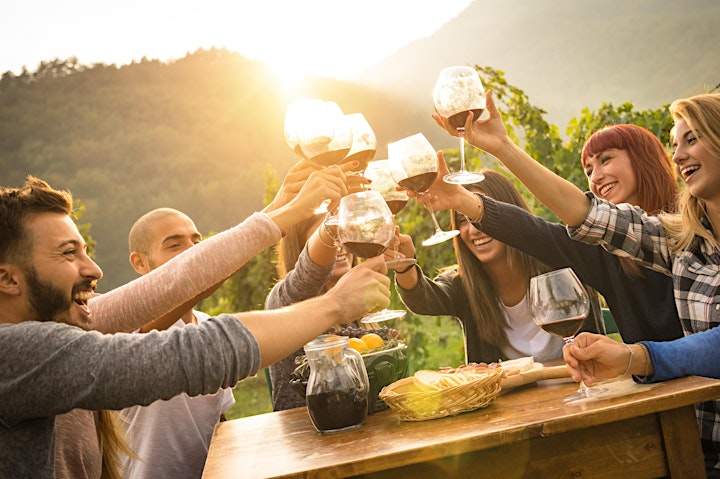 WHAT IS THE MINIMUM AGE TO PARTICIPATE?
The adult legal age in Ontario is 18 and The legal age for alcohol consumption in Ontario is 19.
MEETING POINT
Click here to open Google Maps
WHAT IS INCLUDED IN EVERY TOUR?
All Tour Prices include: All tour & tasting fees, charcuterie platter, cooking class and lunch with Celebrity Chef Luciano Schipano, Gelato at Niagara on the Lake, guide tour.
ARE YOU FULLY LICENSED, INSURED AND BONDED?
We sure are, carry full liability insurance of over $5,000,000 dollars and have only bonded tour guides.
MAY I BRING MY CHILD?
No. This is a Culinary Excursion for adults who will all be wine tasting, sometimes singing and dancing. Your child will be bored and it won't be fun for them either.
MAY I BRING MY DOG?
Service animals are welcome on the tour. We restrict non-service animals because some of our guests are allergic to animals and most of the wineries have the same policy.
ON THE DAY OF YOUR TOUR
All of our Excursions run on a pre-booked schedule.
Your guide is with you for the day to ensure we stick to that schedule as closely as possible to enhance the experience of all of our guests.
Your guide will give you a 5-minute warning when we are preparing to leave each location so that you have time to make any purchases that you wish before we move on.
We request that all of our guests are aware and respectful of our schedule to ensure the enjoyment of all of the guests in your group. We allow 1 hour at the winery where we take the full facility tour and tastes. We allocated 3 hours for the Cooking Class and Lunch.
A refreshment at "Il Gelato di Carlotta" at Niagara on the Lake is included.
CODE OF CONDUCT
We love hosting all of the guests that put their trust in us to guide them around Twenty valley! We want everyone on our Excursions to enjoy their day, learn about winemaking and the area, and taste some amazing local wines.
We ask of you that you and your group will be respectful of other guests that may be in your group along with other patrons of the wineries and restaurants we may be visiting.
We reserve the right to ask any individuals disrupting a tour to modify their behaviour, and in certain situations remove the individual or whole group from the tour. In this instance, the person/s removed from the tour will be responsible for seeking transportation back to their hotel or start location and no refund will be given for any part of the tour missed.
LIABILITY WAIVER
In order to participate in all trips and activities with Our Excursions, you hereby agree that you will not make a claim against US and give up the right to sue for any injuries or damages howsoever caused. You acknowledge that the activities arranged by Chef Luciano Schipano ltd inherent risks and dangers that may cause serious injury and possible death to participants.
You agree that you fully understand the risks and dangers associated with the participation of your group in the activities arranged by Chef Luciano and ALL members of your group accept them at their own risk.
You also agree that this liability declaration limits the liability of the company (Chef Luciano Schipano Ltd) and to the same extent limits all agents and employees of Chef Luciano Schipano Ltd. even though they are not formal parties to this agreement.
CHANGES IN SCHEDULES, DELAYS, OR TOUR OPERATIONS
Chef Luciano Schipano Ltd. reserves the right to change the departure time of your tour. If we do so we will provide a minimum of 24 hours' notice. You agree to monitor emails from us made to the address provided on the reservation form for updates in the lead up to your tour date.
Chef Luciano Schipano Ltd. also reserves the right to change any routes, schedules, wineries, or restaurants planned to be visited during your tour without notice should situations arise where this is necessary. All reasonable efforts will be made to honour the originally communicated plan.
HOW MANY GUESTS ARE NORMALLY ON YOUR TOUR?
It varies. Our Excursions have a maximum capacity of 20 persons, plus the Tour Guide, so we usually have ten couples.
WILL YOU CANCEL A TOUR IN THE EVENT THAT TOO FEW PEOPLE BOOK IT FOR THAT DAY?
Yes, a minimum of 3 couples (six people) is required to run the excursion.
WILL YOU ACCOMMODATE VEGETARIANS AND OTHER DIETARY RESTRICTIONS?
Yes! We are rather good at accommodating a variety of dietary needs, particularly dairy and gluten restrictions. Please give us advance notice. We'll let the restaurant know as they provide vegetarian options.
ANY BEVERAGES, OTHER THAN WINE?
Yes, there is water available to fill your reusable water container at each winery. Due to the restrictions of single-use plastics, we can no longer provide individual waters to our guests.
PERSONAL PROPERTY & WINE PURCHASES
By participating in the activities organized by Chef Luciano, you accept that any personal property left at any location throughout the tour can only be returned (should it be found) at the sole expense of the guest. Chef Luciano Schipano Ltd. is not responsible for any lost property throughout the duration of the tour.
We also encourage our guests to purchase any wines they enjoy throughout their tour as not all wines that you sample will be available outside of the winery boutique. We ask all of our guests to check they have all of their correct purchases at the end of the tour before leaving their tour guide as any missing wine purchases will not be replaced.
IS THE TIP/GRATUITY FOR THE GUIDE INCLUDED IN THE PRICE?
No, if you enjoyed your day and were pleased with the service, a gratuity between 10%-15% of your tour total is customary. Your tip is not mandatory but is greatly welcomed and appreciated.
WHAT METHOD OF PAYMENTS DO WE ACCEPT?
Cash (CAD & USD), Visa, Mastercard, and Paypal are accepted.