Navigating local food systems in a changing world and through a pandemic. Lessons Learned, opportunities, challenges and silver linings.
About this Event
About this Event
The COVID-19 pandemic created immense opportunity and pressures for local food systems. It showed how critical these systems are, as well as exposing weaknesses that make them vulnerable.
In this series of 4 free webinars, we explore the hard-won lessons learned from a global pandemic that can help strengthen local food businesses and organizations. Each session takes place on a Wednesday in March, from 10am – 12pm. This virtual conference is hosted by the County of Renfrew and the Northern Ontario Farm Innovation Alliance, and is brought to you with the collaboration of the Ontario Ministry of Agriculture, Food and Rural Affairs.
In the spirit of the conference, two participatory chef-led lunches will be hosted, featuring foods of Renfrew County and Northern Ontario.
Session 1: March 10, 2021, 10am to 12pm
Local Food More than Ever: Harvesting the Lessons of COVID-19 
This opening session of the North and Eastern Ontario Local Food Conference will explore aspects of the local food system from diverse perspectives. Kicking off the conference will be the keynote speaker, Dr. Evan Fraser. Dr. Fraser is a Professor of Geography and the Director of the Arrell Food Institute at the University of Guelph. A passionate communicator, he has written for the Globe and Mail, the Guardian.com, CNN.com, ForeignAffairs.com, the Walrus and the Ottawa Citizen, and has authored popular non-fiction books about food and food security; most recently Uncertain Harvest, published in 2020.
Following the keynote address, a panel of diverse leaders in the local food movement will explore the lessons learned and emerging opportunities for local food, as the sector faces its second year influenced by the pandemic. 
Presenters:
Dr. Evan Fraser, Arrell Food Institute, University of Guelph
Moe Garahan, Just Food Ottawa, Food Communities Network
Peggy Brekveld, President, Ontario Federation of Agriculture
Dr. Joseph LeBlanc, Associate Dean, Equity & Inclusion, Norther Ontario School of Medicine; Maple Leaf Centre for Action on Food Security.
Additional speakers to be added once confirmed.
Session 2: March 17, 2021, 10am -12pm
Navigating Agri-Tourism During a Pandemic
COVID-19 created severe challenges and unknowns for agri-tourism businesses and the tourism sector overall. Operators were impacted during the peak of their season and had to respond and adapt to the pandemic in order to stay in business. The second session of the North & Eastern Ontario Local Food Conference will explore how the tourism and agri-tourism sector pulled together and innovated to the COVID-19 Pandemic. This session will feature expert speakers from tourism organizations as well as agri-tourism business operators. The speakers will share their journey of navigating unknown conditions and employing creative innovations, adaptions and solutions to push through and the silver linings that emerged during the season.
Presenters:
Melissa Marquardt, Ottawa Valley Tourist Association
Duarte Da Silva, Prince Edward County Wine Growers Association
Leanne Spry, Spry Farm
Mitch Deschatels, Leisure Farm
Additional speakers to be added once confirmed.
March 17, 12-1 pm
Chef-led Lunch – Taste of the North
Pamela Hamel, CEO of Food + Soil Inc, and blogger @foodsbynature will lead us on an adventure of creating the perfect flexitarian Franco Ontarion Soup. Participants will be able to select the ingredients that fit their dietary interest, including their meat choice of pork sausage, bison, chicken or beef and / or combine with vegetables, white beans to make a robust broth. Topped with local cheese & croutons. While instructing us on making the soup, Chef Hamel will discuss the French culture of the north and east, as well as how to prepare a zero waste lunch.Participants will be provided with a recipe and ingredients list in advance, to follow along in the preparation of the meal if they wish.

Session 3: March 24, 10am – 12 pm
Surviving and Thriving: The Resilience of Local Food
Pivot…the word of the year. This session explores how local food distribution, Farmer's Markets, and local food businesses have re-purposed, re-framed, and re-directed their business models to increase the accessibility of local food and responded to consumer demand. They will share their sometimes roller coaster ride of what 2020 looked like for them, and what their hopes are moving in to 2021 and beyond.
Presenters:
Danielle Collins, Ontario Federation of Agriculture
Kevin and Jodi Belluz, Superior Seasons, Thunder Bay
Lisa LeBlanc, MrsGrocery.com
Chris Penton, Beechwood Farmers' Market, Ottawa
Additional speakers to be added once confirmed.
Session 4: March 31, 2021, 10am - 12 pm
Innovations in the Local Food Frontier: Aquaculture, Aquaponics, Greenhouse Production and Vertical Farming
In the past ten years, new ways of growing have taken off and have shown great potential for increasing local food production. Join OMAFRA specialists Dr. Fadi Al-Daoud (Greenhouse Vegetable Specialist) and Michael McQuire (Aquaculture & Aquaponics Specialist) for an introduction to four systems with the potential to grow the local food sector - aquaculture, aquaponics, greenhouse production and vertical farming. This session will provide an introduction to each production system including types of technologies available, resources for getting started, key industry trends, and innovative ways that businesses, First Nations communities, and non-profits are using these systems to grow their local economies and provide fresh healthy food to their communities.
Presenters:
Dr. Fadi Al-Daoud, Greenhouse Vegetable Specialist, OMAFRA
Michael McGuire, Aquaculture and Aquaponics Specialist, OMAFRA:
March 31; 12-1 pm
Chef-led Lunch – Taste of Renfrew County
After this final session, participants are invited to join Renfrew County Chef Tristan Hertzog for a virtual guided culinary experience preparing a lunch consisting of a cedar smoked pickerel, buttered and served with puffed wild rice on a bed of wild foraged greens finished with honey vinaigrette and a crumble of "highland blue" sheep's milk blue cheese. The list of ingredients and recipe will be provided in advance and you can follow along as we all prepare the same meal together with Tristan's guidance over Zoom.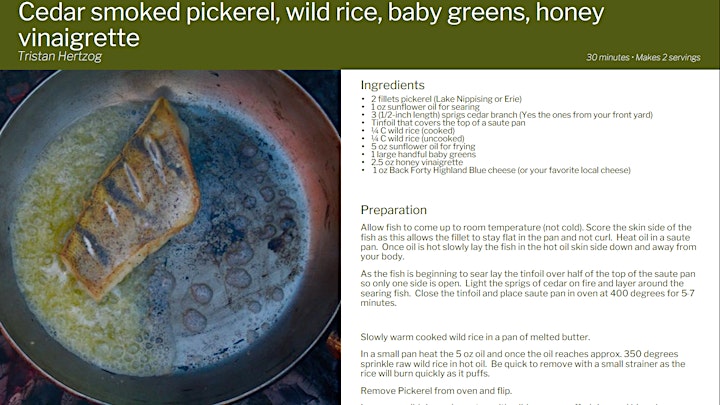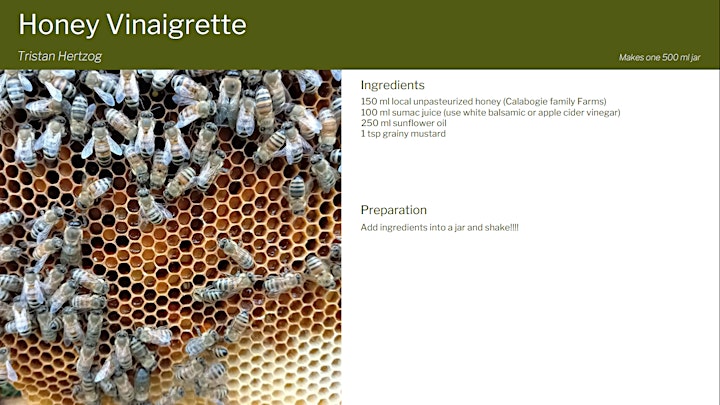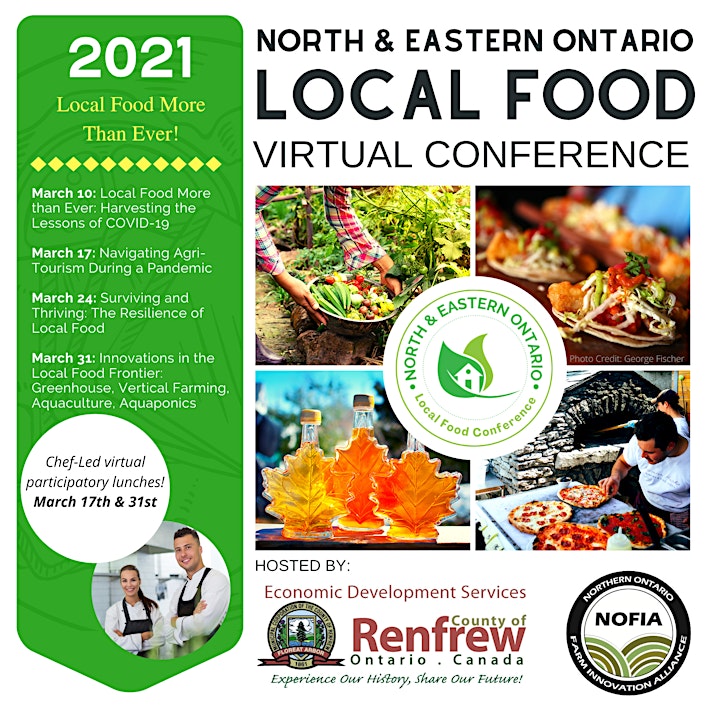 Platinum Sponsors