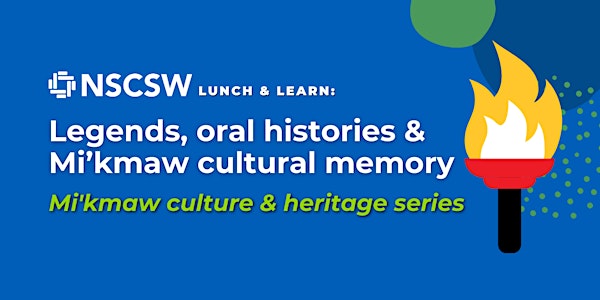 NSCSW Lunch & Learn: Legends, oral histories & Mi'kmaw cultural memory
NSCSW members are invited for a lunch & learn about Mi'kmaw history and Glooscap legends.
About this event
When looking at the oral history passed down from Mi'kmaw ancestors, it's apparent that these legends were not just stories of fantasy and fancy. They were recollections of actual occurrences that took place here in what has come to be known as Nova Scotia. The Mi'kmaq are using their knowledge of these legends to confirm the findings of many scientific disciplines.
This session is the fifth in a series of special lunch & learn events about Mi'kmaw culture & heritage organized for members of the Nova Scotia College of Social Workers (NSCSW). Join us to learn more about Mi'kmaw oral history and cultural knowledge as part of our College's commitment to decolonization and helping our members honour the recommendations of the Truth and Reconciliation Commission.
Presenter
Gerald Gloade works with the Nova Scotia Department of Education's Mi'kmaw Liaison Office and the Confederacy of Mainland Mi'kmaq to provide training on Indigenous content.
Eligibility
Must be a current member of NSCSW to attend; all active, associate, retired, and student members are welcome.
You'll need a device that can use Zoom, and a reasonably reliable internet connection.
Category
Participating in this event may fulfil part of the newly mandated requirements for all social workers in Nova Scotia to complete annual training or activities related to the Truth and Reconciliation Commission's recommendations. NSCSW members who have already completed that requirement for the year can track this session as formal professional development instead.
Visit nscsw.org/pd for more information about the updated professional development requirements for NSCSW members.
Questions?
If you have questions, please contact the College's Professional Practice & Advocacy Consultant, N Siritsky, at nsiritsky@nscsw.org.