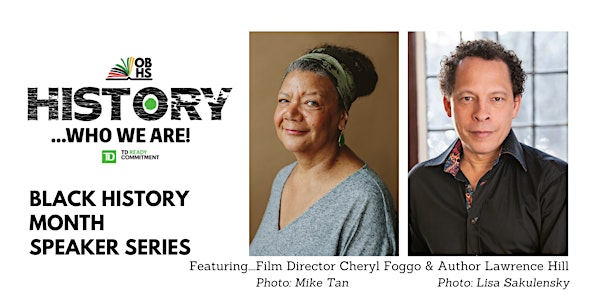 OBHS Black History Month Speaker Series
Join us for the OBHS Black History Month Speaker Series! FEB 9, 2021 at 7pm EST. Link to join will be shared the week of this event.
About this event
During February 2021 join us virtually for our speaker series that will include three evenings of dynamic conversations with a phenomenal range of speakers including film maker Cheryl Foggo, author Lawrence Hill, a panel with Black Heritage sites, and storyteller Sandra Whiting.
On February 9th at 7pm Film Director/Author Cheryl Foggo and Author Lawrence Hill as we share the trailer for Cheryl's new documentary John Ware Reclaimed.
Cheryl Foggo is a multiple award winning playwright, author and filmmaker, whose work over the last 30 years has focused on the lives of Western Canadians of African descent.
In 2020 the World Premiere of her NFB feature documentary John Ware Reclaimed took place at the Calgary International Film Festival, where it received the Alberta Feature Audience Choice Award. The film is now screening at festivals across the country.
Lawrence Hill is a writer whose novels and works of non-fiction have been widely read in Canada, translated into many languages and published around the world. He is a professor of creative writing at the University of Guelph, and has served as a mentor to Canadian writers for more than twenty years.
The manuscript for his new children's novel, Beatrice and Croc Harry, is with his publisher. He has recently written a play, Sensitivity, commissioned by Obsidian Theatre in Toronto. He is the author of ten books, including the novels The Illegal, The Book of Negroes, Any Known Blood, and the memoir Black Berry, Sweet Juice: On Being Black and White in Canada. He is writing a new novel for adults about the African-American soldiers who helped build the Alaska Highway in northern BC and Yukon in 1942-43.
Stay tuned for registration details for FEB 18 & 23, 2021 at 7pm.

Thank you Sponsors!
TD Bank Lead Sponsor
ETFO Silver Sponsor