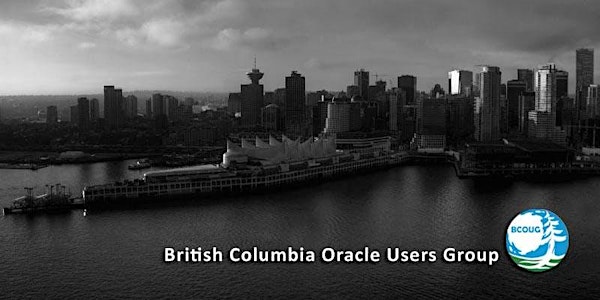 October 2019 Meeting - Polymorphic Table Function Deep Dive
When and where
Location
BC Liquor Distribution Branch 3383 Gilmore Way Burnaby, BC V5G 4S1 Canada
Description
You are cordially invited to join the BCOUG at our next Vancouver event on October 15, 2019.
IMPORTANT: Please note the change in address for BC LDB.

Session 1
Topic: Polymorphic Table Function Deep Dive
Speaker: Darryl Hurley, ImpleStrat Solutions
Abstract
Introduced in Oracle 18, Polymorphic Table Functions (PTFs) are the next step in the evolution of table functions. They provide detailed PL/SQL access to the inner workings of SQL query functionality (parse, open, fetch, and close) to create flexible data access and control. This session begins at the surface of PTFs but quickly delves into the details to give attendees everything they need to create effective PTFs.
Session 2
Topic: Oracle OpenWorld 2019 Summary
Speaker: Liron Amitzi, Independent Consultant (gotoDBA.com)
Abstract
Liron returns from San Francisco with a bag of news to share. Please join us for this short session to hear about the latest announcements, what's new in 19c and 20c and what he has learned during the four-day event.
Session 3
Topic: Members' Discussion and Q&A
Abstract
For this session, the floor will be opened and members are encourage to tell the board members, what topics and activities they would like organised for Fall/Winter 2019.

Please share any comments, ideas or feedback so we will have a great content for you next year.
About the Speakers
Darryl Hurley – ImpleStrat Solutions
Darryl has been working with Oracle technology for 20+ years with a focus on database administration and PL/SQL development. He has created two sets of videos on PL/SQL topics available for O'Reilly Safari. He enjoys learning new technology and helping others learn as well.
Liron Amitzi - Independent Consultant (gotoDBA.com)
Liron is an Oracle ACE and a senior Oracle DBA consultant, with 20 years of experience. During these years Liron worked as a senior consultant with a large number of companies in various fields and managed an Oracle Professional Services Team. He mainly specializes in high availability solutions, performance, backup and recovery, and other infrastructure and application database areas. Liron is the president of BCOUG (British Columbia Oracle User Group) and he is also a well-known instructor and lectures in Oracle courses, events and forums.