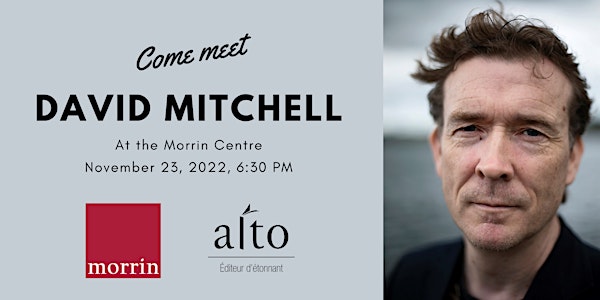 Off-Imagination - David Mitchell
Come meet David Mitchell and listen to him talk about his latest book!
When and where
Location
Morrin Centre 44 Écossais St Quebec City, QC G1R 4H3 Canada
About this event
It is with great joy that Alto and the Morrin Centre invite you to a rare meeting with David Mitchell, Wednesday, November 23 at 6:30 p.m. (44 Chaussée des Écossais, Quebec). In his special tour of Quebec City and Montreal for the release of his most recent novel, UTOPIA AVENUE, the award-winning author of THE BONE CLOCKS and SLADE HOUSE will be honoring us by taking part in an interview focusing on his unique and extraordinary literary universe.
This FREE event, presented in English, will be followed by a signing session. David Mitchell's books (in English and French) will be available on location, thanks to La Maison Anglaise bookstore.
///
C'est avec beaucoup de joie qu'Alto et le Morrin Centre vous convient à une rare rencontre avec David Mitchell le mercredi 23 novembre à 18h30 (44, Chaussée des Écossais, Québec). En visite exceptionnelle au Québec pour la parution en français de son dernier roman, UTOPIA AVENUE, l'auteur maintes fois primé qui nous a donné L'ÂME DES HORLOGES et CETTE MAISON nous fait l'honneur de nous accorder un entretien portant sur son univers créatif foisonnant.
Cet événement GRATUIT se déroulera en anglais et sera suivi d'une séance de dédicace. Les livres de David Mitchell (en français et en anglais) seront aussi vendus sur place grâce à la collaboration de La Maison Anglaise.
////////////
ABOUT THE AUTHOR
The gifted writer of genres-bending novels, David Mitchell has an atypical and breathtaking literary career. The New Yorker magazine compared him to Nabokov and Saramago and says that he is "one of the few writers whose disposition for artifice is truly supernatural". He was shortlisted twice for the Man Booker Prize, notably for CLOUD ATLAS, which was adapted for the screen in 2012 by Lilly and Lana Wachowski and Tom Tykwer. He also co-wrote the final episode of the Netflix series Sens8 (2018) as well as Matrix Resurrections, the final chapter in The Matrix series (2021). In 2018, he received the Sunday Times Award for Literary Excellence which honors an author's entire body of work. His books THE THOUSAND AUTUMN OF JACOB DE ZOET, THE BONE CLOCKS, and SLADE HOUSE are also published in French by Alto. UTOPIA AVENUE is his eighth novel.
///
À PROPOS DE L'AUTEUR
Surdoué des lettres britanniques, auteur de romans inclassables qui se jouent des genres, David Mitchell suit un parcours littéraire atypique et époustouflant. Selon le magazine The New Yorker, qui le compare à Nabokov et à Saramago, il est « l'un des rares écrivains dont la disposition pour l'artifice est proprement surnaturelle ». David Mitchell a été deux fois finaliste au Man Booker Prize, notamment pour CARTOGRAPHIE DES NUAGES qui a été adapté au cinéma en 2012 par Lilly et Lana Wachowski et Tom Tykwer. Il a aussi co-écrit l'épisode final de la série Netflix Sens8 (2018) et co-scénarisé Matrix Resurrections, le quatrième volet de The Matrix (2021). En 2018, il a reçu le Sunday Times Award for Literary Excellence qui rend hommage à l'ensemble de son œuvre. Chez Alto, il a publié LES MILLE AUTOMNES DE JACOB DE ZOET, L'ÂME DES HORLOGES et CETTE MAISON. UTOPIA AVENUE est son huitième roman.