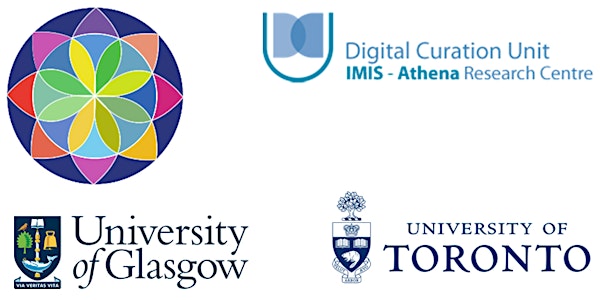 Ontology-based recording & discovery of research patterns in the Humanities
Location
Kraków
Kraków
Poland
Description
Call for participation
Aim of the workshop
This workshop aims to engage participants in the process of developing and analyzing ontology-based, structured documentations of scholarly research practices, predominantly those in the (digital) humanities. Using such structured representations of the practices followed by researchers, patterns of work and resource usage can be extracted and subsequently studied, re-used or modified, thus supporting the dissemination and evolution of research practices.
Structure of the workshop
The workshop will be a combination of presentations, hands-on experience and discussion based on NeMO (nemo.dcu.gr), the ontology for digital research methods in the arts and humanities developed in the context of the NeDiMAH project (www.nedimah.eu). NeMO is designed to provide a conceptual framework for representing scholarly work in the Humanities, dealing especially with aspects of intentionality and capturing the various associations between research actors and their goals, the activities undertaken, the methods employed, the resources and tools used, and the outcomes produced, thus enabling semantically rich structured representations of scholarly work. In a DH 2014 workshop (What's your method? Understanding Digital Scholarship Through Ontologies) participants had the opportunity to follow the on-going process of designing the ontology and to contribute valuable remarks.
In this workshop the ontology in its current, advanced state of development will be presented along with the mappings that enable the coordination of several taxonomies of the DH domain with NeMO, such as TaDiRAH, Oxford ICT and DH Commons. The presentation will be based on use cases demonstrating how NeMO can be used in order to document research practices through a series of methodological steps such as the identification of the major research activities that took place and their relationships with specific tools and relevant methods employed, as well as their interconnections with information resources produced or used in each research activity.
Participants are invited to contribute one or more examples of their own research work, of which they will produce NeMO-based structured descriptions using a dedicated Web-based tool under the guidance of workshop facilitators. In addition to generating encoded descriptions, participants will also use the tool to generate complex associative queries for discovering patterns of work or resource usage (e.g., digital collections). Finally, participants will be invited to share feedback regarding their experience from using NeMO and the tool for encoding and analyzing research work, and to discuss possibilities of further lines of development and use.
Who is the workshop for?
The workshop is of interest to both advanced digital humanities scholars and to digitally-enabled humanities researchers, or those not currently using digital tools and methods but interested to do so in the foreseeable future. It is open to those involved in the study of textual and visual resources, material and intangible cultural heritage, quantitative and qualitative modes of analysis, and a variety of epistemological stances within digital humanities. In addition, the workshop may be attractive to STS scholars interested in understanding scholarly practice in the arts and humanities, as well as to computer scientists, information scientists and others interested in the relationship between digital humanities and digital infrastructures. Participants are not required to have prior knowledge in ontologies, but should be familiar with particular research methods in the arts and humanities, interested in reflexive analysis of humanities research practices, and prepared to engage, under the guidance of workshop facilitators, with analyzing, documenting and encoding humanities research through an ontology.
Benefits for participants will include the opportunity to share experiences, reflect critically on, and discuss the methods employed in digitally-based humanities research; to conceptualize specific digital research methods in the context of particular kinds of research, types of resources and content, and digital tools and services; and to enhance their understanding of and get acquainted with ontology-based modeling techniques useful in the domain of digital humanities. They will also have the opportunity to develop their skills in systematic analysis, documentation and codification of research work under a common structured vocabulary that can support integration and information exchange in the nascent field of Digital Humanities.


How to participate:
Participants are invited to apply HERE submitting the topic of their intended contribution to the modeling exercise (up to 50 words) along with a brief bio (up to 150 words).
Space is limited to 25 persons, therefore participants are asked to apply as soon as possible.
(Please keep in mind that DH2016 Early Registration closes on May 10.)
Participants will be required to bring along their own computer.
Registration: through the DH2016 Conference page http://dh2016.adho.org/
Venue: to be announced