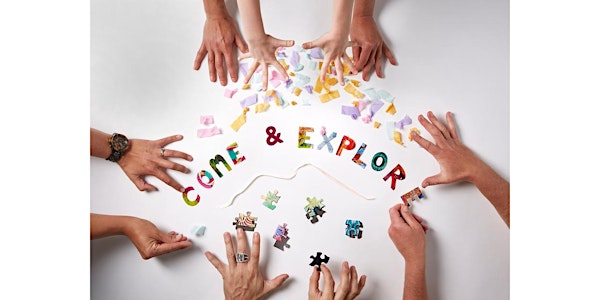 Open Space @ cSPACE
How can art inspire us to create meaningful connection? Enjoy conversations and creative explorations between cSPACE artists and you.
About this event
How can art inspire us to create meaningful connection?
Live from the cSPACE King Edward Arts Hub, enjoy conversations and creative explorations between cSPACE artists and you through online collaborative technology. This is an organic participant led event based on what matters to those who attend. You don't have to prepare anything. Use your laptop or desktop to login, and then come and have fun! All ages are welcome.
The event starts with an opening circle. After some activities, harp music and orientation to Open Space Technology, all participants are invited to post topics in the marketplace. The next two hours of "Open Space" are yours to share, listen and discover your own creative adventure. We also have Live Feeds of two artist studios and two gallery spaces at cSPACE. We close with the opportunity to share insights, stories, and artful experiences with the whole group.
Open Space Technology has been used all over the world for 30 + years. It is a simple way to run productive meetings, for five to 2000+ people, and a powerful approach to leadership in any kind of organization, in everyday practice and turbulent change.
The event is hosted by Eily Aurora who offers a heart-centred approach as a harpist, singer-songwriter, and Community Catalyst through Alberta Social Innovation Connect.
-------------------------------------------------
Drop-In Tech Preparation Calls
In order for you to get the most out of this event, familiarize yourself with the online platform we're using, called Qiqo chat during a 10 minute drop-in tech call. f
Feel free to drop-in to one or more of these Tech Calls (all in MST)
Monday, Sept 21st - 1:00 - 2:00 PM
Wednesday, Sept 23rd - 10:00 - 11:00 AM & 4:00 - 5 PM
Friday, Sept 25th - 12:00 - 1:00 PM & 4:00 - 5 PM
Saturday, September 26th - 12:00 - 1:00 PM**
**The event will open one hour before the event for participants to arrive, get settled, and sort out any last minute tech tours or questions.
------------------------------------------------
Frequently Asked Questions
1. Do I have to prepare anything for this event?
No. Our event tech person in the reception will help guide you and answer your questions. We encourage you to show up for a 10 minute drop-in tech tour to orient yourself to the technology. Then, just come and have fun!
2. As a cSPACE tenant, do I need to provide marketing materials or a program?
No. This event isn't about marketing your business. It's about connecting, creating conversations and creative discoveries around what matters to you, which definitely can include what you're working on as a tenant.
All participants can contact each other by finding your info in the Check-in document. Everyone is invited to fill this out before the event starts. Sharing contact details is of course optional. I also have included an "About cSPACE" tab in the online event platform.
3. Do I need to come to cSPACE to join the event?
No. The event is online. Login where-ever is comfortable and convenient for you.
4. I'm not great with technology AND what kind of device do I need?
We have a schedule of drop-in tech tours to familiarize yourself with the technology. Tours take about 10 minutes. We highly recommend you use a laptop or desktop computer. You can still access the event with a tablet or smart phone if that's all you have.
5. Can I bring my kids?
Yes! We encourage you to bring your kids and help them participate appropriately.
6. Do I need to come right at the start time?
Yes. The event opens with some important information about the event structure, as well a breakout to get to know the other participants.
7. How is this event different from a regular open house at cSPACE?
After the opening circle, it is similar to an open house in that there can be a free flow of people coming in and out of sessions. It is different in that ALL participants who attend the event get their own space to initiate conversations or creative explorations that are important to them.
8. I can't attend this time. Are there more in the future?
Yes! We will be hosting Open Space @ cSPACE online monthly.
9. If I have a meaningful experience, where can I share my story with others?
Great question! We would love to hear from you and make the event better and more accessible each time.
contact Eily at eily@eilyaurora.com