About this Event
Opera Sustenida presents: "Divas for Hire"
LIVESTREAM: Saturday, September 5th at 7:30pm (EST)
REPLAY: Sunday, September 6th (TBD)
It's been a challenging time for artists this summer, to say the least. We've had to learn how to collaborate virtually with our colleagues on new platforms, which is no small task, especially for an art form that normally relies so much on spontaneity and physical interaction. On the other hand, we wanted to find a format that would allow us to stay connected to our colleagues and our audiences.
Opera Sustenida is a brand new collaborative ensemble featuring opera singers, Stephanie DeCiantis (soprano), Nicole Whitney Dubinsky (soprano) and Daniella Theresia (mezzo-soprano), and pianist, Suzanne Yeo. We're so pleased to share our very first collaborative event with you: "Divas for Hire!!" (co-sponsored by Opera for All and Toronto City Opera).
"Divas for Hire!!" is one-of-a-kind online event that pushes the boundaries of the traditional concert format. For this unique concert, we will be presenting pre-recorded videos of opera favorites using innovative virtual staging created by our very own Stephanie DeCiantis.
But these won't be your average "one box per performer on the screen" videos!
We're using dynamic virtual staging techniques to "interact" with each other on screen and to make you feel like you're actually watching a live performance. We're so excited to use this new medium to help bring classic opera repertoire out of the concert hall and into the comfort of your own home!
We also wanted to make this experience more interactive for our audience.
Ticket holders will have the chance to vote** on which pieces we'll sing in the concert, from a specially curated selection of beloved opera solos and ensembles! We're even challenging opera norms with a selection of fun "mis-cast" pieces (think, "soprano sings Don Giovanni"). And our livestream will also include live Q&A sessions where we'll answer questions from you!
If you can't make the livestream, we'll have a replay available online to all ticket holders on Sunday, September 6th.
We hope you'll join us for "Divas for Hire!"
Because how often do you get to tell a diva what to do?
-Opera Sustenida-
**Voting deadline extended to Saturday, August 29th!**
About us
We created Opera Sustenida in order to bring beautiful music to the world (and also because we missed being able to perform together).
Stephanie DeCiantis is a Canadian spinto soprano gaining recognition for her warm colour and interpretation of romantic and classical repertoire most recently with Brott Opera, Kindred Spirits Orchestra, and Opera by Request. Stephanie is excited to explore this new medium and bring some art into your home!
Nicole Whitney Dubinsky is a coloratura soprano from Toronto, Ontario. She is best known for her Queen of the Night and recent performances as Olympia/Giulietta/Antonia in Toronto City Opera's production of Les Contes d'Hoffmann. Nicole is thrilled to be a part of Opera Sustenida's efforts to bring music into the community!
Daniella Theresia is a mezzo-soprano originally from the United States, now making her home in Oakville, Ontario. Since moving to the GTA in late 2016, she has performed with Toronto City Opera, Toronto Masque Theatre, and Opera by Request. Daniella feels most at home in the art song and Baroque genres, but loves an opportunity to explore more dramatic operatic pieces, especially when she gets to do so with her friends!
Toronto-based pianist and conductor Suzanne Yeo has performed in North America, Europe and Asia, to much praise for the intensity and sensitivity of her interpretations. After a stint as a doctoral candidate in the German department at Princeton University, she returned to music in 2011 and has since regularly appeared both as a soloist and as a collaborative pianist, with a particular affinity for the operatic repertoire and Lieder. Suzanne is very excited to be part of Opera Sustenida's effort to bring music to people in their homes!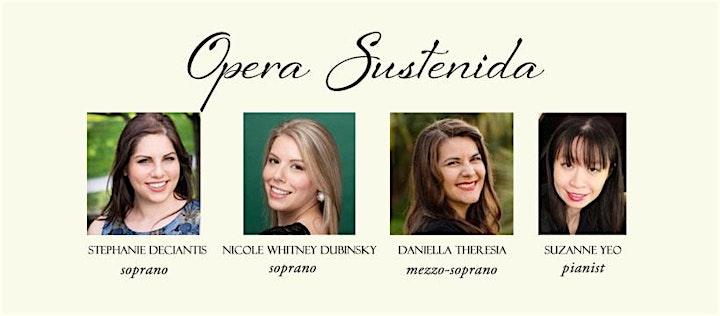 Date and Time
Location
Refund Policy