ORT Trainee Workshop Series: Electrophysiological Recording in the Brain
This workshop will focus on how the brain slices can be prepared and used to measure neural function and assess synaptic plasticity.
About this event
Summary:
Electrophysiological recording of brain tissue can directly measure the spontaneous and evoked electrical events generated by individual neurons or large neuronal ensembles. These electrophysiological parameters can report on functional abnormalities of neuronal circuitry in different brain disorders like Alzheimer's, epilepsy and Parkinson's disease.
Preparation of high quality brain slices is critical to examine the impact of different factors in neurons in both normal and pathological states. The use of brain slices gives us a unique opportunity to access different structures of the brain, which may not be accessible in vivo . Additionally, it provides the ability to control the external milieu and to study neurophysiological responses in the absence of the confounding influence of anesthetics. Critically, the neurons in in vitro preparations reflect the electrophysiological and pharmacological responses similar to those in the intact nervous system.
Much of the processes involved in this technique are poorly explained in the literature and usually trained in the lab by an experienced mentor. In this workshop, we will cover all the processes of an electrophysiological recording of brain slices using Multi-Electrode Arrays (MEAs): from brain removal and slice preparation, slice preservation, electrophysiological recordings using MEAs, and some examples of how to analyze the results.
Target Audience:
This workshop would be beneficial for anyone new to electrophysiological recording as well as the electrophysiologists eager to both learn from and share each others experiences.
Learning objectives:
At the end of this workshop, learners will be able to:
Express the need for electrophysiological recording with multielectrode arrays.
Construct a protocol to prepare and store brain slices.
Record, analyze and interpret electrophysiological activity recorded with MEAs.
Explore the plasticity of the neural network by electrical stimulation.
Instructors: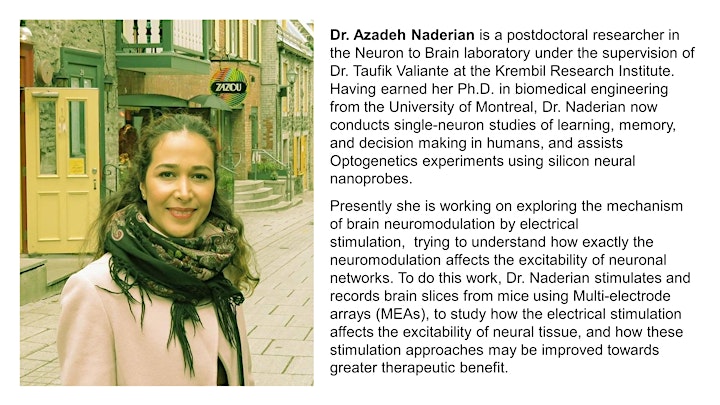 Organizer of ORT Trainee Workshop Series: Electrophysiological Recording in the Brain
UHN's Office of Research Trainees (ORT) mission is to provide UHN trainees - graduate students and postdoctoral fellows - with the highest possible quality training and learning experience through lab integration, achievement recognition and career development – thus enhancing the quality of research at UHN.
For information about the ORT, visit www.uhntrainees.ca!

---
UHN's Office of Research Trainees (ORT)

University Health Network (UHN)
Tel: 416-634-8775
Email: ort.admin@uhnresearch.ca
www.uhntrainees.ca