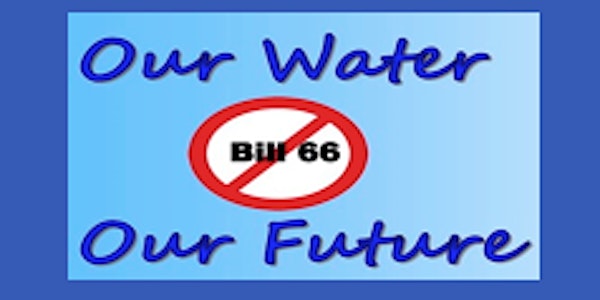 Our Water Our Future
When and where
Location
First United Church 16 William St W, Waterloo, ON N2L 1J3 Canada
Description
Thank you for your patience as we worked to reschedule this event! We will hope that you will be able to join us on April 17th at 7pm First United Church in Waterloo! We are optimistic the weather won't be a problem in April. We have lots of room so please bring a friend. Registration is open once again - but on another EventBrite page (as follows).
If you have registered for the February 7th event that was postponed, you are still registered for April 17th.
If you haven't already registered you can register for tickets here:
https://www.eventbrite.ca/e/our-water-our-future-tickets-58165251834#tickets
While we appear to have made important progress on turning back one of the most egregious components of Bill 66, there remain significant problems in this bill, including Schedule 5 repealing the Toxics Reduction Act. Major concerns remain that the Ford 'government for the developers' may reduce the support for monitoring and enforcement of legislation that protects our water, land and air quality.
Join us on April 17th at First United Church in Waterloo at 7pm to celebrate our progress on Bill 66 and to engage with experts as they explain other current dangerous proposals and corresponding calls for action.
We have two powerful keynote speakers: Theresa McClenaghan, Executive Director of the Canadian Environmental Law Association, former water policy advisor for Ministry of the Environment, and legal representative for citizens in the Walkerton Inquiry; and Bruce Davidson, Co-founder and Vice-Chair of Concerned Walkerton Citizens.
There will be lots of time to have your questions answered, as well as presentations from Susan Bryant of APT Environment on Elmira's ongoing water contamination; Kevin Thomason of Grand River Environmental Network on countryside protection; and a representative of Waterloo Wellington Water Watchers on source water protection.
Refreshments will be served; please bring along your travel mug or water bottle.