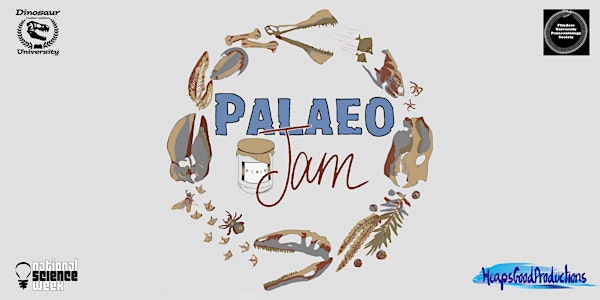 Palaeo Jam podcast launch
Offical launch of Palaeo Jam, a new Australian palaeo podcast exploring a range of issues in science and the community!
When and where
Location
Flinders University Sturt Rd Bedford Park, SA 5042 Australia
About this event
Palaeo Jam is a podcast exploring a range of issues in science and the community, through the multidisciplinary aspects of, and public fascination with, palaeontology. It is an Australian based palaeo podcast with this initial launch and live record at Flinders University.
For the live record, two episodes will be recorded in front of a live audience, followed by a QandA. Each episode will be hosted by award winning science communicator, Michael Mills. The two episodes being recorded at this special event are...
Episode 1- "What's the point of palaeontology?" in which we discuss the value, if any, of palaeontology to the broader community. Features several panelists including Dr Aaron Camens, and PhD Candidate Phoebe McInerney.
Episode 2- "Life as a palaeo mum" in which we discuss the impact and challenges having children has had on the careers of women in palaeontology, and whether or not things have changed over the years. Guest panelists are recent palaeo mum, Dr Alice Clement, and mum to slightly older humans, Dr Vera Weisbecker.
Drinks will be available through Flinders University Palaeontology Society, on the night, along with some FUPS goods, and additional information. Come for the podcast, and enjoy a great night of informal networking.
Palaeo Jam is a podcast for late teens to adults, and will explore such themes as the nature of discovery, ethics in science, and super heroes and role models in science. Each episode is strictly 30 m minutes, and each presenter is required to bring along a palaeo object of some kind relating to that episode's theme.
Palaeo Jam logo designed by Phoebe McInerney.
Logistical support from the Adelaide Show Podcast.
This is a National Science Week event.