About this event
This webinar is sparked by an urgent need to address the surge in anti-Asian xenophobia in North America and around the globe. Alongside pandemic fears and economic anxieties, the panel considers the enduring roots of anti-Asian prejudice, hate and violence.
Panelists:
The webinar is open to the general public and free of charge. To participate, RSVP by pressing the green Register button above to gain access to the Zoom room details.
"Pandemic Xenophobia" is the sixteenth installation of the MLC Research Centre & Gallery's webinar series that began on April 2, 2020 as an urgent cultural response to the crisis.
For more information about the MLC Research Centre & Gallery at Ryerson University, visit mlc.ryerson.ca and stay up-to-date with the latest news on Twitter (@MLC_Research).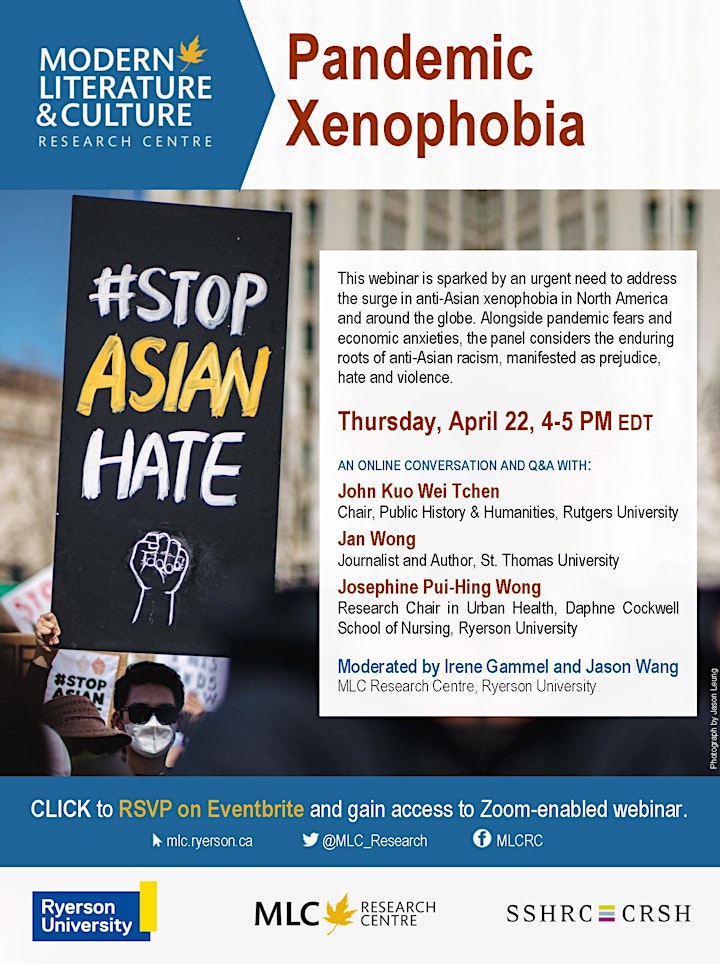 Organizer of Pandemic Xenophobia
Established in 2005, our mandate is to research the literary and cultural production in the modernist era (from 1880 to 1940), to preserve and advance modernist women's heritage and to promote modern Canadian heritage within an international context, with a current focus on World War 1. We advance our studies and outreach through digital culture innovations. For the latest updates, follow us on Twitter (@MLC_Research) and visit our website.