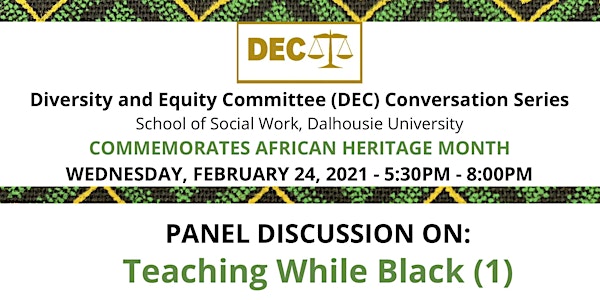 Panel Discussion on Teaching While Black (1)
We Commemorate African Heritage Month with our panel discussion and interactive conversations on 'Teaching while Black.'
About this event
The Diversity and Equity Committee (DEC) Conversation Series, School of Social Work, Commemorates African Heritage Month with the first in our two-part panel discussion and interactive comversations on 'Teaching while Black.' The panel discussion hopes to explore, how we teach, practice, and apply social work learning with diverse clients. We hope to explore the dictates of knowledge, theory, interventions and how they are brought to life in diverse roles (social services, policy, educational institutions, community engagements).. The event is scheduled for 5:30pm on ​​Wednesday, February 24, 2021.​
SPEAKERS: Prof. Josephine Etowa; Dr. Buster C. Ogbuagu; Dr. Barb Hamilton-Hinch​; Dr. Emmanuel Yiridoe and Dr. Sara Torres
MODERATOR: Dr. Pemberton Cyrus
VIA COLLABORATE WEBINARS
EVERYONE IS WELCOME. REGISTER ON EVENTBRITE TO ATTEND
https://www.eventbrite.ca/e/panel-discussion-on-teaching-while-black-1-tickets-136908341535
With Closed Captioning
Contact Information: Ifeyinwa Mbakogu (sswdec@dal.ca), Chair of the Diversity and Equity Committee (DEC)
This event is brought to you by the Diversity and Equity Committee (DEC) of the School of Social Work, Dalhousie University.