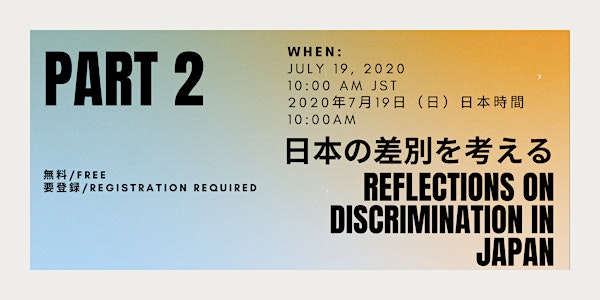 日本の差別を考える Part2/Reflections on discrimination in Japan Part2
6月に開催された「日本における人種差別、多様性、インクルージョンについての考察」の第2弾として「日本の差別を考える」オンラインイベントを開催します。 Part 2 of Reflections on Racism in Japan
About this event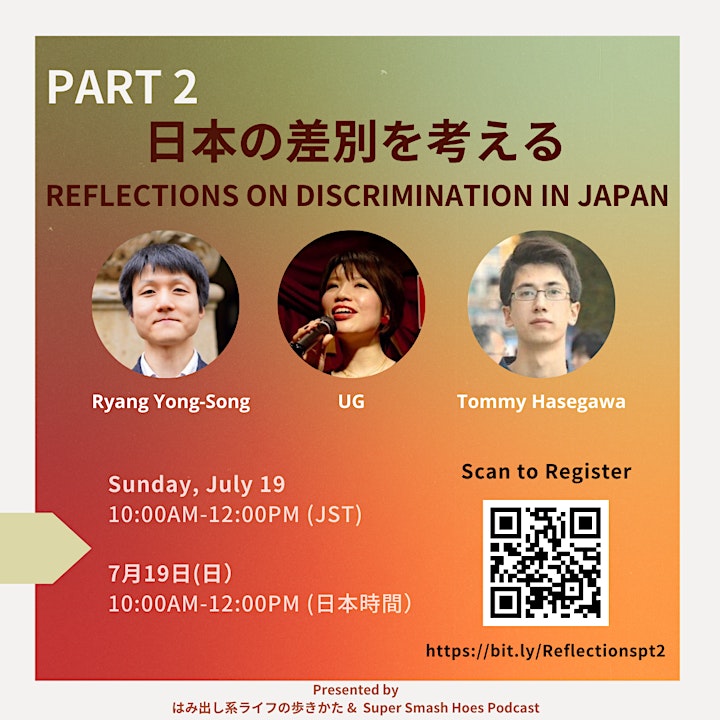 前回のイベントではBlack Lives Matter運動に伴い、日本における人種差別にフォーカスしましたが、今回は日本国内の様々な差別について語りたいと思います。
In our last event we mostly focused on racism and BLM movement, but in this event we will look inside Japan for various discriminations.
イベント開催日の7月19日(日)は日本時間です。北米に住んでいる方には7月18日(土)の夕方になりますのでご注意下さい。
Please note the event date July 19 (Sun) is Japan time. If you live in North America, that means it's on on July 18(Sat) evening.
このイベントは日本語で行われますが、日本語から英語への通訳が提供されます。
This event will be done in Japanese, however if you are an English speaker and wish to listen to the talk, Japanese to English interpretation will be provided.
パネリスト/Speakers:
UG(うぎ)
歌手。まっすぐに届くパワフルな歌声でジャズ・シャンソン・R&B・K-popなど幅広いジャンルをカバー。だれもがいきいきと生きられる世界を目指し、ブルースに根ざした歌を歌う。2017年、川崎市で"Jazz for Human Rights~差別のない川崎をめざして~"を主催。在日朝鮮人3世。東京在住。
UG(woo-gi)
Singer. With a powerful voice that reaches straight to the heart, she sings in a wide range of genres such as jazz, chanson, R&B and K-pop. She sings songs rooted in the blues for a world where everyone can live vibrantly. She organized "Jazz for Human Rights - Towards a Kawasaki free of discrimination" in 2017. She is a Third-generation Korean living in Japan. She lives in Tokyo.
長谷川トミー
イギリス育ちで、イギリスと日本のダブル。二年前に大学進学のために日本に帰国し、現在東京大学教養学部2年。日本では差別に「No」と誰も言わない現状に違和感を感じ、去年、差別に反対する学生団体 Moving Beyond Hate を設立(メンバー募集中!)
Tommy Hasegawa
Grew up in England. England and Japan "Double". Returned to Japan two years ago to attend university. Currently in second year at Tokyo University College of Arts and Sciences. Founder of Moving Beyond Hate (New members welcome!)
梁英聖
一橋大学大学院言語社会研究科でレイシズムを研究。2016年12月に『日本型ヘイトスピーチとは何か――社会を破壊するレイシズムの登場』を影書房より刊行。共著に『憎悪とフェイク――歪むメディアと民主主義』(大月書店、2018年6月)など。日本初のヘイトウォッチNGO、反レイシズム情報センター(ARIC)代表
Ryang Yong-Song
Researcher on racism at Hitotsubashi University Graduate School of Language and Society. Published "What is Japanese hate speech - Racism that destroys society" from Kage publishing on December 2016. Co-author of "Hate and Fake: Distorted Media and Democracy" (Otsuki Shoten, June 2018) Principal at Anti Racism Information Centre, Japan's first hate- watch NGO.
このイベントははみだし系ライフの歩きかたとSuper Smash Hoes podcastの共催です。
This event is produced by Hamidashikei Life no Arukikata & Super Smash Hoes Podcast