Description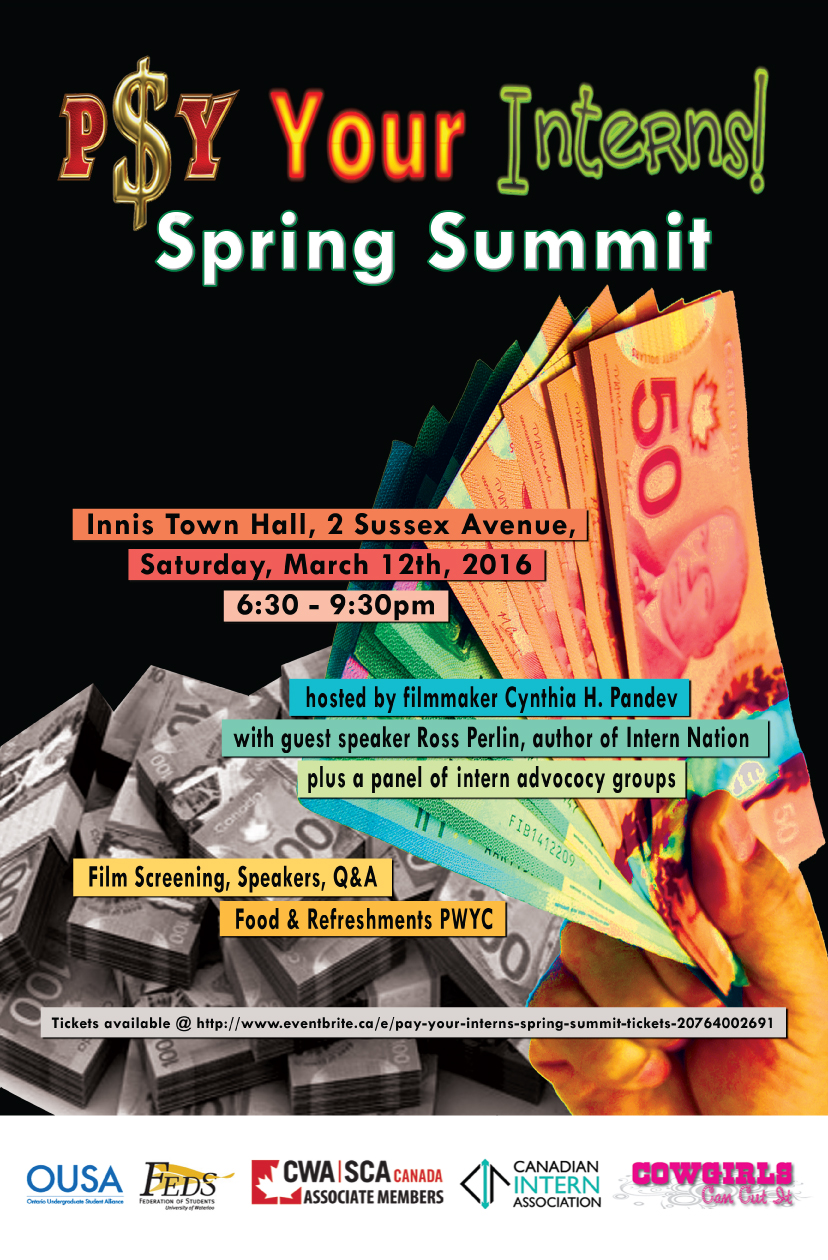 Pay Your Interns! 2016 Spring Summit hosted by filmmaker Cynthia H. Pandev
Innis Town Hall, 2 Sussex Avenue, Saturday, March 12th, 2016, 6:30 - 9:30pm
Guest Speaker:
Ross Perlin
Ross is the author of Intern Nation: How to Earn Nothing and Learn Little in the Brave New Economy. He has spoken on internships, youth economics, precarious labor, and related topics at the Googleplex, the British Parliament, the Economic Policy Institute, many college campuses, and on radio and television programs around the world. Ross' work has appeared in The New York Times, Time Magazine, The Guardian (UK), and The Washington Post, among other places. He has addressed audiences of students, employers, career counselors, scholars, union members, Occupy Wall Street activists, journalists, and politicians. He has spoken at venues such as the Googleplex, the British Parliament, the Economic Policy Institute, and universities including Cornell, Temple, Rutgers, and CUNY. He has been a television and radio guest on networks across the world, including MSNBC, CBS, Fox, the BBC, NPR, and many others. Ross is a graduate of Andover and Stanford. He earned graduate degrees from Cambridge and the University of London (SOAS) on a Marshall Scholarship.
Additional Speakers:
Katherine Lapointe
Communication Workers America - Canada
Katherine is an organizer with CWA Canada, an all media labour union. Her work with the union focuses on initiatives to support and improve working conditions for interns, freelancers and other precarious media workers.
Andrew Langille
Canadian Intern Association - General Counsel
Andrew is a Toronto-based lawyer practicing in the areas of employment, labour, human rights, and administrative law. He also acts as General Counsel to the Canadian Intern Association, which is one of the first groups in Canada advocating for the rights of young, precariously employed workers and students. He holds a Master of Laws degree from Osgoode Hall Law School in employment law and labour relations.

Schenella Pinto
Canadian Intern Association - Director of Research and Labour Policy
Schenella is in her second year of the Master of Industrial Relations and Human Resources program at the University of Toronto. She is a recipient of the Verma Graduate Award and the Alexander C. Pathy Graduate Award. Prior to he graduate studies, Schenella completed her Bachelor of Arts (Honours) in Political Science at York University. She was previously a Mentor for Big Brother and Sisters, and a Styling Consultant for Dress for Success Toronto. She was also Chief Communications Officer for her student association for the 2014-2015 school year. Schenella enjoys working on policy proposals and speaking publicly on behalf of the Canadian Intern Association. She is committed to supporting positive labour market outcomes through elevating individuals' economic standing. In particular, she is passionate about fair pay and improved working conditions for students and interns.
Stephane Hamade
Ontario Undergraduate Student Alliance & Federation of Students
Stephane is the vice-president, education of the Federation of Students at the University of Waterloo. He is a fourth-year student in the mathematics program. Stephane has completed several paid internships through the University of Waterloo's renowned co-op program including roles at the Departments of Finance, the Department of Foreign Affairs, Trade, and Development, and at Scotiabank. He has been a member of the Board of Directors for the Federation of Students and the Ontario Undergraduate Student Alliance for the past year. Stephane believes that increasing the number of paid internships and co-op programs is a large part of the solution for the youth unemployment problem facing young people today.
Sponsors:
Federation of Students, University of Waterloo
Communication Workers America - Canada
Ontario Undergraduate Student Alliance
Canadian Intern Association
Cowgirls Can Cut It
---
Doors Open at 6:30pm
6:45 pm: Event Begins
6:50 pm:: Short Intro - Cynthia H. Pandev
6:55 pm: Screen "Pay Your Interns!"
7:40 pm: Intro Guest Speaker, Ross Perlin - Cynthia H. Pandev
7:45 pm: Ross Perlin Lecture
8:15 pm: Intro Additional Speakers - Cynthia H. Pandev
8:25 pm: Stephane Hamade - will discuss the differences between paid internships, co-ops & practicums
8:30 pm: Schenella Pinto - will discuss the gender issue; why most unpaid interns are women
8:35 pm: Katherine Lapointe - will discuss the impact of unpaid internships on young media professionals
8:40 pm: Andrew Langille - will discuss the current laws surrounding unpaid internships
8:45 pm: Audience Q&A
9:15 pm: Refreshments served in Lobby
10:00 pm: Event Ends
---
Pay Your Interns!
Synopsis
Money is not the root of all evil Illegal Unpaid Internships are!
In Canada, each year approximately 300,00 individuals (mostly female) take on unpaid work in the form of internships, but the number is likely much higher due to our government's lack of interest in tracking illegal unpaid internships, or even recognizing that they exist.
Pay Your Interns! is a brutally honest, unapologetic critique of the shady practice of Canadian employers turning a blind eye to the Employment Standards Act by "hiring" interns, who are expected to perform the work of a "paid" employee, for free!
What is an intern? What is the difference between a legal/illegal internship? Is a volunteer an intern? Is an intern an unpaid employee? What is our government doing to protect young professionals from unscrupulous employers looking for free labour? What can an intern do to protect their workplace rights? Pay Your Interns! answers these questions & many more.
The film delivers information and communicates ideas in a visually cheeky way by juxtaposing archival footage against interviews with advocates, brave unpaid interns, rally protesters, and people on the street, who offer their take on volunteerism, internships and paid employment.
Pay your interns is not just informative and provocative, it's fun, too! And, the film's message is simple and clear - you guessed it - Pay Your Interns!
---
Director's Statement
The first time I heard the term "intern" was during the Bill Clinton / Monica Lewinsky situation. To be honest, I
wasn't really sure what an intern was; I wasn't aware of the differences between paid/unpaid internships, or labour laws in the US and Canada protecting the rights of trainees.
I continued living a life of blissful ignorance until Fox Searchlight, the studio behind the hit movie "Black Swan", broke both New York state and federal minimum wage laws by failing to pay two interns who had worked on the set of the Oscar-winning film. The interns claimed the right to a paycheck and a federal district judge listened by ruling in their favour. People started to take notice, employers in particular. People started to talk; the "conversation" began.
Pay Your Interns! evolved out of my research into the issue and my personal experience. Even though I am a film professional, I have taken on unpaid work in the form of internships in the hopes of gaining new skills and more importanly, work. I failed to attain either, but what I did gain was the courage to make a film about an issue I am very passionate about: free labour.
I made Pay Your Interns! to not only communicate ideas and present opinions, but also to be part of the "conversation". Free labour in the form of ilIegal internships is wrong! An intern may lack experience, but surely the work they perform has monetary value and they should be paid at least minimum wage for their time.
---
Organizer's Description
Cynthia Helen Pandev has worked in post production as a professional editor for over 20 years. Her advertising clients include Molson Canadian, Turtles, Volkswagen UniGlobe Travel, Melitta Coffee, Kleenex, Kodak, BF Goodrich Tires, Quaker Oats, OLC and the Ontario Government, to name a few.
She has edited numerous television documentaries and films, which have aired on major networks including CITY TV, CBC Newsworld, Discovery USA and the National Geographic Channel. Her "Thelma & Louise" tribute film, was presented at Roy Thomson Hall to a sold out crowd as part of the film's 20th anniversary celebration. And, her cut of the feature doc, "David Murray: "A Sculptor with Sound", was awarded a Gold plaque at the Chicago International Film Festival.
Pay Your Interns! is Cynthia's directorial debut. She also produced, shot and edited the documentary and hopes that the film inspires and encourages young workers to speak out against free labour in the form of illegal unpaid internships.
Organizer of Pay Your Interns! 2016 Spring Summit