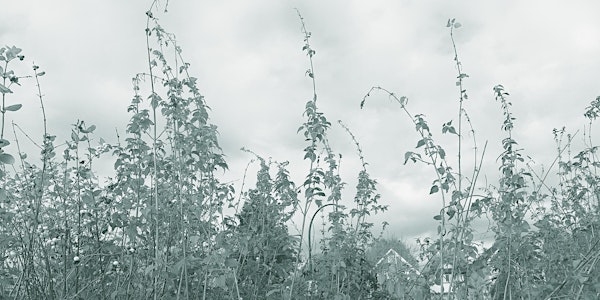 Permaculture as Method
This event is part of a series of discussions on Place-Based Responsibility hosted by the DESIS Lab in the spring of 2021.
Date and time
Starts on Wed, Mar 17, 2021 4:00 PM PDT
About this event
Permaculture as Method
How might we consider and apply principles of permaculture - approaches that consider and promote the varied, interconnected relationships between elements within an ecosystem - in our social relations, material models and cultural labour practices? How can we make spaces for economies that are rooted in mutual flourishing and a shared abundance, as opposed to current scarcity-based models that drive competition and deplete our energy and resources?
Guests include Annie Canto, Sharon Kallis, Emily Neufeld, Sadira Rodrigues, Garima Sood, and Louise St. Pierre.
Facilitated by Jean Chisholm, this discussion brings together artists, gardeners, and cultural practitioners building and working in cooperative models and community-based mutual-aid. A discussion will explore how these practices sit within or run counter to dominant capitalist systems, and ways we might as a community engage to advocate and support these methods.
Annie Canto (BFA, MFA) is an artist and educator currently working in Vancouver, BC. In 2020, she graduated from Emily Carr University with an MFA emphasizing research in social practice and engaged pedagogy. Working with performance, text, comics, and food she facilitates participation in communal spaces to acknowledge the complexities of the Other and question the overarching systems that govern our relationships. In her current work, Annie is exploring collaborative writing and hosting practices as strategies for community organizing.
Sharon Kallis: Graduating from Emily Carr Institute of Art and Design in 1996 Sharon Kallis began working with materials from the land in 1999 and has exhibited and engaged communities with her practice in Ireland, Spain, Mexico and throughout the United States. Sharon is the founding executive director of EartHand Gleaners Society, a non-profit arts organization that brings together fibre artists, First Nations weavers, park ecologists and local community for skill and culture sharing projects. Traditional textiles is at the core of her work, with stinging nettle research dating back to 2008 and growing flax for linen in city parks since 2012. With EartHand, Sharon manages two urban public parks where artists materials are grown.
Emily Neufeld was born in Alberta, on Treaty 6 and 7 land, and now lives and works on the unceded territory of the Squamish, T'sleil Waututh and Musqueum in what is now called North Vancouver. Her practice investigates place and how humans change and are changed by the surrounding environment, and the layers of memory and psychic history that accumulate in our material world. She is informed by her Mennonite and Scottish colonial history and centres that framework in her understanding of place and her relationship to these stolen lands. In addition to collaborative projects with other artists, recent solo exhibitions include Prairie Invasions: A Lullaby (2020, Richmond Art Gallery, Richmond, BC), Before Demolition: Tides (2019, Eyelevel Gallery, Halifax, NS), Motherlands (The Pole, Den Haag, ND) and Before Demolition (2017: Burrard Arts Foundation). Neufeld has created and participates in community sharing gardens, and sees land as fundamental to her research process. She also is a worker-member of VALU Co-operative in what is now called Vancouver. She received her BFA from Emily Carr University of Art and Design in 2013.
Sadira Rodrigues is an educator, curator, writer and administrator. From social-profit enterprises such as artist-run-centres and public galleries, to museums, grant funding and higher education, she as assembled deep knowledge of the arts and culture sector in Canada and beyond. Over the last fifteen years, she has developed and delivered new programs and courses across undergraduate, graduate and non-credit curriculum. She has been the recipient of numerous grants to support both her curatorial and academic research activities. In addition to institutional roles, she has kept an independent curatorial practice, organised conferences and cultural events, lectured, and participated on numerous society boards. Her work is committed to examining decolonisation and Canadian cultural institutions. She is currently the co-director of Coppermoss, a retreat space on the Sunshine Coast that considers permaculture, land remediation and biocolonialism, and how it may transform settler politics on the westcoast. She is also the Director/Curator of the Sunshine Coast Arts Council in Sechelt, BC.
Garima Sood (BA) is a design researcher, a maker and a design student. Her work is grounded in material-based participatory explorations to foster meaningful relationships with man-made and living materials and systems. Through her work, she seeks to analyze, disrupt and push complex systems into transition towards more equitable futures. Garima has a BA in Political Science with a focus in sustainable development policy and justice theories and is currently pursuing a Masters of Design at Emily Carr University of Art + Design.
Louise St. Pierre researches and teaches industrial design, sustainable design, and ecological design. She is co-author of internationally recognized curriculum, Okala Ecological Design, methods for sustainable product design. Later, when she developed a chapter about Nature's Systems for the Routledge Handbook of Sustainability and Fashion, she noticed gaps in design knowledge relative to nature, land, material sources, soil vitality, and natural composting. Her focus then shifted to teaching ecological literacy in design, particularly in SOCS 202. As part of the Emily Carr DESIS lab, she started the Design for All Beings research group, which contends that Social Innovation for Sustainability (DESIS) needs to include more-than-humans. Her most recent book, Design and Nature: A partnership, co-edited with Kate Fletcher and Mathilda Tham, gathered stories of how designers can build visceral understandings of nature. She organized a series of grants to bring nature curricula deeper into industrial design curricula at Emily Carr, working with collaborator Zach Camozzi, sessional faculty, and a number of graduate students. She continues to write and lecture internationally on design ecoliteracy, with a focus on systems, animism, and the understanding that humans are interdependent with natural systems rather than distinct or exceptional.
The Emily Carr DESIS Lab supports research that advances design for social innovation towards sustainability. DESIS envisions a future that supports resilience, equity and diversity across human and ecological systems through social innovation, design and environmental justice.
This event is part of a series of discussions on Place-Based Responsibility in the Spring of 2021. Invited guests will focus on those living and working in ways that express care for place: Indigenous artists and ethno-botanists; community organizers, activists and social workers; gardeners and waste remediators; front-line workers in housing and housing advocacy; advocates for cultural labour; and artists engaged with land and material.
Discussion of these themes will be used to set a compass for subsequent, longer-term collaboration. Most importantly, these activities will initiate and strengthen meaningful relationships between community stewards and knowledge-holders and the community at Emily Carr.
For more information please contact desis@ecuad.ca
This event is made possible through funding from the Vancouver Foundation.