About this Event
Person/ne Forum: The Ethics of Care
Griffin Art Projects
Saturday July 6
Please join us for a day of discussion on themes related to political agency, personhood and care, in conjunction with the exhibition Person/ne with a group of international writers, researchers, curators and artists.
Live events include talks, conversations, and performance, from historical and archives-based projects to consideration of the impact of digital technologies for future solidarity, collaboration and relationality. As an extension of Griffin's exhibition and residency program, all events are free and open to the public.
Please feel free to attend the whole event or come and go for selected talks.
Schedule
1:00 Introductory Remarks
1:15 Helena Reckitt [via Skype]
2:00 Keynote: Emily Rosamond
3:00 Break
3:15 Lorilee Wastasecoot
4:00 Lorenzo Fusi
5:00 Lam Wong & Nicole Ondre in conversation
5:45 Zoe Kreye Performance Procession
6:15 Catered Picnic by Chef Charlotte Hewson in nearby park (weather permitting)
Helena Reckitt (Curator and Researcher, Art Department, Goldsmiths College, London, UK) Presents: Durational Feminisms: research, learning and trust in the Feminist Duration Reading Group.
Keynote: Emily Rosamond (Artist and Researcher, Visual Cultures Department, Goldsmiths College London, UK) will expand upon her research on reputational volatility and consider ideas of character in relation to surveillance and big data.
Lorilee Wastasecoot (Curatorial intern, University of Victoria Legacy Art Gallery) presents on her curatorial contribution to There Is Truth Here (Museum of Vancouver) and her upcoming exhibition, We Carry Our Ancestors; Cedar, Baskets, and Our Relationships with the Land.
Lorenzo Fusi (Artistic Director, Fondation Prince Pierre de Monaco, Independent Curator, London, UK) considers forms of care during and after the HIV/AIDS crisis, in preparation of the January 2020 Griffin Art Projects exhibition he will curate on the work of Jimmy de Sana and Marlon Riggs.
Lam Wong (Artist, Vancouver) presents on MA/間, and the idea of self, regarding his work and performances within the exhibition Person/ne and as current Griffin Art Projects Artist-in-Residence.
Zoe Kreye (Artist, Vancouver) designs a relational & collaborative processional performance for Forum participants.
Participant Biographies
Helena Reckitt is a curator and researcher with a longstanding interest in legacies of feminist and queer art, thought and collectivity. She is editor of the books Art and Feminism (Phaidon Press), Acting on AIDS (Serpent's Tail), and Sanja Ivekovic: Unknown Heroine, A Reader (Calvert 22), and Consultant Editor for the recent survey The Art of Feminism: The Images that Shaped the Fight for Equality (Chronicle and Tate Publishing). With Jennifer Fisher in 2015/2016 she edited two issues of the Journal of Curatorial Studies on affect, curating, and relationality. She has curated group exhibitions including 'Habits of Care,' 'Getting Rid of Ourselves' and 'Not Quite How I Remember It', and solo exhibitions with such artists as Yael Bartana, Keren Cytter, and (with Jon Davies) Ryan Trecartin. In 2015 Helena initiated the Feminist Duration Reading Group, a monthly meeting dedicated to the collective exploration of overlooked feminisms from outside the Anglo-American feminist canon, which is currently in residence at the South London Gallery. Reader in Curating in the Art Department at Goldsmiths, University of London, her former positions include Senior Curator, The Power Plant, Toronto; Senior Director of Exhibitions & Education, The Contemporary, Atlanta; Head of Talks, the ICA, London; and Commissioning Editor for Film and Performance Studies, Routledge, London
Emily Rosamond is a writer and artist, whose research stems from an interest in how historically situated performances of self are intertwined with developments in financial and informatic infrastructures. Her current work focuses on the implications of financialization and metrification for recent art practices that explore online identity and selfhood. She examines how the identification of users' behaviours, habits, and tendencies in the age of big data – by audience measurement companies, fintech startups, credit scoring corporations, online reviewers, and investors – newly foregrounds character and reputation as speculative logics of networked personhood. Recent publications have focused on shifting logics of represented selfhood in the surveillance performances of SWAMP, Hasan Elahi and Erica Scourti (International Journal of Performance Arts and Digital Media, 2015); rethinking modernist legacies of abstraction in light of information politics (Message, 2015); reputation and character in the entrepreneurial imaginary (Paragrana, 2016); the implications of social impact bonds – new financial products allowing investors to speculate on social outcomes – for socially engaged art practices (Finance and Society, 2016); and addressivity in online dating platforms (Journal of Aesthetics & Culture, 2018). Currently, Emily is working on a monograph on online reputation, and collaborative research project that aims to formalize Critical Reputation Studies as a transdisciplinary subfield. Emily's art practice spans performance, painting, sculpture, drawing, and video. It often involves experiments in inhabiting personas through intense engagements with materials. Her ongoing project, Weathervane, explores how experiences of personal decision-making are inflected by the emergence of an oracular mode of address in prediction-rich online environments.
Lorilee Wastasecoot is a curatorial intern at the University of Victoria Legacy Art Gallery. Lorilee is Cree from Peguis First Nation with ancestral roots from York Factory in Northern Manitoba. Wastasecoot believes that art is a powerful way for Indigenous people to express and share knowledge about their own cultures. Working with her family, the MacKay Indian Residential School Survivors, the artists and their families involved in the creation of the recently opened exhibition currently on display at the Museum of Vancouver, There Is Truth Here: Creativity and Resilience in Children's Art from Residential and Day Schools has inspired her to work with Indigenous communities and museum collections to curate exhibits that matter to Indigenous people. Wastasecoot will be curating a Indigenous basketry exhibit at the Legacy Art Gallery in fall 2019, titled, We Carry Our Ancestors; Cedar, Baskets, and Our Relationships with the Land, which involves her year-long research into the largely overlooked basketry work in the University of Victoria collection. Her project situates the baskets as part of a larger discussion on Indigenous women's traditional artwork into the contemporary. The show will feature Salish and Nuu-chah-nulth historical baskets from the collection and also feature the work of contemporary basket weavers, including Brenda Crabtree, Angela Marston and Deb George. Through this work with the UVIC collection, Wastasecoot has been able to identify a number of previously "unknown" baskets made by Indigenous women from Northern Coast Salish and Nuu-chah-nulth communities.
Lorenzo Fusi is the Artistic Director of PIAC (Prix International d'Art Contemporain) of the Fondation Prince Pierre de Monaco. He was the Visiting Academic Curator at the Alberta College of Art + Design where he directed the Illingworth Kerr Gallery between 2016-2018. Previously, he was the Director of Open Eye Gallery, one of the oldest not-for-profit photography galleries in the UK. Prior to this appointment, Fusi was the International Curator at the Liverpool Biennial, for which he curated the 2010 and 2012 renditions, titled Touched and The Unexpected Guest. Between 2001 and 2009 he was the Chief Curator at Palazzo delle Papesse Contemporary Art Centre, to then became the Contemporary Art Curator of the Santa Maria della Scala museum hub in Siena (Italy). Fusi regularly lectures at universities and has a portfolio of over 60 curated exhibition projects and as many publications and almost 200 commissions.
Lam Wong is a contemporary artist, designer and curator based in Vancouver, BC. His interest is primarily rooted in regional West Coast art history, with an emphasis on the development of painting and its avant-garde narrative. Lam's creative approach is often concerned with blending Eastern philosophies and challenging the notion of painting. As current artist in resident at Griffin Art Projects, Wong will create and perform his "間 / MA Trilogy", a three-part series of tea ceremony performances taking place within the framework of the exhibition Person/ne, staged in the gallery, residency studio, and outdoors at nearby Capilano River. Wong has a family history with the art of tea for over 15 generations, and creates performances situation his art practice within traditions of Chinese style tea ceremony (gongfu cha) and tea meditation.
Zoe Kreye creates inter-disciplinary art projects that explore transformation, collective experience and negotiations of public space. Her work looks to engage the public in relations and aesthetics, with the goal of building inclusive, bottom-up associations that have the potential to be small catalysts for change within dominant social systems. Often looking outside the realm of art, her projects take the form of clubs, workshops, rituals, dialogues and journeys. Her focus is to encourage people towards self-reflection and a deeper engagement with themselves and society. She completed a Masters in Public Art at the Bauhaus University Weimar, specializing in community engagement and participatory strategies and co-founded the Process Institute, the Berlin based artist collective. She currently lives in Vancouver and teaches Social Practice at Emily Carr University.
Above Image by Janet Werner, Kit (detail), 2019, Oil on canvas 61 x 55.9 cm. Courtesy of the artist and Parisian Laundry, Montreal.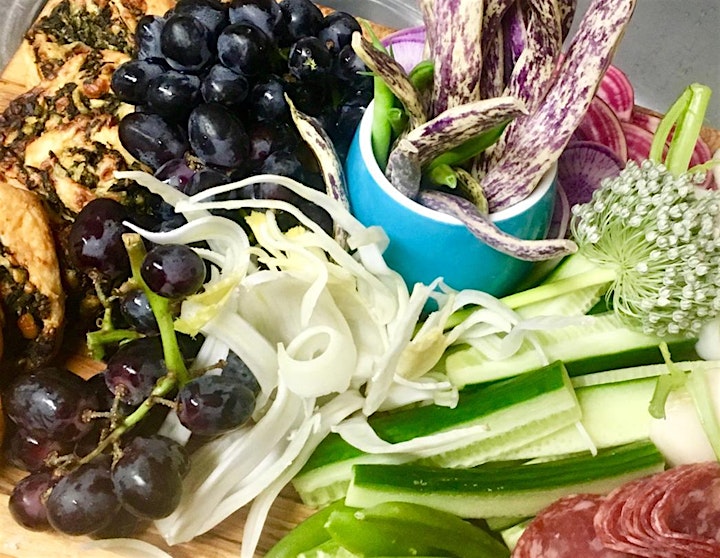 Catering by Chef Charlotte Hewson