PHAA Presents In the Loop with Dr. Leo Trasande: Sicker, Fatter, Poorer
Description
Sicker, Fatter, Poorer: The Dalla Lana School of Public Health's Alumni Association (PHAA) presents the 2019 In The Loop networking event and presentation featuring Dr. Leonardo Trasande, an internationally renowned leader in children's environmental health.
5:30 pm: PHAA Reception Begins (Passed Appetizers and bar open)
6:00 pm: Opening Remarks and Presentation: Emerging Leader Health Award - Dean Adalsteinn Brown, Dalla Lana School of Public Health
6:10 pm : Welcome Remarks and Introduction of Keynote Speaker - Dr. Peter Donnelly, President and CEO, Public Health Ontario
6:15 pm: Dr. Leonardo Trasande Presentation: Sicker, Fatter, Poorer
7:00 pm: Q&A and Closing Remarks - Muhannad Malas (DLSPH Alumni), Program Manager: Toxics, Environmental Defence
7:20 pm: Post-Event Reception
About the Talk:
Dr. Leonardo Trasande, a pediatrician, professor, and world-renowned researcher, will explain how our everyday surroundings are making us sicker, fatter, and poorer. He uncovers evidence that helps to show how emerging health conditions result from endocrine-disrupting chemicals in our food, our homes, and our personal care products. He will also explore how industrializing companies need not sacrifice economic growth in exchange for rapid industrialization, and share his recommendations for how we can protect ourselves and fight back.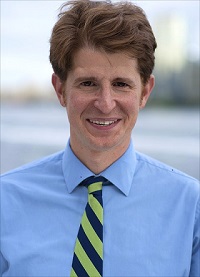 Leonardo Trasande's (MD, MPP) research focuses on identifying the role of environmental exposures in childhood obesity and cardiovascular risks, and documenting the economic costs for policy makers of failing to prevent diseases of environmental origin in children proactively. He also holds appointments in the Wagner School of Public Service and NYU's College of Global Public Health. He is perhaps best known for a series of studies published in Lancet Diabetes and Endocrinology and the Journal of Clinical Endocrinology and Metabolism that document disease costs due to endocrine disrupting chemicals in the US and Europe of $340 billion and €163 billion annually, respectively. Dr. Trasande leads one of 35 centers across the country as part of the National Institute of Health's Environmental Influences on Child Health Outcomes program. After receiving his bachelor, medical and public policy degrees from Harvard, he completed the Boston Combined Residency in Pediatrics and a legislative fellowship in the Office of Senator Hillary Rodham Clinton.
Click here for more info about Dr. Trasande's book, Sicker Fatter Poorer.
FAQs
Is this event a part of the Ontario Public Health Convention?
This event is being hosted by the Public Health Alumni Association from the Dalla Lana School of Public Health during the Ontario Public Health Convention.
Must I be an attendee at the convention to attend?
You do NOT have to be an attendee/ registrant at the convention to attend this talk. You DO have to pay the entry fee to this event, whether you are a convention attendee or not. This talk is NOT included in your convention registration.
What time does this event start?
There will be refreshments and appetizers from 5:30pm. Remarks will begin at 6:00pm, including a short awards ceremony, Leonardo Trasande's talk and additional refreshments and networking.
What is included in the price of my ticket?
The ticket gains you access to a provocative talk by Leonardo Trasande, some appetizers and a free drink ticket.
What are my transportation/parking options for getting to and from the event?
Beanfield Centre is located at Exhibition Place in downtown Toronto on the shores of Lake Ontario. You can get there by bicycle, car or TTC.
From Bathurst station, take the 511 streetcar south to exhibition place.
From Union station, take the 509 Harbourfront streetcar to the Exhibition loop.
Parking is available on site, surface and underground parking is $15.
For more information: https://www.beanfieldcentre.com/visiting/getting-here
How can I contact the organizer with any questions?
Email the Public Health Alumni Association at public.health@alumni.utoronto.ca.
What's the refund policy?
There are no refunds.
Do I have to bring my printed ticket to the event?
To ease registration flow, please either have your printed ticket or your ticket available on your cellphone.